Inside Donald Trump And Chris Wallace's Relationship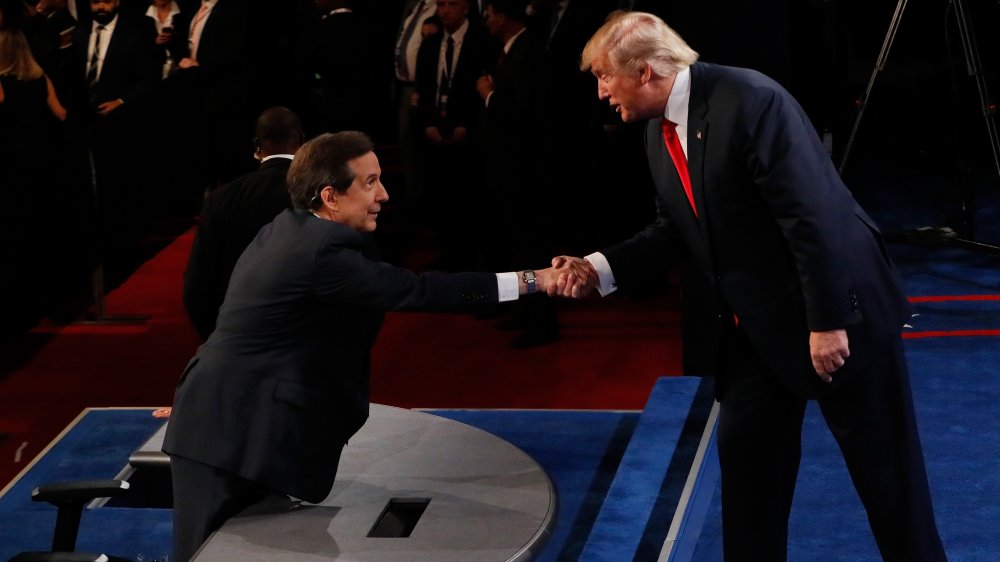 Pool/Getty Images
Chris Wallace hosts Fox News Sunday and is also set to moderate the first 2020 presidential debate between President Trump and presidential candidate, Joe Biden. He wasn't Trump's first pick — in fact, rumor has it that Trump was lobbying for a different Fox anchor (via Vanity Fair). This week, Trump complained on Fox Radio that Wallace, who is a Democrat, was "controlled by the radical left" and therefore would be tougher on Trump than Biden during the upcoming debate (via Independent).
Vanity Fair reports that sources say Trump recently rang up Rupert Murdoch, screaming that Fox's polling numbers were "fake." To some of you, this must feel like deja vu from Wallace and Trump's July 2020 interview. During the segment, Wallace presented Trump with the results of a Fox News poll (via New York Magazine). "You're going to be the very first person to hear about it," Wallace told Trump, going on to say, "In the national horse race, Joe Biden leads you by 8 points, 49 percent to 41... I understand you still have more than a hundred days to this election, but at this point, you're losing." To which, Trump replied, "First of all, I'm not losing, because those are fake polls."
A look at Wallace's and Trump's biggest clashes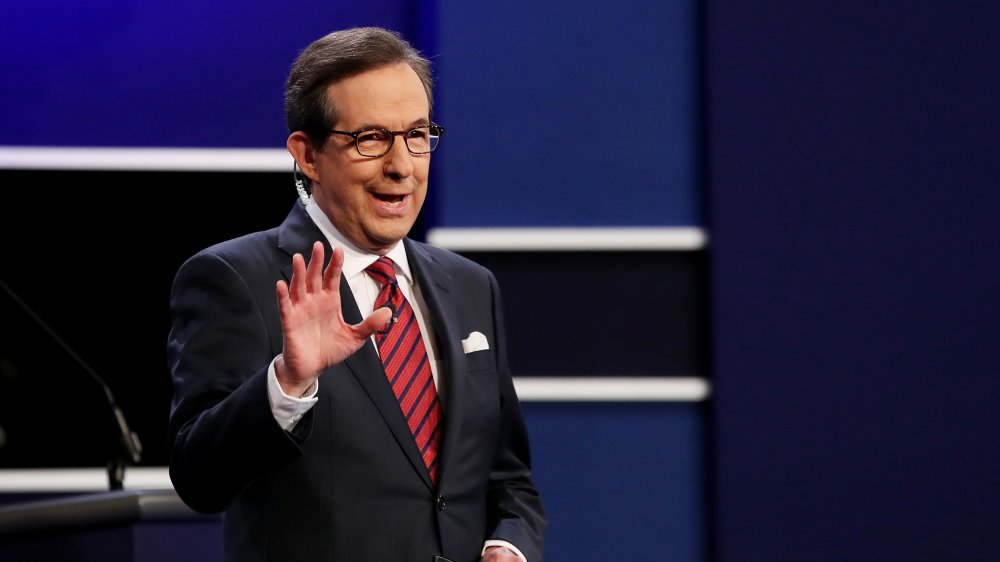 Drew Angerer/Getty Images
During their July 2020 encounter, Wallace confronted Trump about the President's "mean tweets" directed towards him (via The Guardian). "I'm not a big fan of Fox, I'll be honest with you," Trump replied. You're probably catching onto the Trump-Wallace dynamic by now. 
If it's true that Trump seems to revel in taking swings at Wallace, it's also true that Wallace has not been shy about leveling criticism against Trump. For instance, after the Republican National Convention, Wallace made headlines for calling President Trump's speech "surprisingly flat" (via The Hill). Tensions are such that the conservative news outlet Breitbart is predicting a "showdown" between Trump and Wallace during the debate. Breitbart points out that Wallace has previously and unflinchingly pointed to the "credibility" problems in the White  House, doubted whether or not Trump had a "clean legal bill of health," and called Trump out for "stoking racial divisions" in the country.
But perhaps Wallace's most scathing condemnation of Trump came in December 2019, when Wallace gave a public speech condemning the president for engaging in "the most direct sustained assault on freedom of the press in our history" (via The Guardian). "He has done everything he can to undercut the media." Wallace continued, "I think his purpose is clear: to raise doubts when we report critically about him and his administration that we can be trusted." 
The debate on September 29 is sure to be an interesting one to watch!