The Real Reason Costco's Edible Brownie Batter Is So Popular
If you were a fan of the raw cookie dough trend from a few years back that made ordering edible cookie dough via Uber Eats possible (via Washingtonian), brace yourself for the latest iteration of a forbidden childhood favorite: Edible Brownie Batter at Costco. Made by the vegan and gluten-free dessert company Delighted By, this batter also serves as comfort food for anyone nostalgic for baking with mom.
"A lot of these trends are built on emotions," says food marketing expert Phil Lempert of the dough trend (via The New York Times). "The feeling of eating that raw cookie batter when your mother was making it is very strong for a lot of people, and that's what this plays on. It brings us back to a moment when we felt safe and really good."
Is Edible Brownie Batter safe to eat?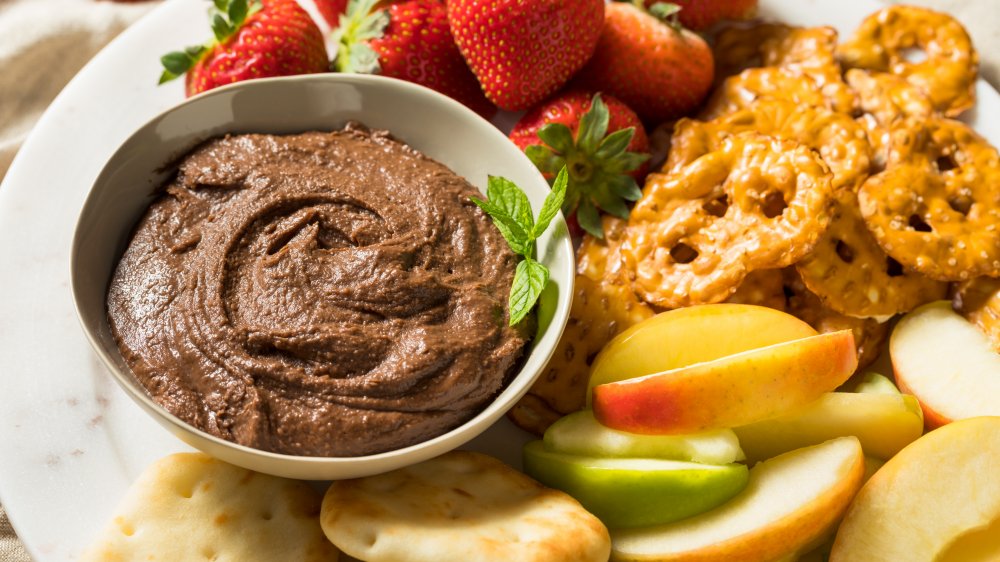 Shutterstock
While the batter doesn't contain any raw eggs or flour — potential sources of salmonella and E. coli — you can thank its creamy consistency to chickpeas, its surprising main ingredient. Originally marketed as "dessert hummus," the Shark Tank-backed Delighted By decided to revamp its packaging this past year. As founder Makenzie Marzluff noted to Deli Market News, "How can we convey how delicious our product actually is without scaring people off?" The answer was to focus on it being a dessert dip or spread, while still hanging on to the feel-good aspect of being associated with hummus. With 5 grams of sugar per serving, Edible Brownie Batter contains two-thirds less sugar than your average Duncan Hines brownies from a box (although that probably won't help if you decide to down the whole tub in one sitting!).
More good news: Edible Brownie Batter is available across the country at other retailers in addition to Costco such as Target, Walmart, and Whole Foods. The dessert dip also comes in seven snack-worthy varieties, according to Delighted By's website, including the seasonal flavors Red Velvet Cake Batter and Pumpkin Pie. "We stood out before because we brought dessert hummus to market, and we were the only ones for a few years," Makenzie says. "So now we have to get very creative."