The Real Reason Queen Elizabeth Doesn't Have A Passport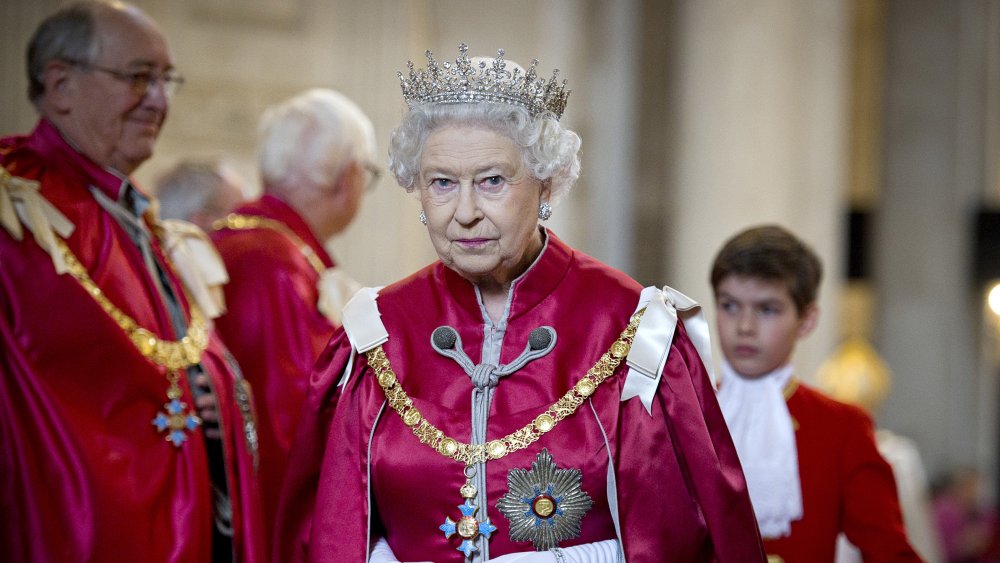 Wpa Pool/Getty Images
Though it's not much compared to the power of her distant relatives, Queen Elizabeth II still enjoys some pretty royal perks. She owns all whales and dolphins around England and Wales, she technically has the ability to fire every single member of the House of Commons, and has access to her own personal ATM in Buckingham Palace (via Good Housekeeping, The Independent, and Business Insider). Using her ATM, the Queen of England can access money from her healthy $64 million estimated annual income (via Fox Business). 
No doubt a little spending money is appreciated when she embarks on her world tours. In the course of her life, the Queen has traveled more than a million miles and visited 110 countries (via Express). On each of her journeys, the UK's Head of State packs along barley sugar boiled sweets for jet lag, her own monogrammed tea kettle and Earl Grey tea, a supply of Harrod's sausages, and the ingredients to make her favorite cocktail: gin, Dubonnet, and lemons (via Business Insider). Queen Elizabeth does not, however, carry a passport. 
Why the Queen of England doesn't need a passport
Max Mumby/indigo/Getty Images
Prince Charles, Prince Harry, Prince William, and Catherine, The Duchess of Cambridge all travel with passports in hand. In fact, The Queen is the only member of the royal family to have the privilege of traveling without one (via Royal). Why? All British passports are technically issued in the Queen's name. Open up a British passport and  you'll see, clearly written on to the first page: "Her Britannic Majesty's Secretary of State requests and requires in the name of Her Majesty all those whom it may concern to allow the bearer to pass freely without let or hindrance and to afford the bearer such assistance and protection as may be necessary." 
Incidentally, the Queen doesn't need a driver's license, either, and has never been required to take a driver's test (via Hello). That doesn't mean she's not a beast behind the wheel. During World War II, Queen Elizabeth served as a truck mechanic in the Women's Auxiliary Territorial Service, where she learned how to deconstruct and build engines and drive ambulances (via Mashable). We think she's earned her daily gin cocktail, don't you?