The Secret Connection Princess Beatrice's Wedding Tiara Has To The Queen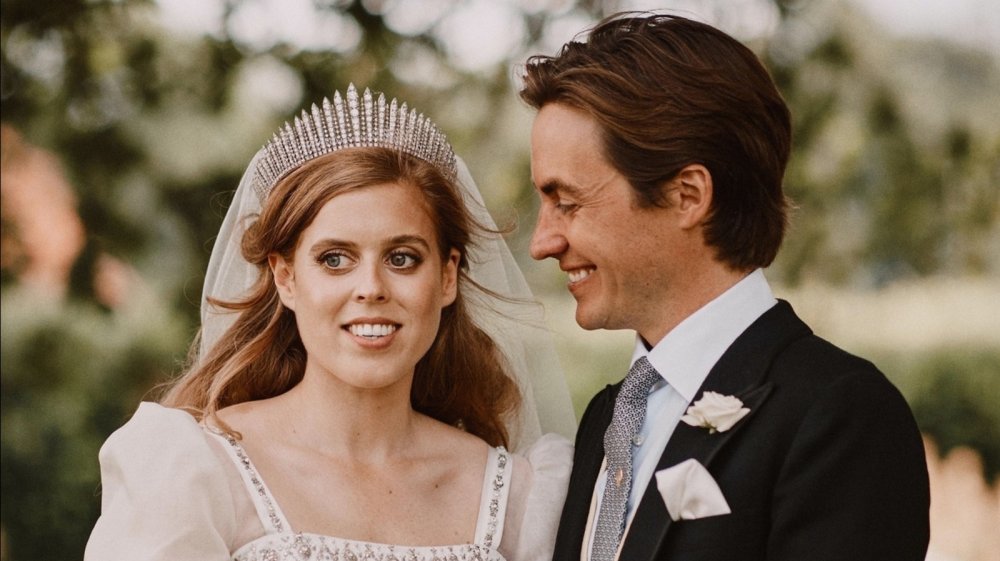 BACKGRID
How many tiaras do you have in your closet? According to Harper's Bazaar, the British royal family has at least forty. For starters, an antique dealer smuggled one of the Queen's preferred tiaras, The Vladimir, out of Russia after Tsar Nicholas II was assassinated. If Anastasia Nikolaevna had survived, she might have claimed the tiara: As the Tatler pointed out, it belonged to the Grand Duchess Vladimir, wife to Nicholas II's uncle. No British Royal has worn The Vladimir to tie the knot, although Princess Charlotte might one day.
When Princess Diana got married, the Queen gifted her the pearl-studded Cambridge Lover's Knot Tiara. After Diana divorced Prince Charles, the tiara slipped back into Her Majesty's collection, mostly untouched. Then, Catherine, the Duchess of Cambridge, adopted it and it became, as Vogue noted, her "favorite." In a recording made for her royal wedding exhibition (via Harper's Bazaar), Meghan Markle described the headpiece she selected for her big day. She called the tiara, which belonged to Her Majesty's grandmother, Queen Mary, a "gorgeous art deco style" piece that "was just perfect because it was so clean and simple." And when her granddaughter's wedding arrived in July 2020, Queen Elizabeth lent out another tiara that had belonged to Mary. After the ceremony, Buckingham Palace confirmed (via Reuters) that Princess Beatrice wore the Queen Mary Fringe.
All tiaras are not born alike; the Fringe is particularly close to the Queen Elizabeth's heart, for it's the very tiara she dawned on her wedding day. 
Her Majesty thought she broke the Queen Mary Fringe on her wedding day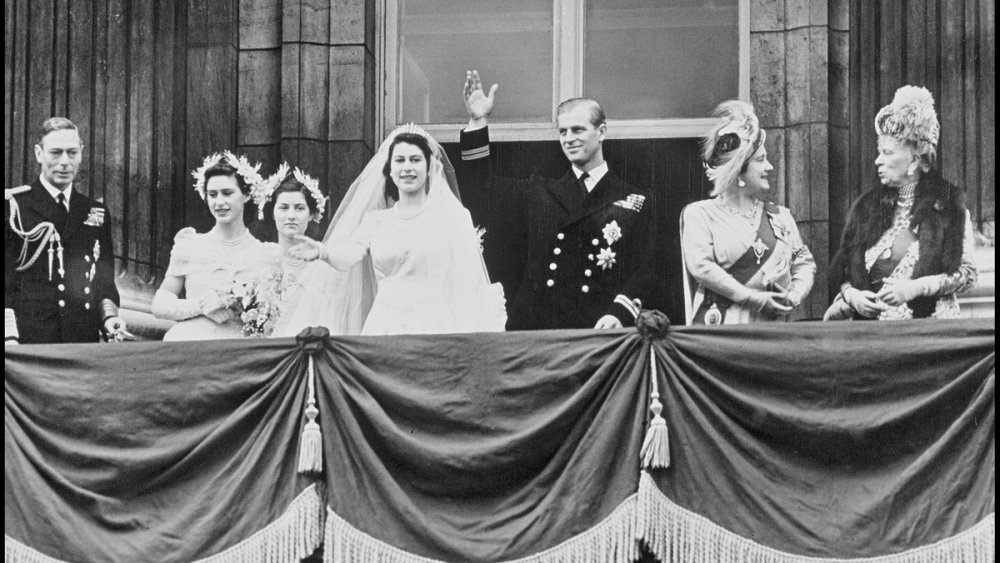 Best Image/BACKGRID
When Queen Victoria gifted what would become the Fringe to Queen Mary, it was not a crown at all. According to The Crown Chronicles, this tiara started as a diamond necklace, and Mary opted to wear the spectacular piece in her hair on her wedding day. (A diamond necklace in the hair? Talk about a royal flex.) In 1919, Queen Mary converted the necklace into a headpiece with "47 graduated brilliant and rose-set tapering bars, separated by 46 narrower spikes." In 1936, Queen Mary gave the tiara to daughter-in-law Queen Elizabeth I. And when Queen Elizabeth II married Philip Mountbatten, her mother lent the jewels to her. 
The wedding day hit a small speed bump. As Queen Elizabeth recalled at an exhibition of the Duchess of Cambridge's wedding gown (via Hello!), the tiara transformed back into a necklace while she was in the middle of her own wedding preparations. "I didn't know it was a necklace, you see...I thought I'd broken it...We stuck it all together again, but I was rather alarmed," recounted the Queen. She told Duchess Kate that "the catch" fell open and someone "taped up the spring."
Town and Country noted that Queen Elizabeth's daughter, Princess Anne, also wore the tiara during her wedding. And as far as we can tell, all signs point to Princess Beatrice dawning the necklace-turned-headpiece on her own wedding day without a catch.