Chris Wallace Drops Bombshell News That Trump May Not Have Had COVID Test At Debate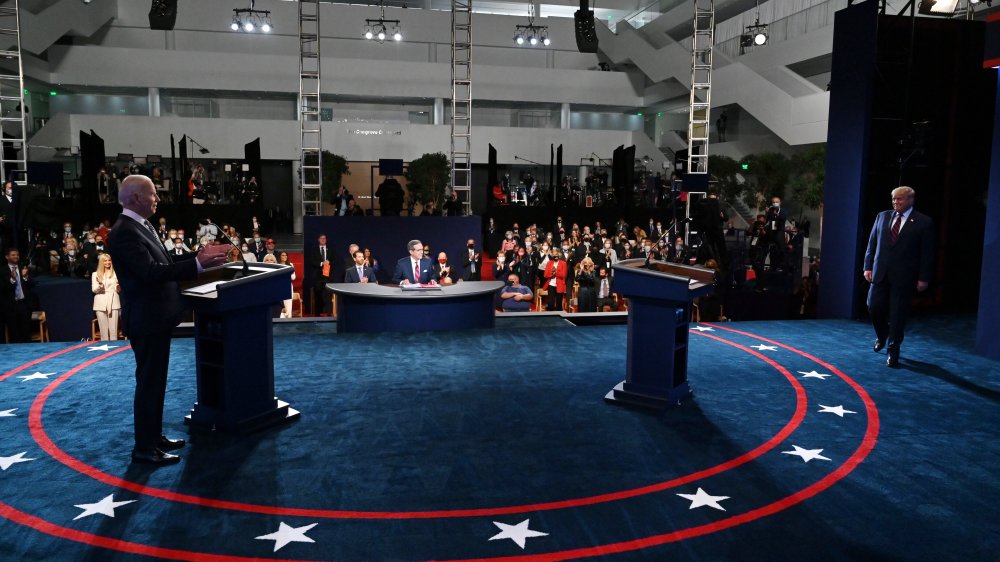 Pool/Getty Images
Before the first presidential debate on September 29, the highly-regarded Cleveland Clinic said it had worked to make sure that the debate site had complied with CDC guidelines. It said: "As health advisor to the Commission on Presidential Debates and the host site, we had requirements to maintain a safe environment that align with CDC guidelines — including social distancing, hand sanitizing, temperature checks and masking. Most importantly, everyone permitted inside the debate hall tested negative for COVID-19 prior to entry. Individuals traveling with both candidates, including the candidates themselves, had been tested and tested negative by their respective campaigns" (via WKYC).
Now, though, it appears that President Donald Trump might have broken more than just debate rules during the event (via CNN). During a Fox segment, the debate's beleaguered moderator Chris Wallace revealed that members of Team Trump never submitted to a coronavirus test on the night of the debates. "For them to get tested, there wouldn't have been enough time to have the test and have the debate at 9 that night," he told his own network. "They didn't show up until 3, 4, 5 in the afternoon. Yeah, there was an honor system when it came to the people that came into the hall from the two campaigns" (via Slate).
Joe Biden is not yet in the clear: health experts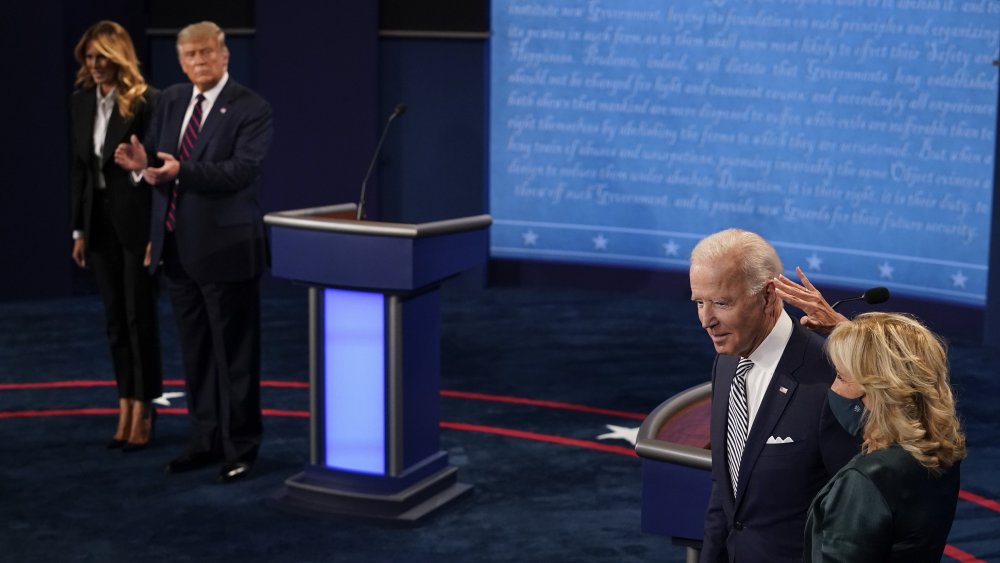 Pool/Getty Images
The Atlantic is going someplace many of us might have thought but have refused to entertain. In a piece called "Could Trump Have Infected Biden?" questions are being asked about whether the ill president may have gotten his political rival ill as well. Even though Joe Biden has tested negative so far, "a negative test doesn't say he's completely in the clear," says Angela Rasmussen, a virologist at Columbia University.
The debate created the perfect storm of conditions that showed exactly why indoor bars and restaurants are to be avoided during the pandemic. It was an enclosed space. And even though Trump and Biden were standing more than six feet apart, Infected droplets might have been directed in Biden's direction. Linsey Marr, a researcher looking into airborne-disease transmission at Virginia Tech told The Atlantic, "Aerosols behave like cigarette smoke and don't stop at six feet. Imagine Trump was smoking the whole time. Would Biden have been exposed to some of that?"
Trump was also yelling, often in Biden's direction, and for 90 minutes. Harvard environmental health expert Joseph Allen said, "It wasn't a one-off cough by someone in the audience. It was one and a half hours of constant emissions." However, the Cleveland Clinic said after news of Trump's diagnosis (via Slate), "Based on what we know about the virus and the safety measures we had in place, we believe there is low risk of exposure to our guests."
For now we can only wait and hope that the debate doesn't end up becoming a super-spreader event.