We Finally Have Biden And Harris' COVID-19 Test Results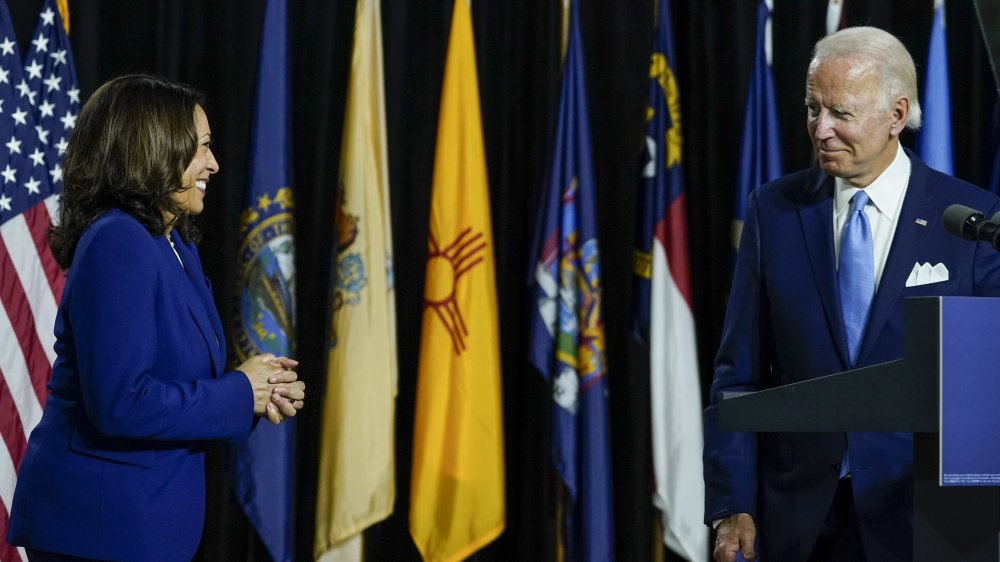 Drew Angerer/Getty Images
"What are the chances Trump gave Biden COVID at the debate?" asked Slate. The probability he'd contracted it, noted virologist Angela Rasmussen, was "really going to depend on the ventilation in the room, and the air purification." It seems that both were in solid, working order. Neither presidential candidate, Joe Biden, nor his vice presidential running mate, Kamala Harris, have the virus. Dr. Kevin O'Connor, Joe Biden's primary care physician, reported that the Bidens had taken COVID tests on Friday, October 2. Both came back negative (via ABC News). Kamala Harris tested negative for the virus on Thursday, notes CNN.
President Trump is reportedly suffering mild COVID symptoms (via CNN). Plus, Ronna McDaniel, the chairwoman of the Republican party, has also tested positive for COVID-19. While The New York Times reports that Mike Pence has tested negative, it's unclear who else within the Trump camp may be affected. Fox News was quick to point out that Trump's inner circle had violated protocol by taking off their face masks after entering the Cleveland Clinic for Tuesday's debate. They also refused a staffer who offered them additional masks. Trump also  traveled to three states, holding large rallies, during the time he may have been contagious, per The New York Times. 
The Biden campaign, however, is another story entirely. 
How Joe Biden and Kamala Harris are protected from COVID-19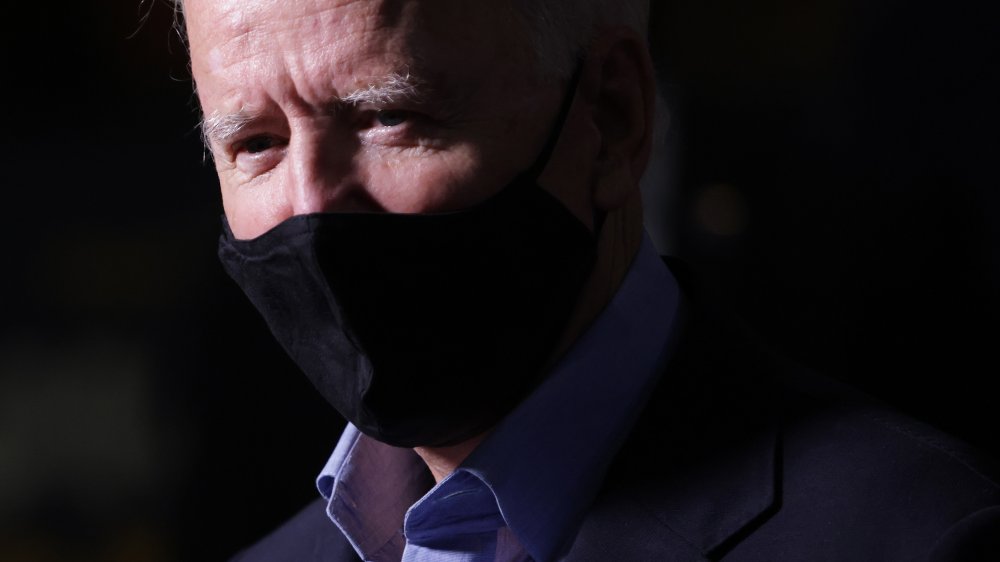 Alex Wong/Getty Images
Hours before President Trump tested positive for the virus, Forbes reported on a Cornell University Study that analyzed 38 million news articles. It found President Trump to be the "single largest driver" of COVID-19-related misinformation. Joe Biden, an outspoken critic of Trump's COVID response, has a radically different plan, per his campaign site. How would a Biden and Harris administration confront the epidemic? A preview can be found in the way that their campaign works to keep Biden and Harris safe.
In March, Biden told the press, "I wash my hands God knows how many times a day with hot water and soap" (via The Hill). ABC notes that both Harris and Biden take weekly COVID tests. (In his platform, Biden promises to "double the number of drive-thru testing cites," and make home tests readily available to the public.) Politico, furthermore, reports that the former vice president's airplanes and SUVS are regularly disinfected. Before Biden uses them, his staff clean microphones, lecterns, or documents that he'll be touching. The Biden campaign consistently monitors the temperature of anybody that comes into contact with it. Finally, Biden is a believer in the mask, wearing it even inside his house when he has guests. "Every single American should be wearing a mask when they're outside for the next three months, at a minimum," Biden said in August, noting that experts believe doing so would "save over 40,000 lives" (via VOA).