Kate McKinnon's SNL Tribute To Ruth Bader Ginsburg Has People Talking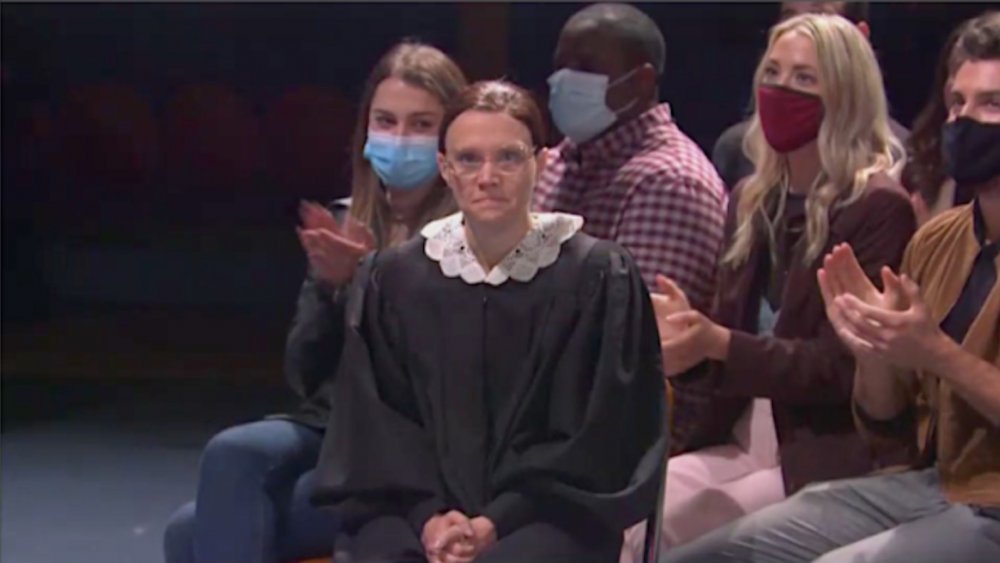 NBC
Kate McKinnon's portrayal of Supreme Court Justice Ruth Bader Ginsburg on Saturday Night Live was something viewers looked forward to week after week, particularly in the last four years as politics have become ever more newsworthy. Last night was the show's Season 46 premiere, and the first episode since Ginsburg passed away from pancreatic cancer on September 18. McKinnon fittingly reprised her role as the Notorious RBG and gave an understated yet touching tribute to the late Supreme Court Justice (via USA Today).
As SNL's Weekend Update segment came to a close, the camera panned to the audience, revealing McKinnon dressed in her traditional Ruth Bader Ginsburg attire of black robe, white lace collar, and glasses with her hair in a low, slicked-back bun. McKinnon's face was set in Ginsburg's characteristically serious expression as she placed her hand over her heart, nodded once, then looked up towards the heavens. The screen faded to an image of Ginsburg's lace collar, black robe, and glasses set behind the words, "Rest in Power" (via YouTube). It was a powerful segment that set Twitter on fire, with fans calling it their favorite moment of the night. 
Kate McKinnon called Ruth Bader Ginsburg a superhero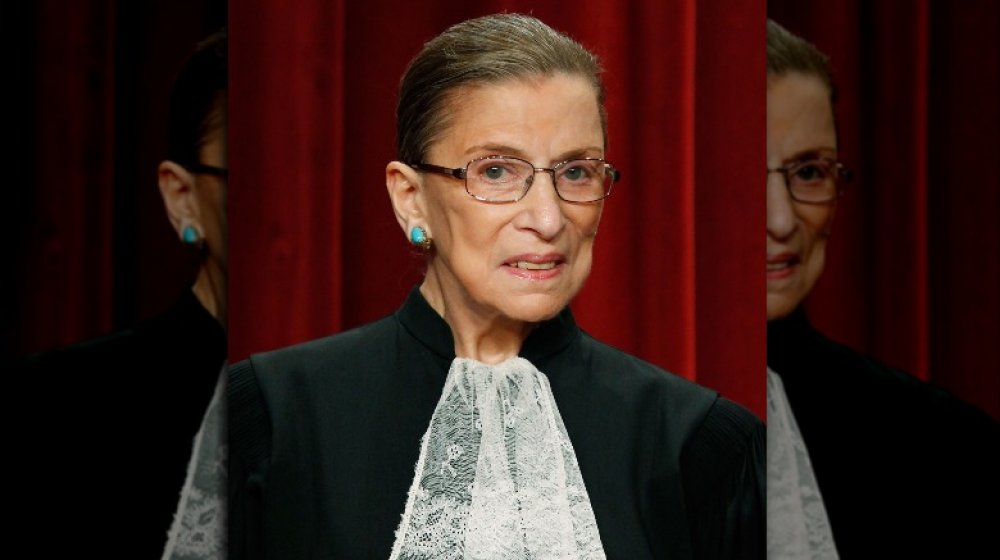 Mark Wilson/Getty Images
McKinnon, 36, premiered her Justice Ginsburg character on Saturday Night Live in 2012 but she has played the role on a semi-regular basis ever since 2015. McKinnon developed the iconic catchphrase, "Gins-burn!" which her RBG character would spout after delivering snarky observations of fellow lawmakers and politicians (via Vulture). McKinnon and Ginsburg met in real life in 2019 at an off-Broadway show and Ginsburg once commented at a Sundance Film Festival, "I liked the actress who portrayed me and I would like to say 'Ginsburned!' sometimes to my colleagues," (via USA Today).
McKinnon recently gave a statement to USA Today regarding Justice Ginsburg's lifelong efforts towards women's rights and social justice. She said, "For so many of us, Justice Ginsburg was a real-life superhero: a beacon of hope, a warrior for justice, a robed crusader who saved the day time and again." McKinnon continued, "Playing her on SNL was a profound joy because I could always feel the overwhelming love and gratitude that the audience had for her. It was one of the great honors of my life to meet Justice Ginsburg, to shake her hand, and to thank her for her lifetime of service to this country." Fortunately for fans, McKinnon's run as RBG may not be over. When The New York Times asked SNL producer Lorne Michaels if we've seen McKinnon play the Supreme Court Justice for the last time, he answered, "I doubt it."