Big News For Aldi Irish Butter Fans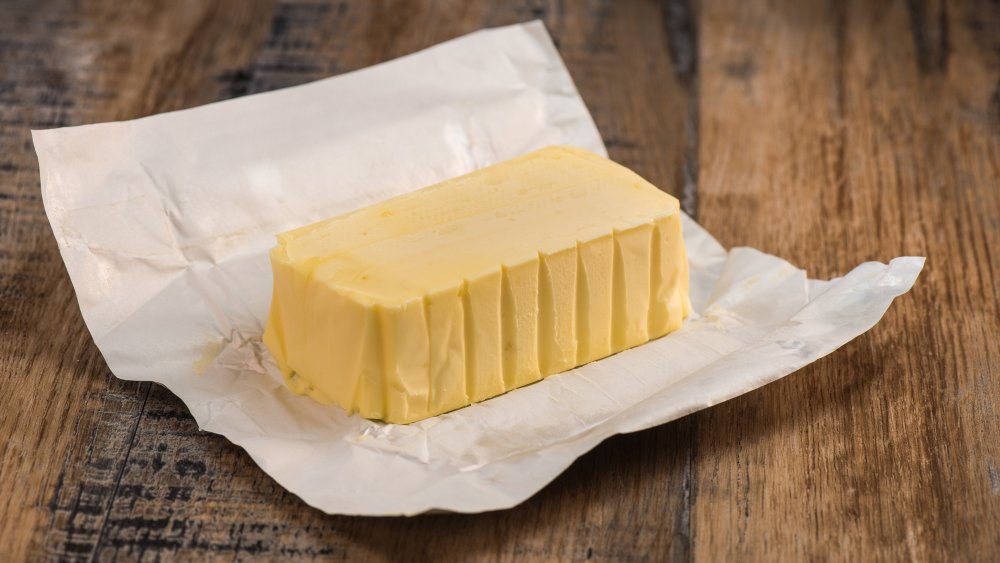 Shutterstock
Irish butter is king. As a report in Bloomberg Businessweek advises, 20 years after its introduction to the U.S. market, Kerrygold is the second-best selling butter brand in the country, bested only by domestic butter Land O'Lakes, which has held the top spot since 1921. Celebrities as far-reaching as Sarah Jessica Parker, Chrissy Teigen, and Kourtney Kardashian are all vocal fans, while professional chefs rave about the butter's incomparable flavor and texture. Jessica Quinn, pastry chef at Rezdôra in New York City, gushed, "It's rich and milky and bakes up with really nutty nuanced flavors."
Kerrygold is super-yellow, richly addictive, and intensely spreadable right out of the fridge. As Quinn explains, "It tastes like what butter tastes like in your mind, whereas so much butter just tastes sort of waxy, like fat and salt." There was a time when Aldi stocked Kerrygold, but while its own-brand variety, Countryside Creamery Pure Irish Butter, isn't quite the same, it's just as popular. And, thanks to a new innovation, it's an even better buy.
Aldi Irish butter is now devilishly spreadable
As Aldi aficionado, The Amazing Aldi, noted on Instagram, "Aldi has the Irish butter in spreadable tubs right now." This means the stuff is ludicrously easy to spread straight out of the fridge. The responses were both positive and negative, with several users advising the addition of canola oil does nothing for it, while others claimed the butter tasted almost like margarine and the variety with olive oil is better overall. However, a couple commenters described it as "awesome" and confirmed they're eating it on a daily basis.
There's a long-standing argument between Aldi fans about whether the German grocery giant's own-brand Irish butter can hold a candle to Kerrygold. Aldi Reviewer advised it's softer and easier to spread than American butter, while the rich taste reminded the writer of Kerrygold. Nutritionally speaking, there isn't too much difference between Countryside Creamery and Kerrygold, although there's slightly less salt in the Aldi variety (it doesn't taste less salty, however). Plainly speaking, if you can't source the real stuff, Aldi is your best bet — particularly in its new, handy spreadable tub.