What You Didn't Know About Eddie Van Halen's Son, Wolfgang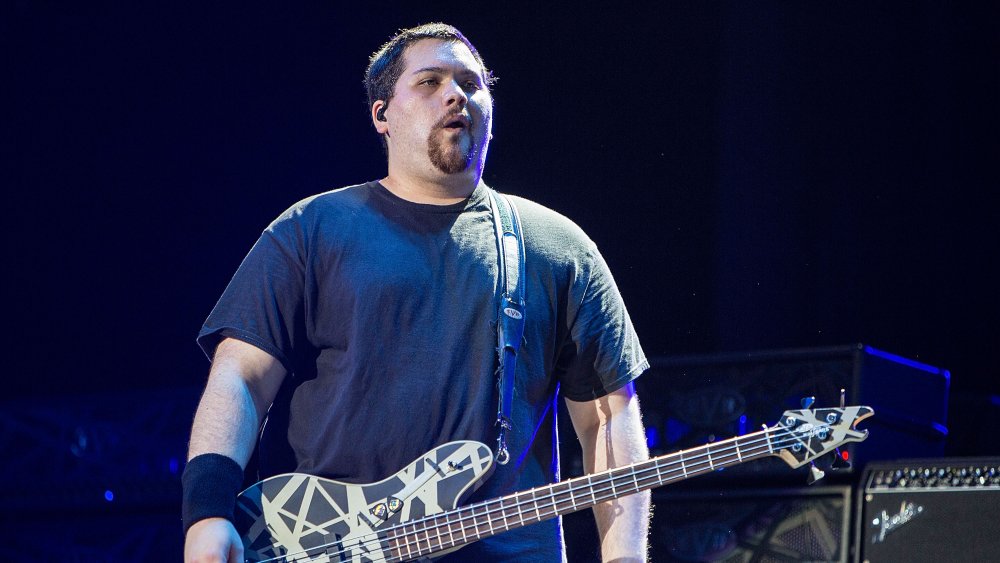 Daniel Knighton/Getty Images
Legendary guitarist Eddie Van Halen has died from throat cancer (via People). He was only 65 years old. The sad news was revealed by Van Halen's son, Wolfgang on Instagram. "I can't believe I'm having to write this, but my father, Edward Lodewijk Van Halen, has lost his long and arduous battle with cancer this morning," the heartbroken 29-year-old shared. "He was the best father I could ever ask for. Every moment I've shared with him on and off stage was a gift," Wolf, whose mother is actress and celebrity cook Valerie Bertinelli, added. "My heart is broken and I don't think I'll ever fully recover from this loss. I love you so much, Pop."
Clearly Van Halen's only son was very close with his father, judging from this post alone. According to Van Halen News Desk, Eddie always planned to incorporate Wolf into the band — although he always wanted his son to take whatever path he chose. "I'm going to let Wolfgang be whatever he wants to be. I don't see how he won't somehow be into music," Wolf's father admitted, since he was exposed to it from birth. It turns out the songwriter was right, as Wolfgang began appearing with Van Halen in 2004 when he was just 13. He later debuted as Van Halen's new bass player in 2007, when returning lead singer David Lee Roth called the band's lineup, "Three parts original, one part inevitable."
Wolfgang Van Halen was born into Hollywood royalty
Bertinelli, who found fame playing Barbara Cooper on One Day at a Time, and Van Halen were married when she was just 20 years old and stayed together until 2001 (via Today). Vhnd reports Wolfgang was named after the famous composer of the same name, Wolfgang Amadeus Mozart. And Van Halen's famous song "316" commemorates his birthday, March 16. Wolfgang claimed he had no idea he had famous parents at first. It wasn't until he started picking up CDs and saw pictures of his father that he realized his dad was actually a rock star (via iHeartRadio).
Bertinelli has said drugs and infidelity were part of the marriage — and ultimately confessed, "I got tired of, once again, hiding and thinking this is not the life I want for myself, for Wolfie, especially, and I don't want to keep treating Ed so badly" (via Today). She added, "But I think really what my sorrow was, that I wasn't giving my son the life I thought he deserved."
Later, when Bertinelli's son began playing bass with the band, she admitted she wasn't a huge fan of the idea. "He told me, 'You were working at this age, too.' He really gave me a good argument and I said, 'I don't want you to go, but I'm not going to stop you." There probably wasn't much Bertinelli could do to stop Wolfgang from performing on stage with his dad. According to iHeart Radio, he was playing drums by age 9, and could figure things out by ear on the keyboard. He then picked up guitar two years later.
Wolfgang is also a mama's boy
Sure, Wolf, who has planned to release his first solo album — its release is on hold due to COVID-19 — was close with his dad, but he also seems to have a tight relationship with his mom. He appeared on several episodes of her cooking show, Valerie's Home Cooking. During one episode, she prepared her son's favorite meal: pasta e fagiolo, turkey meatloaf, roasted broccoli rabe, and pumpkin pudding. Yum!
About her son, Bertinelli has expressed that being his mom means she can say, "That I know how to do something right. The moment I became his mother, I felt right in the world... I felt whole. He's just a very special human being, and I love him dearly" (via Cheat Sheet). Her Instagram handle is even Wolfie's Mom. There's no doubt she is supporting her son as he mourns the loss of his dad. In response to his Instagram announcement of Eddie's passing, she posted a long line of broken heart emojis. 
Another support Wolfgang has is his girlfriend, Andraia Allsop (via Glamour Fame). The Utah native, who has been with Wolf since 2015 according to Superb Hub, is "in" in the family enough for Bertinelli to post about her on social media and invite her to appear on Valerie's Home Cooking. But other than that, she keeps a pretty low profile. 
Here's wishing the man who will most certainly carry on his father's legacy some peace during this very difficult time