Eddie Van Halen's Wife Posts Heartbreaking Tribute After His Death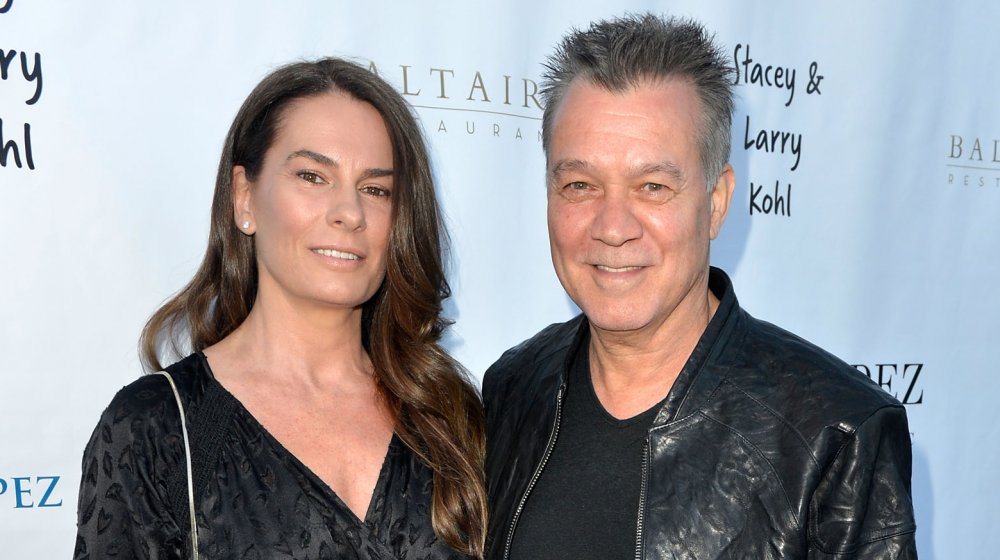 Jerod Harris/Getty Images
Eddie Van Halen, legendary guitarist and founder of the band Van Halen, tragically passed away this week after a long battle with throat cancer. Friends, family members, and admirers have chimed in on social media to memorialize the musician. Wolfgang Van Halen first announced that his father passed away on social media, writing, "My heart is broken and I don't think I'll ever fully recover from this loss. I love you so much, Pop." Van Halen's ex-wife and friend, Valerie Bertinelli, also wrote a memorial note saying, "40 years ago my life changed forever when I met you... Through all your challenging treatments for lung cancer, you kept your gorgeous spirit and that impish grin."
One of the people closest to Van Halen waited before sharing a tribute with the public: his wife, Janie Liszewski. The former stuntwoman was married to Van Halen for over ten years (via NY Post). The photo Liszewski posted captured a quiet moment between her and her husband. Both sat shoeless on a sandy beach, their legs stretched toward a cloudy sky. 
The heartfelt message Janie Liszewski wrote for her husband
Janie Liszewski addressed her memorial post to her husband, addressing it to her "Peep" and signing it "your PooPee." She wrote, "My heart and soul have been shattered into a million pieces. I never knew it was possible to cry so many tears or feel such incredible sadness. Our journey together has not always been an easy one but in the end and always we have a connection and love that will always be. Saying goodbye is the hardest thing I have ever had to do so instead I say so long, I will see you again soon in a place with no pain or sorrow." 
Liszewski also asked that Van Halen watch over the Pomeranian pup the two shared, Kody (via Ultimate Classic Rock). At her wedding to Van Halen, Liszewski had another pet dog, Kano, walk her down the aisle (via People). Music fans everywhere will certainly be sending Liszewski their best wishes as she grieves.