Here's Why The Trump Campaign Is Saving A Seat For Tupac At The VP Debate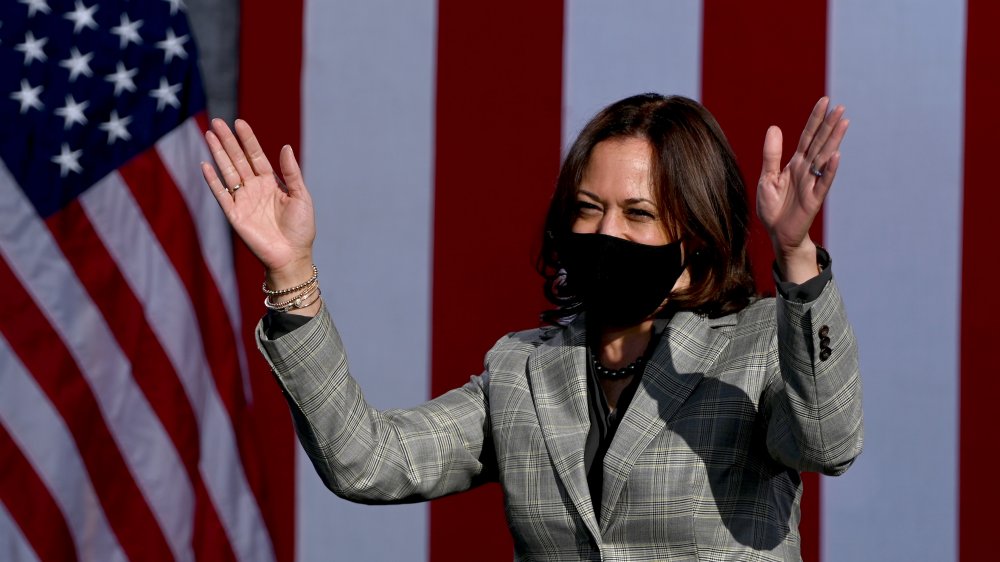 Ethan Miller/Getty Images
There will be one seat that won't need to be social distanced from the debate between Vice President Mike Pence and Democratic vice presidential hopeful Kamala Harris later tonight, and the Trump campaign says it's reserving that for late hip-hop artist Tupac Shakur. The rapper was shot in 1996 as he was leaving a Las Vegas casino, and he died six days later — although his albums continued to be repackaged and rereleased (via Britannica).
The troll refers to a late September interview Harris made during an event with CNN's Angela Rye where Harris called Tupac "the best rapper alive." The exchange was recorded and shared on Twitter. Harris laughs and says after her mistake, "I keep doing that."
"Listen, West Coast girls think Tupac lives on. I'm with you," the anchor says before asking the VP nominee to pick another rapper. While Harris admitted there are "so many" rappers she likes, she also expressed that there are others "I would not mention right now because they should stay in their lane" (via Billboard).
The debate stage is set to reflect threat posed by COVID-19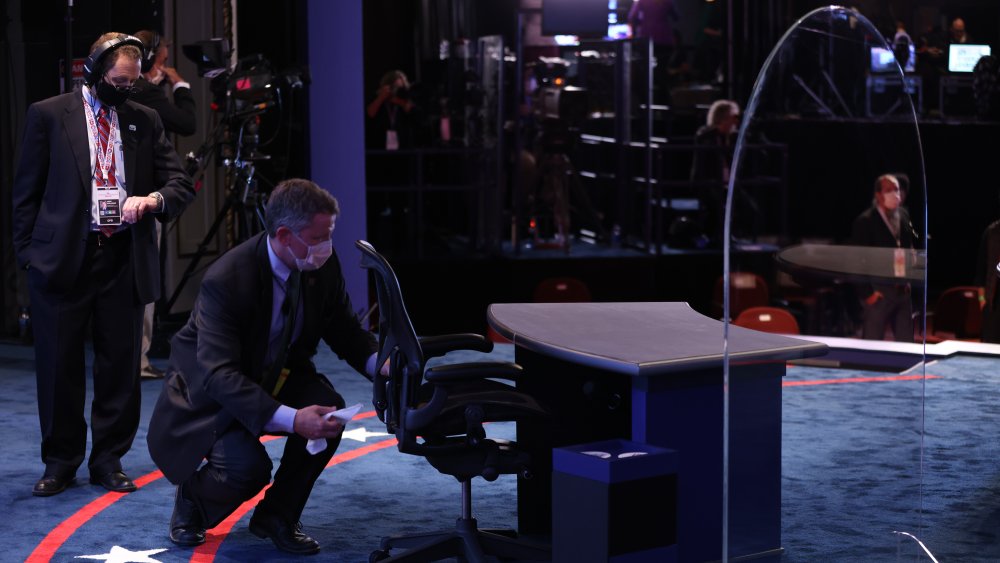 Justin Sullivan/Getty Images
An empty chair isn't the only thing viewers who want to tune into watch the debate might be watching out for. In the past, vice presidential debates were by and large considered snoozefests. But because the president's diagnosis with COVID-19 could mean that the next second presidential debate may not happen, political watchers are hoping that Pence will use the time to highlight policies that show why he and President Donald Trump should be given a second mandate. Politico notes that Harris will be expected to do one thing: to tie Pence to the administration's inability to control the virus, particularly since he is the chair of the White House Coronavirus Task Force.
Bob Barnett, who helped Tim Kaine prep for his debates with Pence in 2016, says of the vice president: "The key thing with Pence is that you have to separate out style from substance. He will come across as very measured, very thoughtful and very smooth — very unlike President Trump. But out of his mouth will come these wild Trumpisms."
Both candidates will also have very visual reminders of the coronavirus, which ABC now says has sickened at least 34 people in the White House. Plexiglass barriers will be set up between Harris and Pence, and both will be situated 7 to 13 feet apart.