Joy-Anna Duggar Defends Herself Against Mom-Shaming Critics
Joy-Anna Duggar, who you may know more recently as Joy Forsyth, is answering critics of her parenting skills. In the most Duggar-like clap back of all time, Joy-Anna addresses fans who worried she might be about to drop her small infant. The controversy stems from a series of Instagram pics shared in early October. Moments after the family of four image shown here, new mom Joy-Anna and her two young children appeared in a slightly awkward pose (via Instagram). Speculation started when one fan notices her unusual grip (via People). Said the concerned viewer, "Why is she carrying that baby like that looks like she fixing to drop her!"
Instead of snapping back in anger, you can almost see the smile on Joy-Anna's face as she replies, "Haha! Thank you for your concern! I was holding Evy and then Gideon was trying to hold my hand! I wasn't about to drop her tho!" Yes, she added a smiley face emoji, too. In truth, the evidence is on Joy-Anna's side to suggest that she very much knows how to hold a baby — she's one of 19 siblings after all.
Joy-Anna Duggar has plenty of baby experience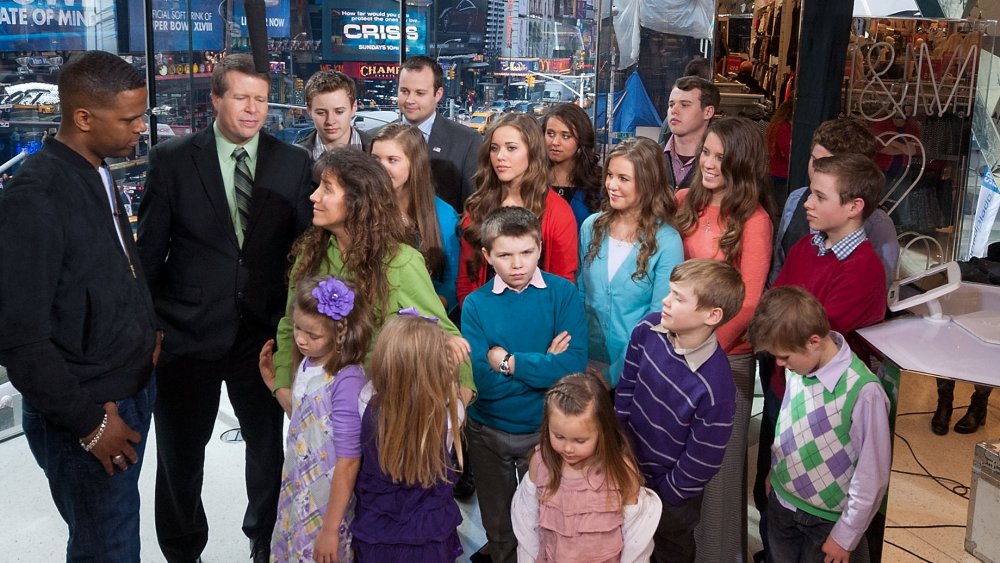 D Dipasupil/Getty Images
The Duggar siblings were raised by using mom Michelle's famous (or infamous) method called the "buddy system." Under this system, fourth-eldest sibling Jill was primarily responsible for a young Joy-Anna (via Cheatsheet). Each older child in the Duggar home, especially the girls, was required to supervise the chores, learning, and behavior of the younger children. Joy-Anna, as ninth in line, had 10 younger siblings, in addition to a growing group of nieces and nephews. Given both the size of the household and simple practicality — it's a safe bet that this young mother is an experienced baby carrier. 
In addition, tiny Evy, who was born in August 2020, is also this mom's second child. She's young but definitely not new at the parenting game. What's far more likely is that this family are pros around baby basics, but simply amateurs at photography and modeling. If they had an awkward photo — that's really just a standard part of motherhood anyway. We're sure the baby is just fine.