The Heartfelt Message Kamala Harris Shared For Doug Emhoff's Birthday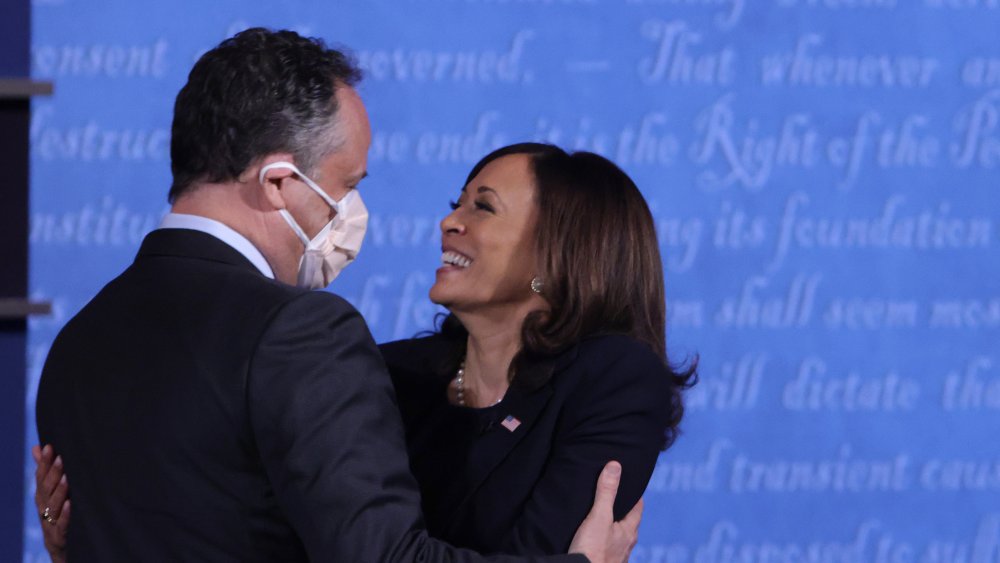 Alex Wong/Getty Images
Vice presidential candidate Kamala Harris took to Twitter this morning to wish her husband, Doug Emhoff, a happy birthday. Along with a photo of the radiantly-smiling couple, Harris shared the sentiment: "The morning after our first date, @DouglasEmhoff emailed me a list of his available dates for the next couple of months: 'I want to see if we can make this work.' And we did. Dougie, happy birthday. I could not imagine anyone else I'd rather be with on this journey called life."
Harris wed entertainment lawyer Emhoff in a small courthouse ceremony in Santa Barbara, CA, in the summer of 2014 (via sfgate.com). The two had dated for roughly a year when Emhoff proposed to Harris by classically kneeling to pop the question in Harris' apartment (via Town and Country Magazine). Harris' sister Maya presided over the ceremony, and both Emhoff and Harris wrote their own vows. The couple honored one another's culture backgrounds during the ceremony as well, with a flower garland placed around Emhoff's neck — a common practice in Indian weddings — and the breaking of a glass at the end of the service, as is traditional in Jewish ceremonies. Emhoff has two children from a previous marriage, who Harris has been helping to raise in their mixed family.
Emhoff has been called "the sweetest political spouse on Twitter"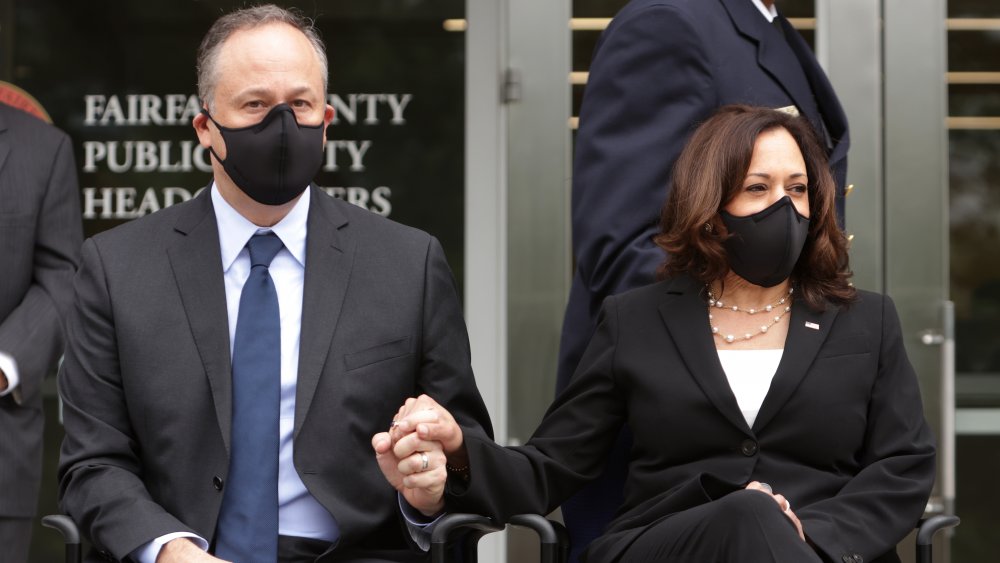 Alex Wong/Getty Images
Maybe Harris' sweet Twitter dedication was repayment for all of her husband's adorable tweets aimed lovingly in her direction. Town and Country Magazine went so far as to label Emhoff "the sweetest political spouse on Twitter" thanks to his willingness to show his love in public. Back in April, Emhoff shared a photo of two tiny ketchup bottles, one with "Kamala" written across it and the other labelled "Doug." "True Love is....your wife making sure you see the matching Kamala/Douglas ketchups when you open the cupboard when she is on the road..." he tweeted. And on their anniversary this past August, he said, "Dearest Kamala: here's to us, our family, friends and our beautiful life together. Wouldn't change a thing. Happy Anniversary! Love, D."
Aw, no wonder Kamala was moved to share a sappy birthday message! It was certainly Emhoff's turn for a moment in the rosy-hued spotlight of Twitter love.