The Truth About Catherine O'Hara And Eugene Levy's Relationship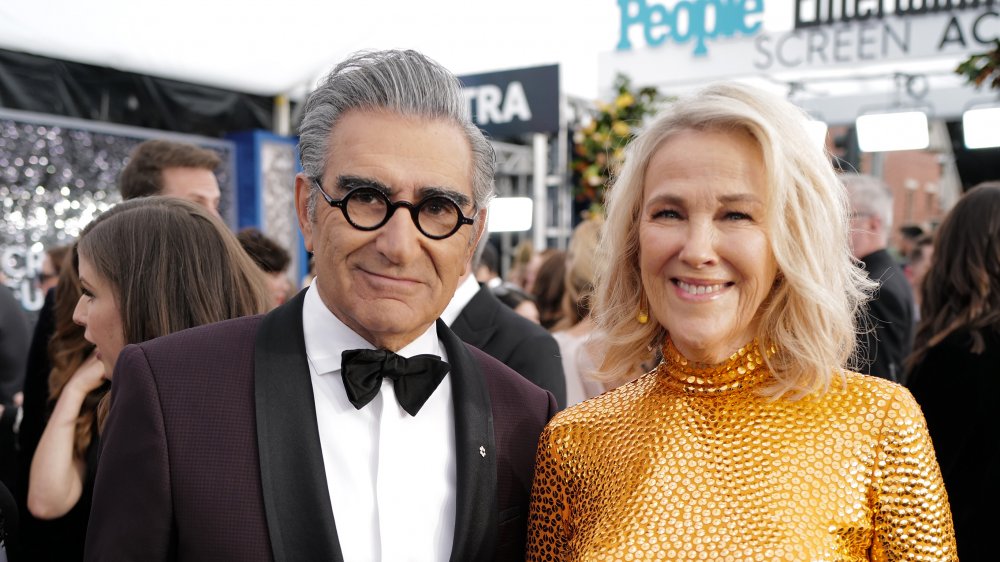 John Shearer/Getty Images
You probably know Catherine O'Hara as the dramatically verbose matriarch of the 2020 Emmys-dominating show Schitt's Creek. A role with surprising depth and dimension that has you laughing at her antics, and at the same time delighting in her love and devotion to her family. And that's what has made Catherine O'Hara such a respected and admired comedic actress — her ability to take a character which might seem vapid and one-sided upon first glance, and make her so much more.
Looking back on just some her roles, like Kate McCalister, Kevin's frantic mom in Home Alone, Delia Deetz, the interior designer and macabre artist mother of Winona Ryder in Beetlejuice, and every role in the many Christopher Guest films from Waiting For Guffman to Best in Show, O'Hara has a way of making her characters not just belly-laugh funny, but utterly endearing (via Vanity Fair).
When you put her and Eugene Levy together, however, the chemistry literally pops off the screen — and it should. They've been working together since their days on the hit Canadian sketch comedy show SCTV in the late '70s, and later in four Christopher Guest movies, per the Los Angeles Times. But it's the love story between Moira and Johnny Rose on Schitt's Creek where you really see their connection. For fans of the show, it should be no surprise that the two briefly dated when they were just starting out in the business! 
Catherine O'Hara and Eugene Levy's humble Canadian roots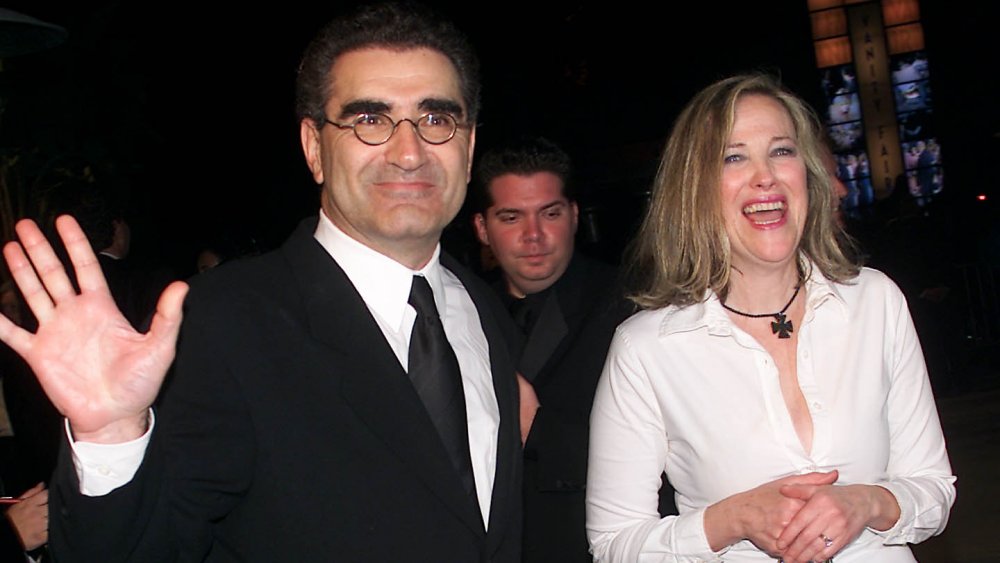 Evan Agostini/Getty Images
When Catherine O'Hara was just a teenager living with her large family in Toronto, her older brother started dating Gilda Radner when she was just getting started in the business. O'Hara became fast friends with Radner, who inspired her to try out for a role in the musical Godspell which Radner was a cast member of at the time alongside Martin Short, and none other than Eugene Levy. O'Hara got a callback, but not a role, however, only a few years later, she found herself on the sketch comedy show SCTV, first as Radner's understudy and later as a cast member. Much of that Godspell group was in the SCTV cast, as well, including Levy (via Vanity Fair).
Orbiting each other for years, O'Hara and Levy became fast friends, and according to an interview with the pair on Watch What Happens Live with Andy Cohen, O'Hara revealed that the two went on "one or two dates." She explained to Cohen, "There's nothing sexier than laughing together and having someone who makes you laugh." O'Hara went on to say, "So, everybody at Second City theater tried to date everybody. Like, 'He makes me laugh. I should go out with him.'" While their brief romance never took off, O'Hara did tell Vanity Fair, "I think we went out to breakfast once. I think we must have kissed. But nothing further because he was a gentleman and I'm a good Catholic girl."
While romance didn't bloom between the castmates, both are happily paired off with families of their own, a lifelong friendship did.