Here's Why Millie Bobby Brown Had To Re-Learn Her British Accent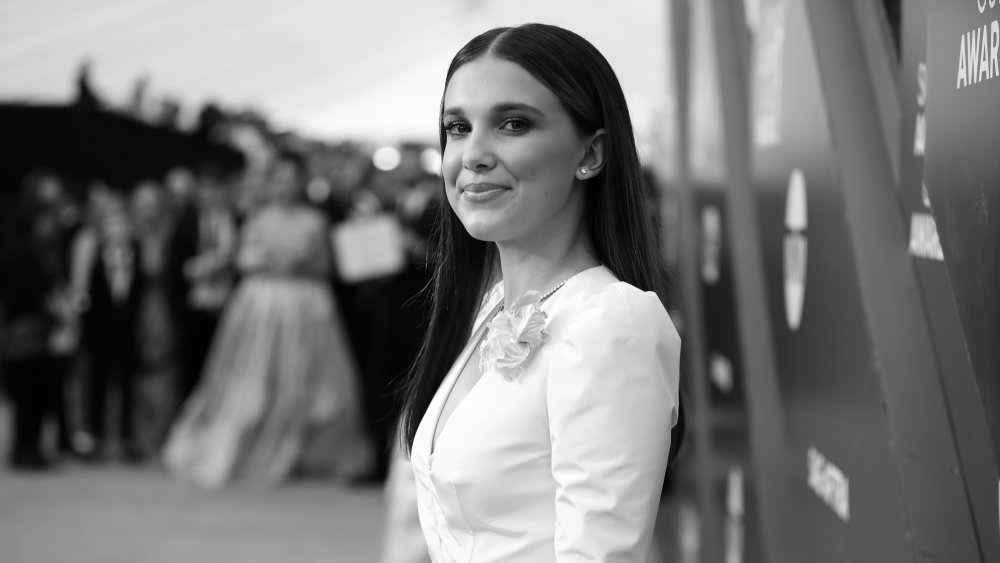 Rich Fury/Getty Images
Millie Bobby Brown may be best know as Eleven from Stranger Things, but she has stepped up her game in her most recent production Enola Holmes, streaming on Netflix. It's not only her first time as a lead in a movie, but she's an executive producer (via LA Times).
You would think the least of her problems would be the switch back into her native British accent after using an American accent in Stranger Things, but she actually had to re-learn her British accent for this film (via Showbiz Cheat Sheet).
"For the last five years I've been playing an American character in Stranger Things and I found it really challenging being British in this, even though I am a Brit. I had to learn how to speak again because I'm so used to speaking in an American accent," Brown said.
The British actress was born in Spain and currently splits her time between Atlanta, Georgia and London (via The Sun). It makes sense that the back and forth between homes and being immersed in such diverse projects could definitely confuse how you speak.
Along with the accent, Millie Bobby Brown learned martial arts in a corset
Netflix
Enola Holmes is based on a YA series by Nancy Springer, and it is set in Victorian era London. Brown plays the little sister to Sherlock Holmes, played by Henry Cavill, and Mycroft Holmes, played by Sam Claflin (via LA Times). At 16, Enola has the wit, smarts, and detective skills most commonly associated with Sherlock. Their mother Eudoria, played by the iconic Helena Bonham Carter, disappears on Enola's 16th birthday. The rest of the film follows the hijinks and drama of Enola trying to track down her missing mother while her brothers are trying to keep her in a finishing school.
Along with re-learning her British accent, Brown learned martial arts and did a lot of her own stunts. There was a challenge there too, since she had to do martial arts while wearing a Victorian costume. She explained her two month training experience to Entertainment Weekly; "It's hard navigating the choreography that you've learnt so well in your trainers and your leggings and then switching up and putting an underskirt on, a skirt over that, a corset, then you have your petticoat, then you have your long socks, then you have your heels..."
Whatever it took for her to relearn her accent and do martial arts in a corset, it was worth it. The movie is a fun mix of coming of age, mystery, action, and feminist empowerment.