Post Malone's Billboards Performance Is Raising Eyebrows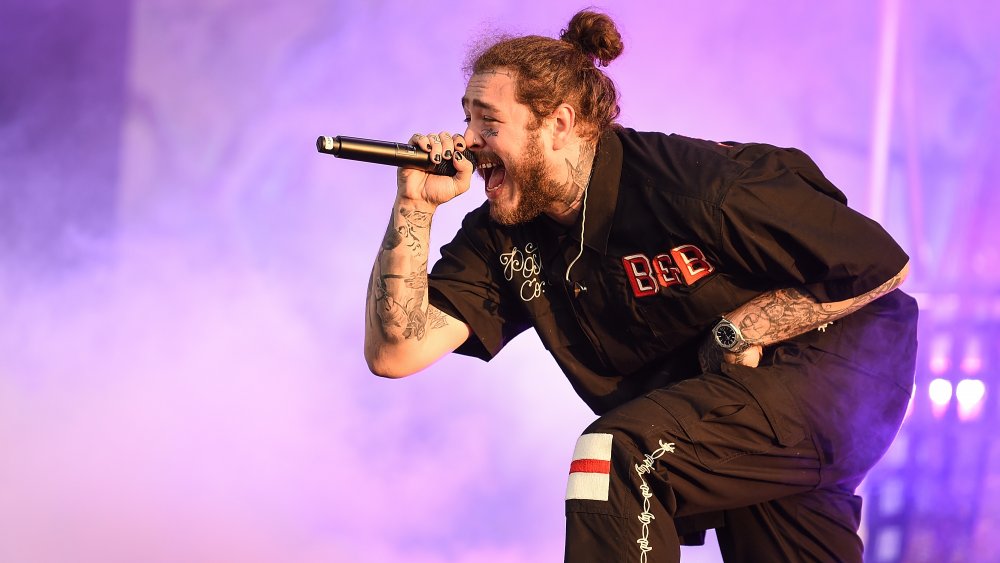 Tabatha Fireman/Getty Images
Post Malone's 16 Billboard nominations were not enough to get him a free pass for his performance at the 2020 Billboard Awards (via Billboard). The rapping phenomenon, who was nominated in both the Top Artist and Top Male Artist and Top Billboard 200 Artist categories, was certainly set up for success before his much-anticipated performance. 
First came his entrance, surrounded by cranes,  swathed in blue smoke, which turned into brilliant red and orange lights, right before the ... fireworks, of course. It was as if he was performing from the docks that had just survived the end of the world — either that or, for his performance,  Post Malone borrowed the leftovers of a  laboriously constructed set of a Hollywood horror movie. Which is probably why one Twitter follower quickly jibed, "at this point the microphone is just an accessory."  And yet... not even the set up could save Post Malone. Neither, as it turns out, would his megahit, "Circles." 
Did Post Malone bomb his 2020 Billboard performance?
"Run away, but we're running in circles," Post Malone sang, "I dare you to do something, I'm waiting on you again, so I don't take the blame." We should have been jamming out to our favorite song. But despite the track's obvious allure (it's got over 284 million Youtube views)...  no one was really paying attention. The Twitterverse had bones to pick. 
The first? "It was good but it was literally a copy version of The Weeknd's Blinding Lights at the VMA's," observed one member of the Billboard Award's virtual audience. And, it's hard to deny the similarities. Post Malone may not have sported a bloody face like The Weeknd did, but the heights, the lights, and the post-apocalyptic theatrics were certainly all there. 
The second bone that Twitter picked with Post Malone was more serious, still. "Post Malone out here showing everyone how not to lip sync," wrote a disappointed fan. "Not feeling this!" pouted another. "Loads of autotune. Lips and audio out of sync. Fireworks but you can't hear them through the mics."