Here's Why The Home Edit Ladies Organize Everything In Rainbow Order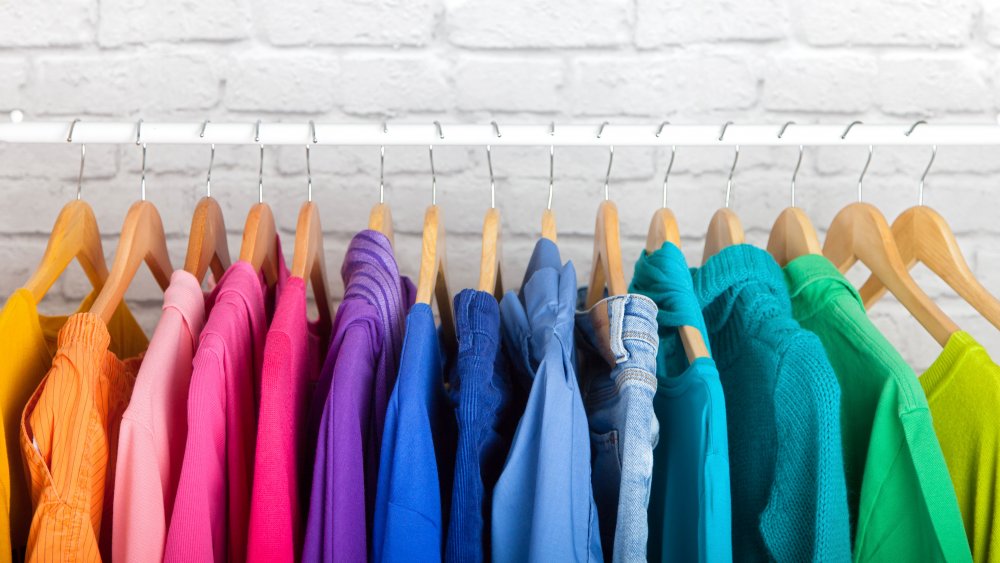 Shutterstock
There's something just so aesthetically pleasing about neat and orderly items, whether it be a gorgeous bookshelf, a sorted pantry, or perfectly arranged closet. And with social sites like Instagram, there is a nonstop feed of inspiration for getting your own home in check. Currently, one of the most beloved home organization trends is sorting things in rainbow order. This was made popular by The Home Edit, an organization founded by a team of two women who whip homes into shape, and who just recently launched their own Netflix show giving viewers tips on doing the same — no consultation required.
But you've likely noticed from their pages, website, and show that everything, we mean everything, seems to always end up in rainbow order. This isn't purely coincidence, there's actually reasoning behind why — and it's not just aesthetics. In an interview with PopSugar, co-founders Clea Shearer and Joanna Teplin explained that putting things in rainbow order can be a conversation starter, helpful for children, and well, it just looks pretty.
Other ways of organizing your belongings
Although ROYGBIV may be magical to some, not everyone appreciates a chromatic display. This is something The Home Edit founders totally understand. "There are definitely people — either for aesthetic purposes or because they just can't wrap their head around it — who are not rainbow candidates, and that is totally fine. We do not push our rainbow ways onto people!" Shearer told PopSugar.
So if rainbow isn't your thing, you still have plenty more options for getting your things in order that look equally as chic. Pantries and makeup drawers can be sorted by product, expiration date, or size. Your closet might not contain any bright clothes to begin with, so ordering from white to beige to black could make for a minimalist's dream wardrobe. If your bookshelf needs some help, try taking off the dust jackets and wrapping them all in the same color of cover or turning them backwards for a finish that looks pulled together with no rainbow in sight (via House Beautiful).