The Bachelorette's Ashley Hebert Announces Sad News About Her Marriage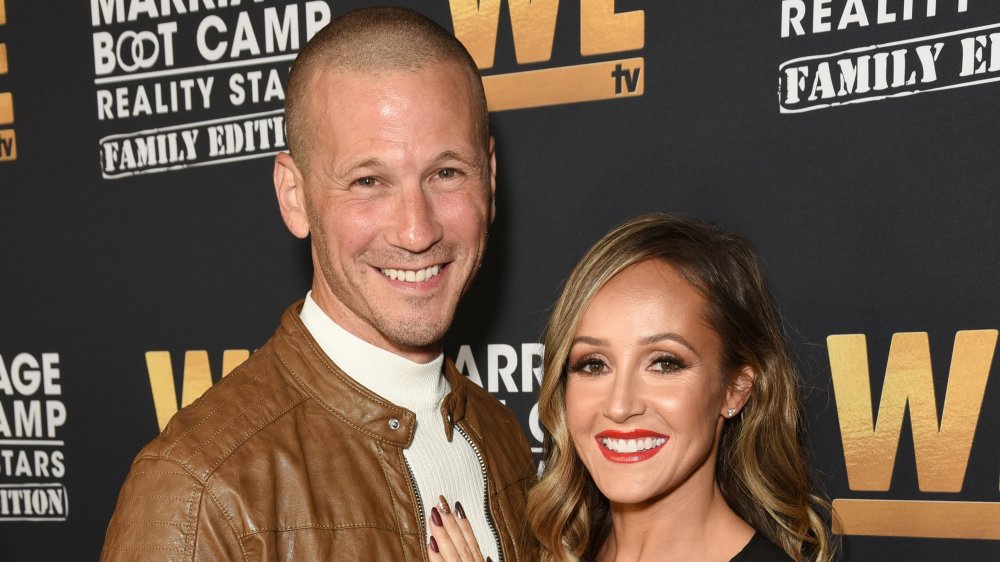 Presley Ann/Getty Images
We would have counted Ashley Hebert and J.P. Rosenbaum, who met and fell in love on season 7 of The Bachelorette, as one of the most stable and successful couples in the franchise's history. But alas, the couple, who has been married for eight years, announced they are splitting up after months of trying out a separation from one another (via People). The former Bachelorette and her soon-to-be ex-husband both took to Instagram to announce the sad news to their loyal fans.
"It is with a heavy heart that I share with you that, after months of separation, Jp and I have amicably decided to go our separate ways," Hebert announced late Wednesday night. She added, "We created the most beautiful children and shared memories that will never be forgotten." But as the reality star acknowledged about their relationship, "Our differences have taken a toll on our relationship and after years of attempting to repair the damage, we've decided that it is in our family's best interest to create new and separate lives for our children."
Fans were quick to share their messages of support for the couple. Other past Bachelorettes chimed in as well. Notably, Jillian Harris commented, "There's no right or perfect way to do life. You both are loved over here." Emily Maynard added, "I'm so sorry, Ashley. Sending you the biggest hug and all the love."
J.P. Rosenbaum shares his side of the story
Hebert added a final sentiment to her Instagram announcement of her split with Rosenbaum, with whom she shares two children, Fordham, age 6, and Essex, age 3: "Please respect our privacy as we move forward with the newness of our lives. Our ultimate focus is to create stable and healthy lives for our children. Thank you for your love and support throughout the years. Wishing you all love, happiness, and good health."
Meanwhile, Rosenbaum, who was diagnosed with Guillain-Barré syndrome late last year, shared his own Instagram post. "I have written and rewritten this post dozens of times and each time I feel the same level of disbelief and extreme sadness," he said, adding, "While I realize that this will come as a complete shock to everyone, I can assure you that this is something that has been developing in our relationship for quite a while."
The dad of two went on to share: "Please please please know that there is no one to blame, that there's no event that triggered this decision, that no one is the victim, and that we've done absolutely everything we possibly can to try to salvage this marriage." Rosenbaum added, "I think we've both come to realize that we are just two very different people, with very different personalities and perspectives, who just don't see eye to eye on a lot of life fundamentals, those which are the building blocks for a happy and healthy marriage."
Ashley Hebert and J.P. Rosenbaum haven't had an easy past couple of years
Again, Bachelor Nation members were quick to offer their support for the former couple on Rosenbaum's page. Deanna Stagliano commented, "Love & prayers for you both as you navigate this difficult time." Tanner Tolbert responded of behalf of himself and his wife Jade, "Sending our thoughts to you both." Nick Viall said, "I'm so sorry. I love you man. Hoping for the best for both of you." And among other Bachelor contestants from the past was this message from Jason Mesnick, "The Mesnick's are thinking about you guys... love those kiddos and keep your head high." Meanwhile, Catherine Giudici shared this message on behalf of herself and her former Bachelor husband, "Sean and I are sending you, Ashley and your sweet children so much love."
In his Instagram post, Rosenbaum also asked for privacy for his family at this time, and notably went on to wish his followers good health. About his diagnosis with the nerve disease, which can cause paralysis, but is usually an illness one can recover from, Rosenbaum told ABC News in January, "I can't hug my kids, pick up my kids, do anything for my kids, I don't want my kids to see me like this. I just burst into tears, just because I was scared and frustrated and ..." At that time, Hebert said she'd never seen her husband cry.
Interestingly, the couple renewed their wedding vows in 2018.