Kamala Harris Has The Best Response To The Fly On Mike Pence's Head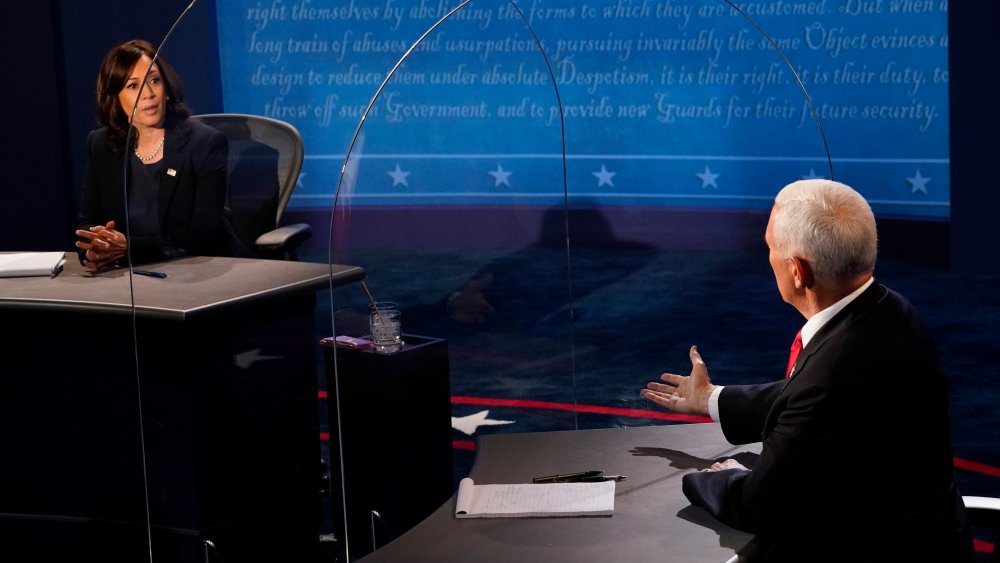 Pool/Getty Images
After a train wreck of a first presidential debate, followed by President Donald Trump and many others in Washington, D.C. contracting the coronavirus, the relatively staid vice presidential debate last week presented a welcome change of pace while still offering plenty of buzz-worthy fodder for SNL and late-night hosts to parody (via NPR).
While there was a lot of bluster about the use of plexiglass dividers leading up to the debate, we are glad they didn't obscure what became one of the more exciting moments for those following on social media: The fly that landed on Vice President Mike Pence's head mid-debate. "I did see the fly and I just assumed it would fly away because it was a fly," Senator Kamala Harris told the Rickey Smiley Morning Show (via Newsweek). "You know, I didn't want to embarrass the man, right, and make a deal out of it on the stage because there was too much to talk about like the fact that they're trying to get rid of people's health care. But it certainly was — I guess it turned out to be something that people talked about."
Here's how Kamala Harris responded to Rachel Maddow when asked about the fly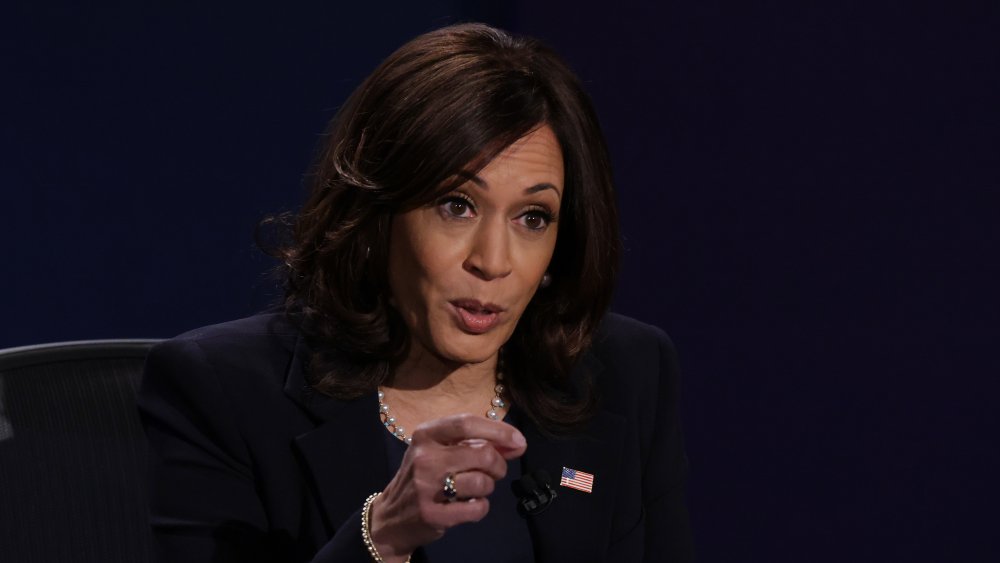 Alex Wong/Getty Images
And there were a lot of people, ahem, buzzing about that fly. Veep star Julia Louis-Dreyfus tweeted, "Well, I wish we had thought of this," while the Biden campaign pounced on the moment by launching the tongue-in-cheek flywillvote.com (via The New York Times). The fly was even reimagined in SNL's most recent cold open as a transporter mash up of presidential candidate Joe Biden and a fly (a la Jeff Goldblum in The Fly, as portrayed by Jim Carrey, natch).
By the time Harris was later interviewed by Rachel Maddow, she perfected her diplomatic response (via YouTube). After exchanging a series of glances and laughter, the VP candidate regained her composure, ending with, "I think that it's important that we kind of find a way, all of us, to move on and, you know, kind of fly away from this subject onto something else."