What You Don't Know About The Royal Family's Jewelry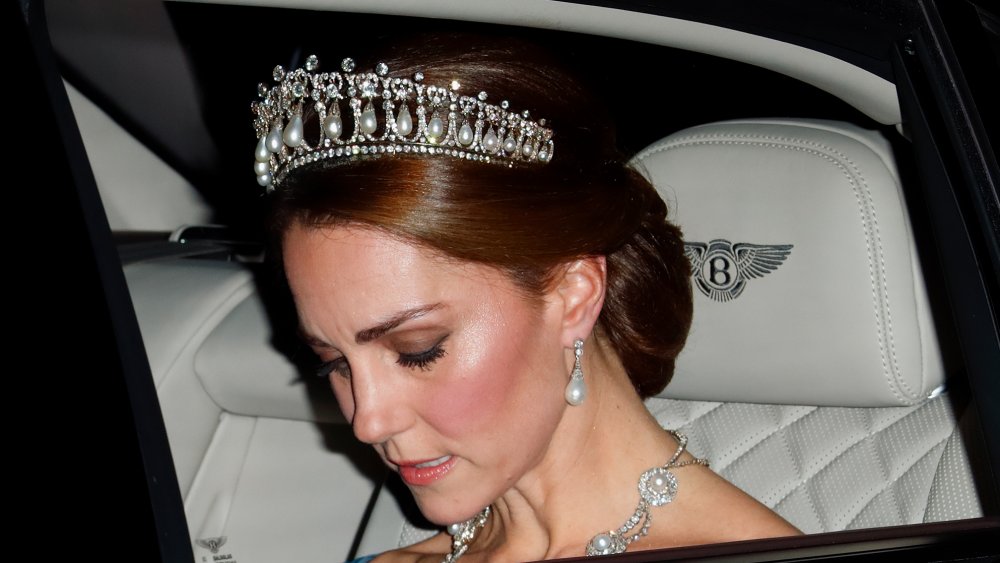 Max Mumby/indigo/Getty Images
The royal family's jewelry collection is truly jaw-dropping. Though most of us might only ever own one or two family heirlooms (if any at all), the royal family actually makes sure most of their jewelry stays in the family for years to come. According to Town & Country, the British royals have been doing this for centuries. That being said, the pieces of jewelry aren't always passed down in their original form. They are sometimes redesigned, altered, and even broken down into smaller pieces. "Pieces are often modified to better suit current tastes or to be more wearable for an individual woman," jewelry expert Ella Kay told Town & Country.
As the pieces of jewelry in question are passed down, so are the stories that make them special. Trust us when we say some of the tales associated with well-known pieces the royals wear quite often are really stranger than fiction. We've studied the history books to extract some of the most interesting facts about the royal family's jewelry collection.
Kate Middleton's royal wedding earrings were inspired by her family's coat of arms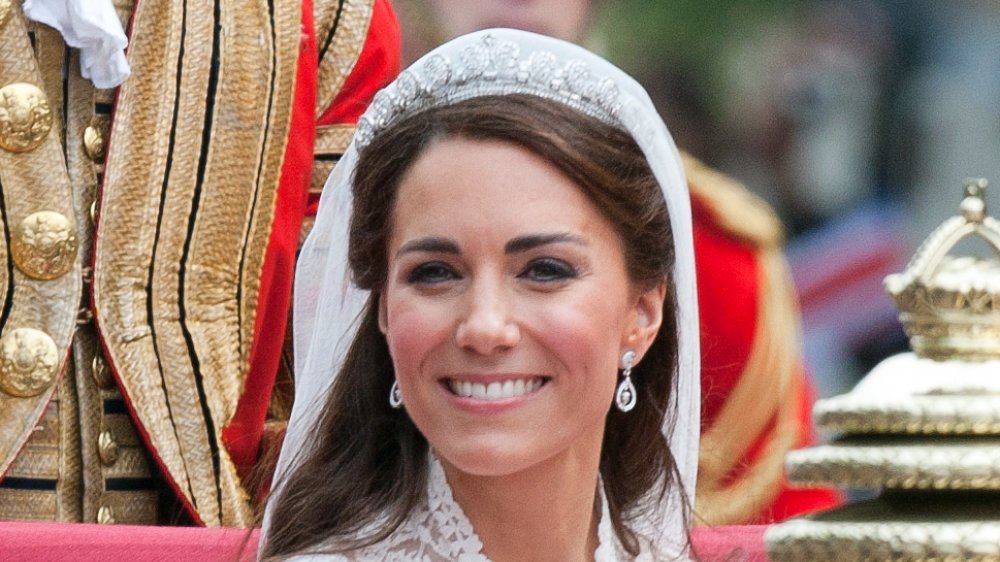 John Phillips/Getty Images
If you were one of millions around the world who eagerly watched on TV as Kate Middleton walked down the aisle in 2011, you'll likely agree her entire outfit was downright stunning. Many aspects of her outfit were bespoke, right down to her wedding earrings, according to Hello! magazine. 
The publication reported that the beautiful pair of earrings was custom-made to perfection by Robinson Pelham and were quite symbolic in nature. They were designed to incorporate aspects from her beloved family's coat of arms, including oak leaves and acorns.
According to the royal family's website, the Middletons worked collaboratively with the College of Arms to finalize the official family Coat of Arms before Middleton married Prince William. It includes three acorns, one for each of the Middleton kids, that pays homage to the area in which the Middleton siblings — Kate, Pippa, and James — grew up in: West Berkshire, England, which is known to be full of oak trees. Incidentally, oak is also a reputable symbol of England that means "strength."
How Princess Diana felt about this tiara, a highlight of the royal family's jewelry collection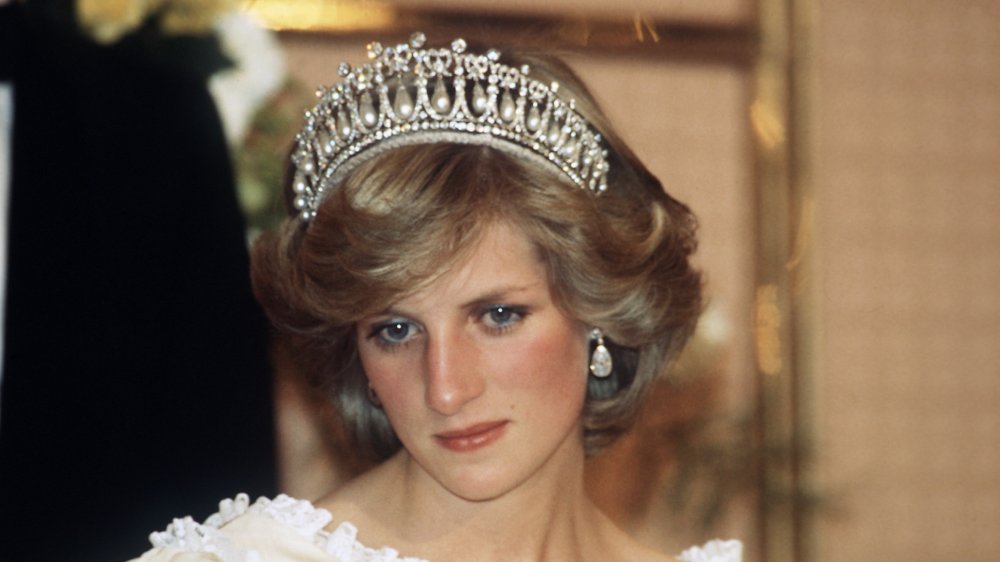 Anwar Hussein/Getty Images
The royal family's beautiful Cambridge Lover's Knot tiara attained iconic status thanks to Princess Diana, but it actually has a long and interesting history that predates her by several decades. According to Town & Country, it was made for Queen Mary in 1914, and the jewels that appear in it were actually from her family's personal collection. 
Upon her death, the tiara was bequeathed to Queen Elizabeth II, Queen Mary's granddaughter. She actually wore it quite often in the '50s. She reportedly lent it to Princess Diana to wear on her wedding day, who chose to wear a Spencer family heirloom instead. Despite this, Princess Diana wore the tiara quite often during her marriage to Prince Charles, even though the piece was uncomfortably heavy. Princess Diana returned the tiara upon her divorce from Prince Charles, and we didn't really get to see it out and about until Kate Middleton wore it to an event at Buckingham Palace in 2015, as noted by People. She has worn it several times since, to the delight of fans of this particular tiara, most notably with a blue Alexander McQueen gown.
Princess Diana's famous pearl and sapphire choker was originally a different piece of jewelry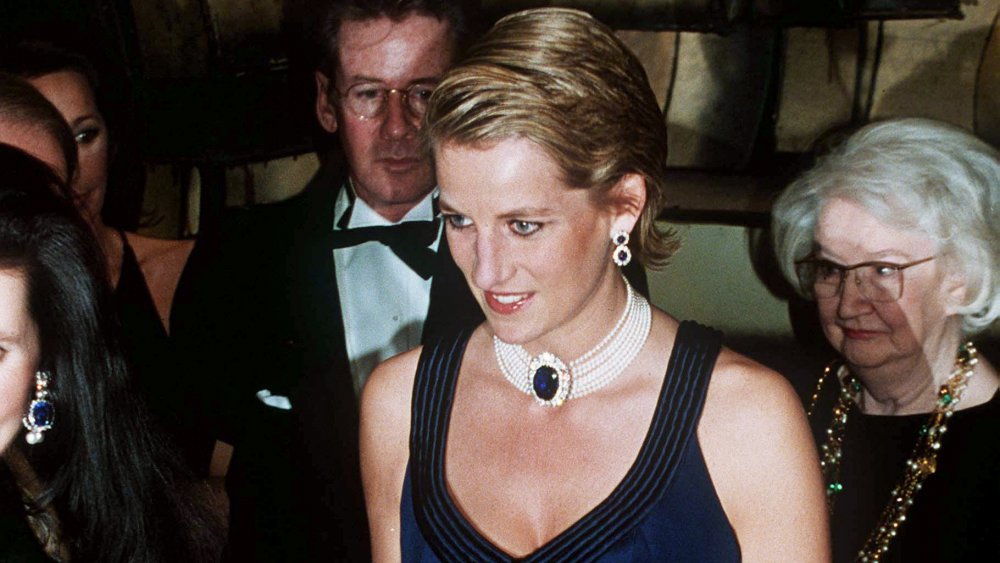 Anwar Hussein/Getty Images
In June 1994, a documentary in which Prince Charles insinuated he was not faithful to Princess Diana toward the end of their marriage aired on TV. On the same night, Princess Diana wore a fabulous figure-hugging black dress to a Vanity Fair party, according to Reader's Digest. The dress went down in history as the "revenge dress" for reasons quite obvious, and the necklace she wore with it became iconic too.
According to Hello! magazine, this necklace was originally a different piece of the royal family's jewelry: a brooch, given to Diana by the Queen Mother as a wedding present. It featured a giant sapphire surrounded by smaller diamonds, and bore similarities to her engagement ring. Princess Diana later "set it in a pearl choker," according to jewelry expert Ella Kay. Sadly, as of this writing, neither the brooch nor the necklace has been seen publicly since Princess Diana's death in the late '90s. Here's hoping it was passed down to Kate Middleton or Meghan Markle — while it may be a little dated in its original form, it can definitely be repurposed to suit current jewelry trends, or even create a whole new trend altogether!
Did Queen Elizabeth wear this piece of the royal family's jewelry as a political statement?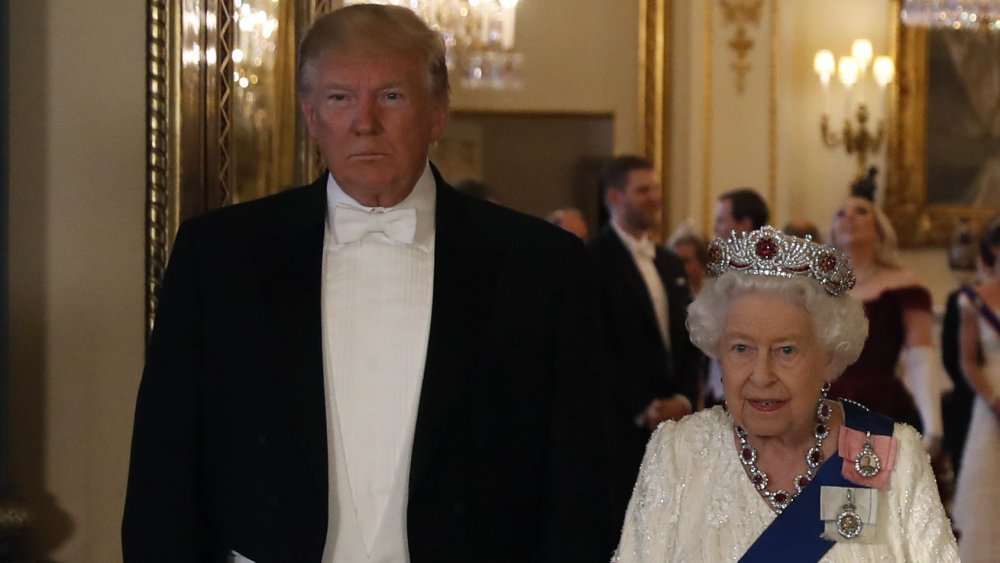 Wpa Pool/Getty Images
Queen Elizabeth's choice of jewelry during a June 2019 state dinner with Donald Trump and his family raised a few eyebrows, for sure. She chose to pair her beautiful white gown with a bold diamond and Burmese ruby tiara and a matching necklace and earring set. This had people wondering if she was trying to send a political message through her accessories.
According to WWD, the queen commissioned the piece in 1973, and it was designed by House of Garrard. The rubies you see on the tiara were from the queen's own collection. They were a very generous wedding present, gifted to the monarch by the "people of Myanmar." These rare, valuable rubies were actually banned by the U.S. at one time, as part of "sanctions on Myanmar for its military regime." This ban was later overturned by President Barack Obama.
Interestingly, House of Garrard shared on Instagram that the rubies, which were made into the royal family's jewelry, were given to the queen as "a symbol of protection against illness and evil." The Queen is famously apolitical, but could she have been trying to make a political statement at that 2019 event?
Meghan Markle's engagement ring has a sweet story behind it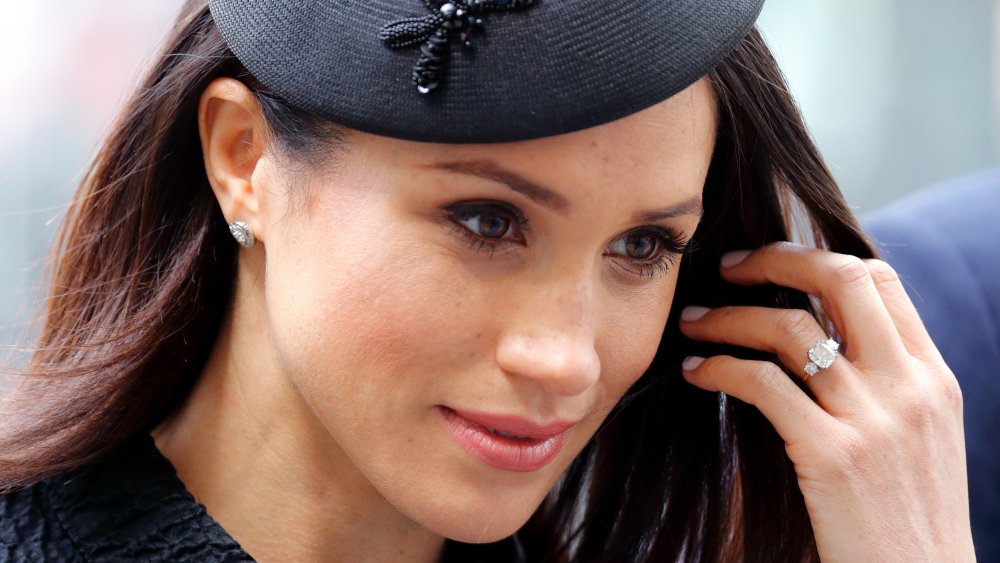 Max Mumby/indigo/Getty Images
Botswana is a special place full of sentiment for Meghan Markle and Prince Harry. According to The Sun, the prince booked a last-minute bush camp stay for the pair's third date all the way back in 2017.
Knowing this, it's really no surprise that a reference to Botswana is present in Markle's engagement ring. Harper's Bazaar reported that her original engagement ring featured a giant diamond from Botswana. Two smaller diamonds from the late Princess Diana's personal collection were also set on either side of the larger stone, leading the world to believe the couple is likely quite sentimental.
Interestingly, Meghan Markle, who has had a stunning transformation, seems to have had her ring redesigned since. Though it originally had a gold band, it seemed to have been given a flashy update with the addition of small diamonds. It was spotted on her ring finger for the first time when she introduced baby Archie Harrison Mountbatten-Windsor to the world in May 2019. What a beautiful piece of the royal family's jewelry collection!
One of Queen Elizabeth's favorite tiaras once belonged to Russia's Romanov family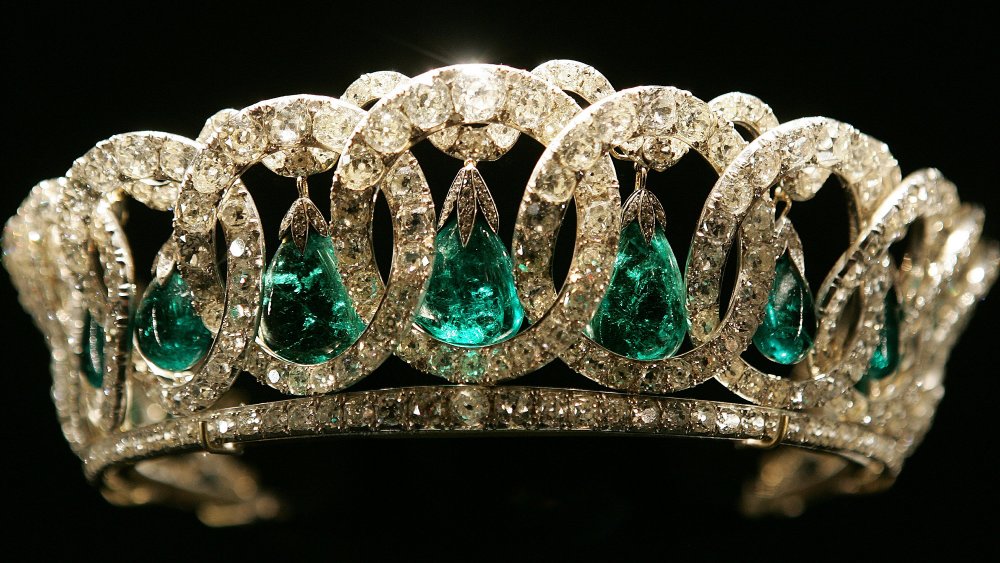 Peter Macdiarmid/Getty Images
The Vladimir tiara, which Town & Country reported is one of Queen Elizabeth's favorite tiaras, is surprisingly versatile. It can apparently be worn with drop emeralds or drop pearls, depending on the occasion and audience. It can be worn without drops as well.
Versatility aside, this tiara has an incredible backstory. The tiara was reportedly originally owned by Duchess Vladimir, who was married to the uncle of Nicholas II. If you have watched the '90s movie Anastasia, you might recognize Csar Nicholas II as Princess Anastasia's father. The duchess reportedly had quite the jewelry collection, but she had to sell most of it to rebuild her life after the Russian Revolution of the early 20th century.
The tiara in question was sold to Queen Mary, who was Queen Elizabeth's grandmother. Queen Mary had the tiara redesigned a little to fix the damage caused when being transported out of Russia and decided to have it made more versatile at the same time too. This piece of the royal family's jewelry collection originally contained the drop pearls, but was remodeled to be able to showcase drop emeralds from the then-queen's personal collection instead as well. 
This is the story behind Princess Eugenie's gorgeous wedding tiara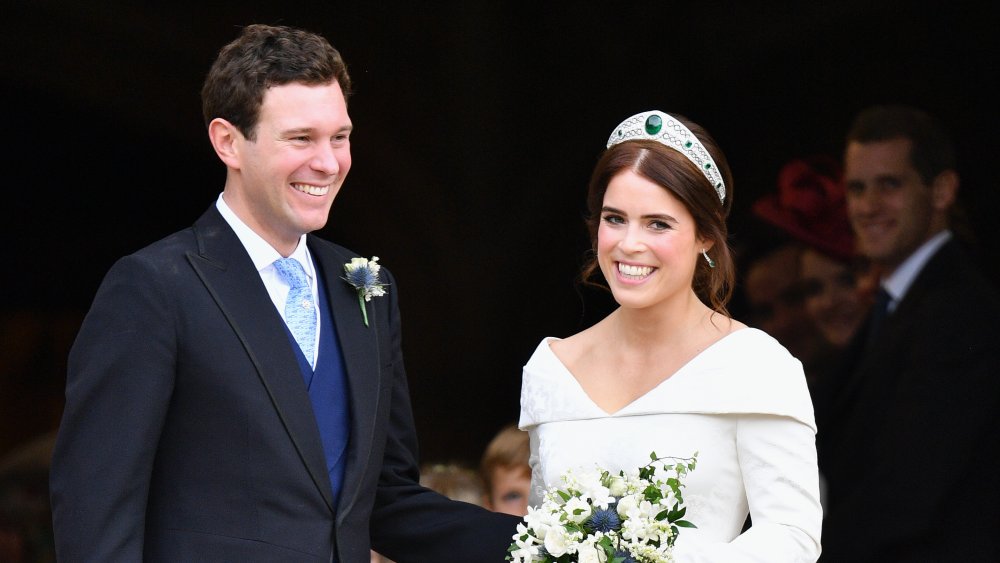 Pool/max Mumby/Getty Images
If you saw Princess Eugenie's wedding tiara — the one with the giant emerald set in the middle, you may have been curious about the design. According to Town & Country, this particular style of tiara is known as a kokoshnik tiara, and it has distinctly Russian roots. Believe it or not, Fernando Bustillo, the managing partner of Upper East Side's F.D Gallery, shared with the publication that this style of tiara is reminiscent of the traditional Russian peasant headdress. Talk about a glow-up!
The exact tiara in question was actually made in 1919, and hadn't actually been on display (to the public, anyway) for almost 100 years. It was reportedly presented to the Queen Mother by none other than Margaret Greville, who was a socialite with an impressive collection of jewels, and is now part of the royal family's jewelry collection. Princess Eugenie was perhaps the first of the British royals to ever wear this particular tiara.
Princess Diana's engagement ring was not a custom-made piece of royal jewelry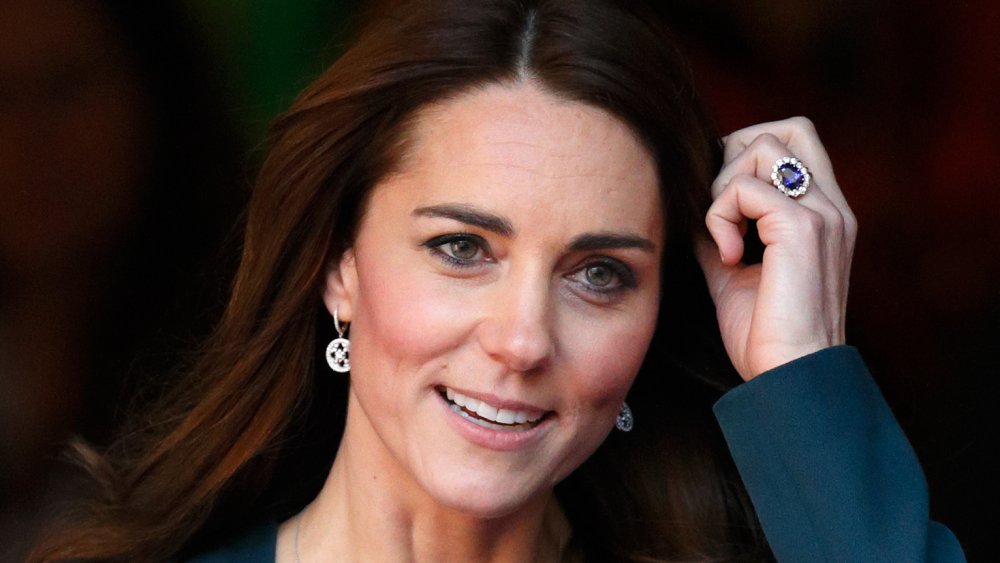 Max Mumby/indigo/Getty Images
Perhaps one the most well-recognized engagement rings of our time, Princess Diana's sapphire and diamond engagement ring is now worn by Kate Middleton, who has had a stunning transformation over the years. According to Vogue, Prince William took it all the way to Africa and kept it with him for weeks before getting down on one knee and presenting it to Middleton in a charming cabin by Mt. Kenya. It's a good thing he didn't misplace it because the ring, which features a show-stopping 12-carat sapphire and a cluster of diamonds around it, was worth over $500,000 at the time!
Though many members of the royal family appear to have their jewelry custom-made, this ring was actually selected from jeweler Garrard. Vogue reported that after Prince Charles proposed to Diana, he visited Garrard and picked out a number of rings for her to choose from, including the sapphire marguerite ring that bore a striking resemblance to a brooch Queen Victoria wore on her wedding day. Princess Diana made her selection, and the rest is history.
Meghan Markle wore pieces from this Aussie brand when touring Australia in 2018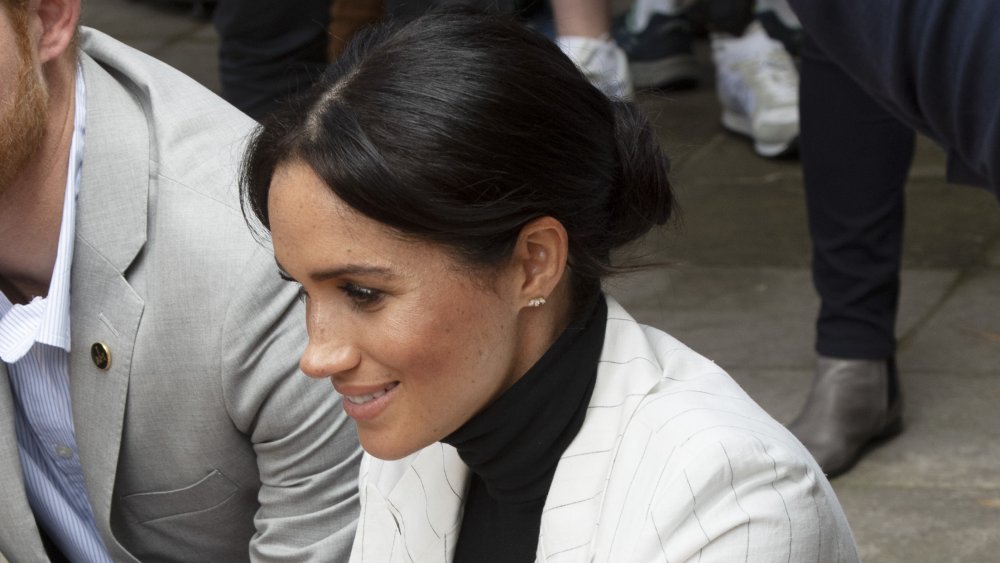 Pool/Getty Images
Imagine owning pieces of jewelry identical to ones owned by a member of the royal family. Believe it or not, this is actually very much attainable if you like the delicate, minimalistic pieces designed and produced by Natalie Marie jewelry.
Based in Sydney, Australia, this jeweler has a pretty impressive cult following down under, but also has a pretty big fan following in the United Kingdom. According to Vogue Australia, Markle chose to order a Precious Initial necklace the first time she purchased jewelry from the brand. She then proceeded to wear it, along with a number of pieces by the brand, when she toured Australia, New Zealand, Tonga, and Fiji with her husband in late 2018. "It's invaluable to have someone that truly loves and supports the brand wearing our pieces," Natalie Marie shared with Vogue, when speaking of Markle's pieces, adding, "The duchess's support has translated very honestly and authentically to her global following." Markle's Natalie Marie diamond stud earrings were spotted during this particular tour, and she also wore them again for the first official photos of her son.
You will never guess what happened to Queen Elizabeth's tiara on the day of her royal wedding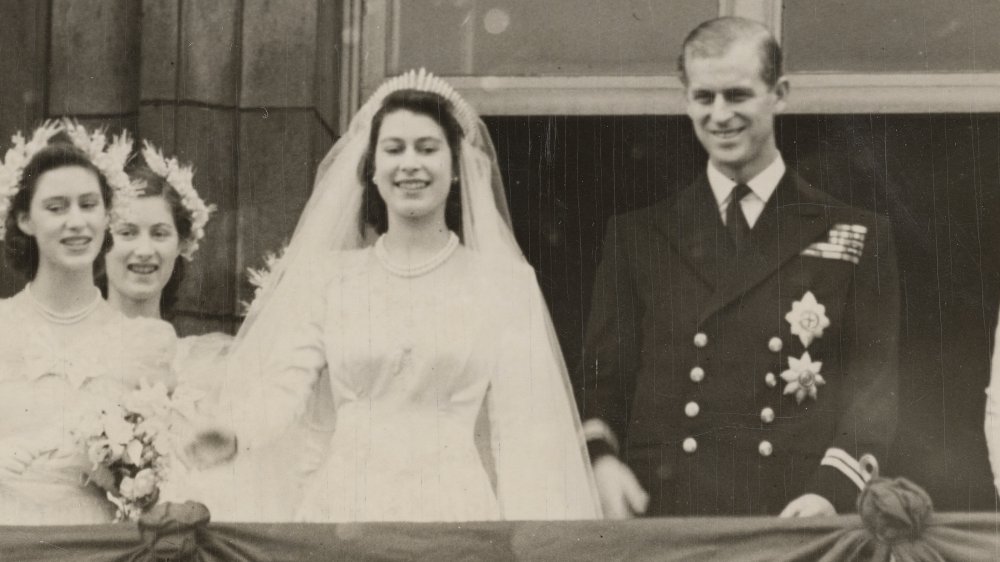 Evening Standard/Getty Images
Weddings can sometimes be a little stressful, especially for the bride. Queen Elizabeth II had to deal with wedding day stress and nerves just like every other bride, but she also had to deal with one additional hurdle — a broken tiara.
That's right — her wedding tiara broke on the day of her wedding. According to Hello! magazine, the then-princess chose the Fringe Tiara owned by Queen Mary to wear on her big day, as the "something borrowed." But alas, it broke before she could walk down the aisle. "The catch, which I didn't know existed, it suddenly went. And I didn't know it was a necklace, you see... I thought I'd broken it... We stuck it all together again, but I was rather alarmed," she famously shared with Kate Middleton in 2018, during an exhibition.
Thankfully, the royal family's jewelers were able to swoop in and fix it. It was reportedly transported to the workshop "under police escort," mended, and given back to the bride just in time for her to say, "I do," without a hitch.
Princess Margaret went against tradition for her royal wedding jewelry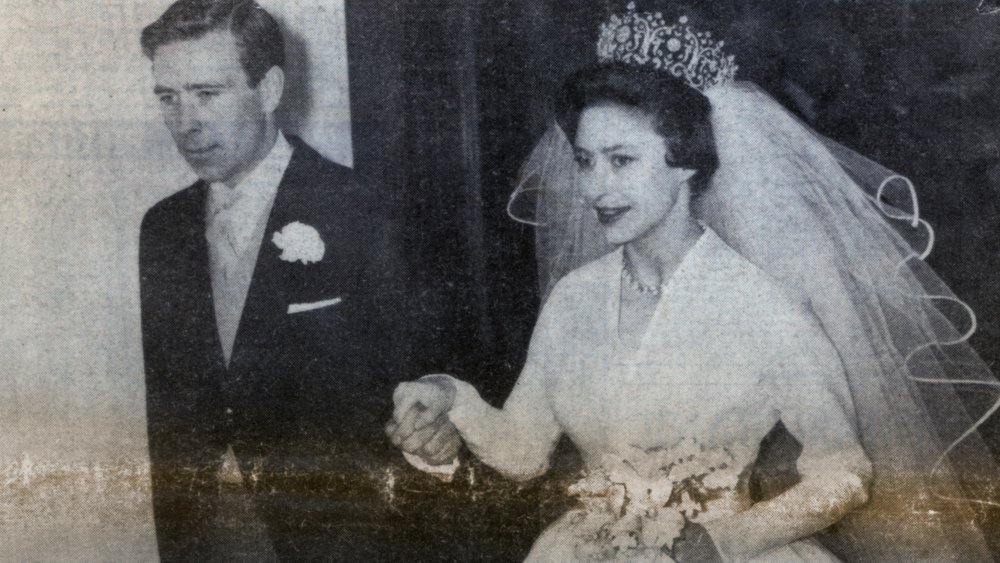 Print Collector/Getty Images
Ever the trailblazer, Princess Margaret decided to shake things up when choosing her wedding jewelry.
According to Tatler, British royals traditionally choose to wear tiaras from the royal family's jewelry collection for their wedding day. Princess Margaret, however, was not one to follow tradition blindly. She instead chose to wear a tiara she herself reportedly purchased.
Town & Country reported that the Poltimore tiara was originally owned by Lady Poltimore, who had it made by royal jeweler Garrard in 1870. It's thought that Princess Margaret bought it at an auction in early 1959, and she wore it as a necklace before wearing it as a tiara for the first time on her wedding day. Being quite a tall tiara, the Poltimore gave the princess some much-desired extra height for the event. She was famously photographed wearing it, complete with a full beehive hairdo in the bath years later too. Sadly, the tiara was sold by her sons upon her death. It reportedly exchanged hands for a $1.7 million at auction.
Camilla Parker-Bowles' engagement ring was once owned by the Queen Mother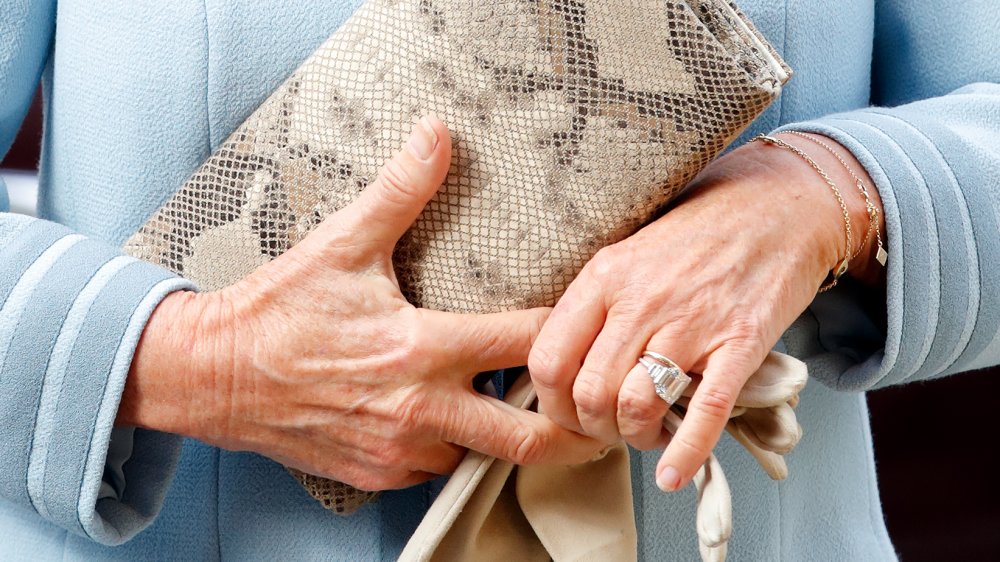 Max Mumby/indigo/Getty Images
How much do you know about the Duchess of Cornwall's engagement ring? Prince Charles' second wife is often seen wearing the sparkler, and just like most pieces of jewelry the royals adorn themselves with, this ring has a pretty great backstory. According to Good Housekeeping, the gorgeous diamond and platinum ring Prince Charles presented to Camilla Parker-Bowles when proposing originally belonged to the Queen Mother, Prince Charles' grandmother. It is thought to be a family heirloom.
Distinctly art deco-style in design, the stunning ring features a "five-carat emerald-cut diamond" with three smaller diamonds on each side. With a giant stunning ring like this, there was really no need for a flashy wedding band. Perhaps this is why the Duchess of Cornwall ultimately chose a very simple Welsh gold wedding band.
Metro reported that the impressive engagement ring is worth around £220,000, as revealed by gemologist Deborah Papas.
Royal Princess Beatrice bucked tradition for her wedding band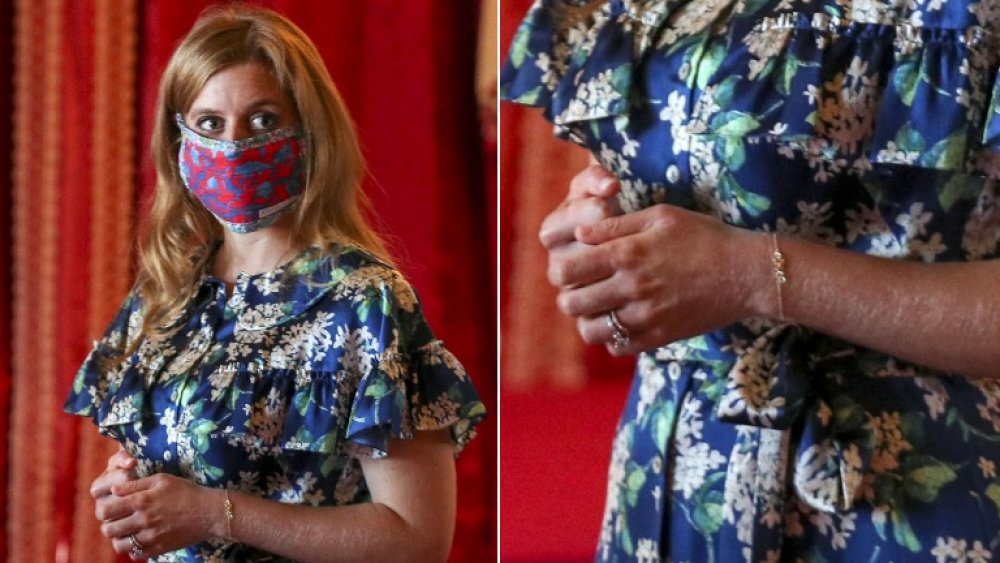 Wpa Pool/Getty Images
Princess Beatrice got married in July 2020 in an incredibly intimate affair, especially for a granddaughter of a reigning British monarch. Though the royals seem to invite hundreds of guests for their wedding ceremonies, Princess Beatrice managed to get away with an private ceremony with just 30 attendees. Harper's Bazaar reported that the princess and her groom had to limit their number of guests due to COVID-19 restrictions imposed at the time.
The princess bucked tradition for many aspects of her wedding, including her recycled shoes, a borrowed dress, and more. She also threw caution to the wind when choosing her wedding band. The publication reported that the royal family has a steadfast wedding band tradition. The family reportedly only wears plain, thin wedding bands made from a portion of the "same lump of Welsh gold."
Princess Beatrice, however, opted to have a flashier, more unique platinum and diamond wedding band custom-designed by jeweler Shaun Leane, who also designed her engagement ring. Leanne revealed that it "fuses Victorian and Art Deco aesthetics." We can confirm it is absolutely stunning!
This piece of royal jewelry worn by Queen Elizabeth in 2020 is quite symbolic
Those who watched Queen Elizabeth's April 2020 television address about COVID-19, during which she famously told her subjects, "We will meet again," might have been surprised at the brooch she chose to pair with her stunning green outfit. Town & Country reported that, while the queen often wears a diamond brooch that is affectionately called "Granny's Chips," she chose to wear a turquoise and diamond brooch that is actually part of the royal family's jewelry collection that includes the tiara Meghan Markle wore during her wedding.
Analyzing the queen's accessories is basically a national sport for the British, and her particular choice in April 2020 apparently raised some eyebrows. The publication reported that the brooch was previously owned by Queen Mary, who has gone down in history as the queen who supported the then-king through the turbulence caused by World War I. Interestingly, turquoise is also considered "a stone of healing and love and protection." Could her choice of brooch have been the queen's way of telling her subjects she was prepared to lead the country through difficult times?