The Workout Accessory Millennials Are Obsessed With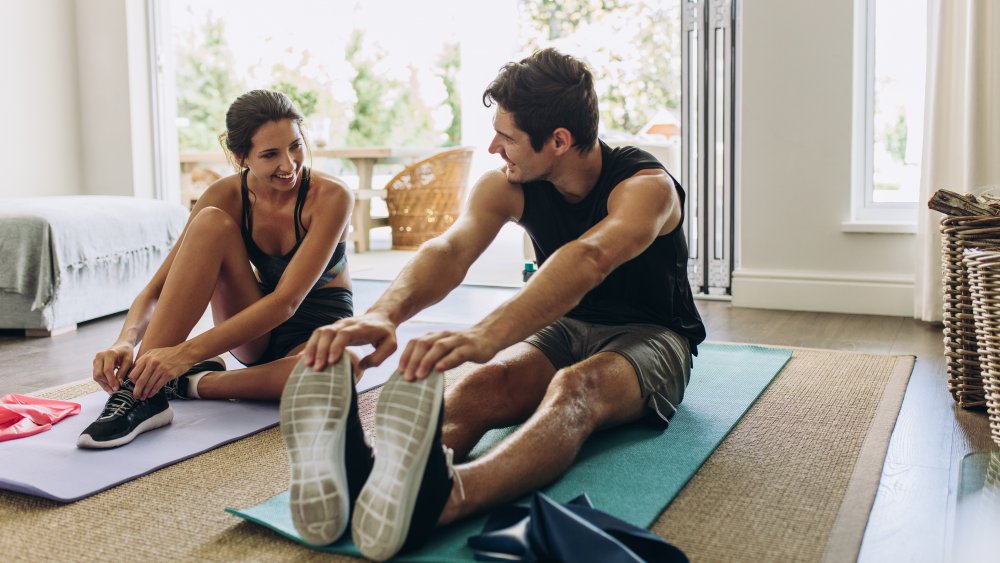 Shutterstock
Thanks to the exercise-at-home era, having effective exercise equipment that doesn't take up too much space seems almost imperative to getting in a good workout. If you follow Pilates and workout gurus on Instagram, you've likely seen the small weights that are conveniently strapped around the instructor's hands or ankles. As athleisure apparel has gained popularity over the last few years, Bala Bangles' chic look follows suit by serving up style with a dual purpose.
Bala Bangles are small, customizable weights that appear as bracelets but double as exercise gear. Coming in a multitude of colors, this workout trend has taken off in fitness studios all over the country. They come in a variety of weights, too — between a half pound and two, per Philly Voice. But even though a pound or two may seem like a negligible difference, you'll likely change your tune a few minutes into your workout. If you're taking a class that involves a lot of dynamic movements like jumping jacks and burpees, however, you may want to remove them so they don't slip off (via Refinery29).
However, for most users, it's the look that does it for them. Bala Bangles can be color-coordinated to match your outfit and they're incredibly cute — and honestly, who isn't a sucker for that?
Even a small amount of resistance from Bala Bangles can make a difference
Beyond their aesthetically-pleasing benefits, the muscle-building side effects of Bala Bangles aren't so bad either. Adding even a few pounds of resistance requires more energy and increases your heart rate along with the burn, as noted by Glamour.
As seen on Season 11 of Shark Tank, Bala Bangles are the brainchild of yoga instructor Natalie Holloway and her now-husband, Max Kislevitz (via Glamour). Following a yoga class they took while vacationing in Indonesia, the pair felt like they needed a deeper sense of intensity for body-weight workouts. Imagining how they could make that happen, Bala Bangles were born after they drafted sketches of the design on a napkin. Today, the couple's product is a cult-favorite among Millennials and workout enthusiasts. 
Whether you're going on a walk, taking a yoga class, or even doing the dishes, having these weights around your wrists or ankles can give you a strengthening boost or just show off which color bangle you have. Coming in at about $50 per pair, the price is higher than what many are used to paying for small weights. But depending on what you're after, Bala Bangles may be a perfect, albeit expensive, addition to your at-home workout routine.