Why Ellen DeGeneres' New Look Is Turning Heads
After a summer of controversy over the treatment of staff on her show, Ellen DeGeneres is back and some would say, better than ever. The daytime host of gab debuted a new look on the season 18 premiere of The Ellen DeGeneres Show according to People. Rather than her trademark pixie 'do, the 62-year-old comic showed off a slicked back style that is getting mixed reviews from fans.
"What happened to her hair?" asked a commenter on DeGeneres' Instagram. "Ur hair style looks like Porsha [sic]," another commenter pointed out, referring to the star's wife, Portia de Rossi's signature style. Some people seemed to like the new look, while others weren't as complimentary. "What is that hair?" one asked. Another countered, "Ellen! Hold up! Loving the hair!"
Other commenters seemed to think DeGeneres had done something to her face but that is simply speculation.
Was Ellen DeGeneres attempting to distract us with a new look?
Some social media commenters suggested the star's hairstyle change was a tactic to soften her image following accusations of workplace harassment and racism. But many weren't falling for it, noting the pompadour hardly softens her appearance (via Meaww).
Of course, others simply had a good time joking about DeGeneres' style switch-up. On a photo the host posted of her new look, a very popular comment read, "I literally thought it was Justin Bieber!!" Another person compared the look to that of rapper Eminem. But don't worry, Ellen. Plenty of commenters were loving the new style, calling it "cute," and saying it was a big improvement over the pixie.
But the beleaguered star is used to the reality that you can't please everyone. At least she has formally addressed what went down behind the scenes of her show, which many felt was long overdue.
What Ellen DeGeneres said about problematic workplace culture at her show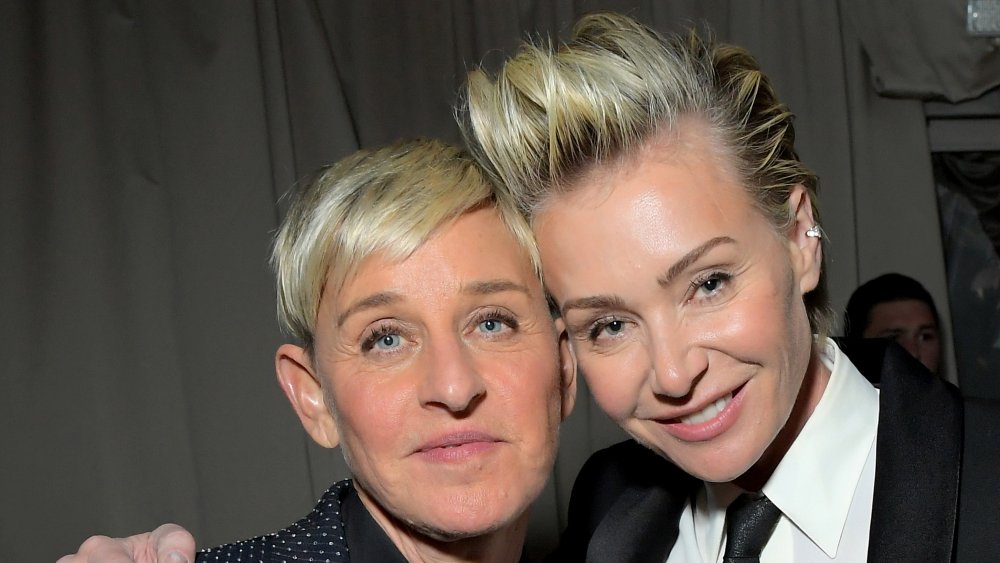 Charley Gallay/Getty Images
"As you may have heard, this summer there were accusations of a toxic work environment at our show, and then there was an investigation," DeGeneres said on the show's premiere episode. "I learned that things happened here that never should have happened. I take that very seriously, and I want to say I am so sorry to the people who were affected. Being known as the 'Be Kind Lady' is a tricky position to be in," she added, going on to share, "The truth is I am that person you see on TV. I am also a lot of other things. Sometimes I get sad. I get mad. I get anxious. I get frustrated. I get impatient — and I am working on all of that." The star concluded her apology by saying, "I am a work in progress."
People reports de Rossi was on hand to support her wife while she filmed the episode, with a source adding, "It was an emotional moment for everyone; she thanked everyone."