The Surprising Reaction To Kristen Welker's Debate Performance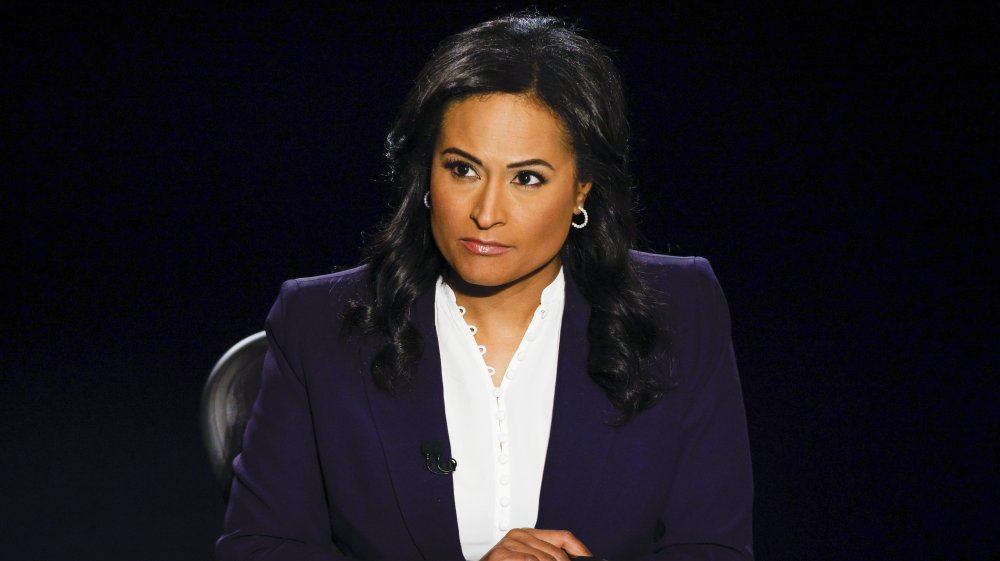 Pool/Getty Images
The rogue fly that landed on Vice President Mike Pence's head may have been the unofficial winner of the 2020 U.S. vice presidential debate, but at the final presidential debate between incumbent president Donald Trump and Democratic presidential candidate Joe Biden, moderator Kristen Welker basically stole the show from the two men on stage.
A White House correspondent and television journalist with NBC News, Welker stepped into the second and final presidential debate, held on Thursday, October 22, with the weight of responsibility on her shoulders and high expectations hanging in the air. Not only was the debate the arguable last chance both Trump and Biden had to push their campaigns forward in the final stretch to the general election on November 3, but it also came after a truly chaotic first presidential debate. As the moderator running the evening, Welker would have to keep both men on topic, stop them from interrupting one another, and maintain order for a full 90 minutes — all while working with a new mic-muting rule and delivering questions about COVID-19, American families, climate change, national security, leadership, and race in America. 
That's no easy feat — even for a professional like Welker — but based on reactions from those who tuned into the debate, Welker did a splendid job.
Kristen Welker received praise for her performance at the final presidential debate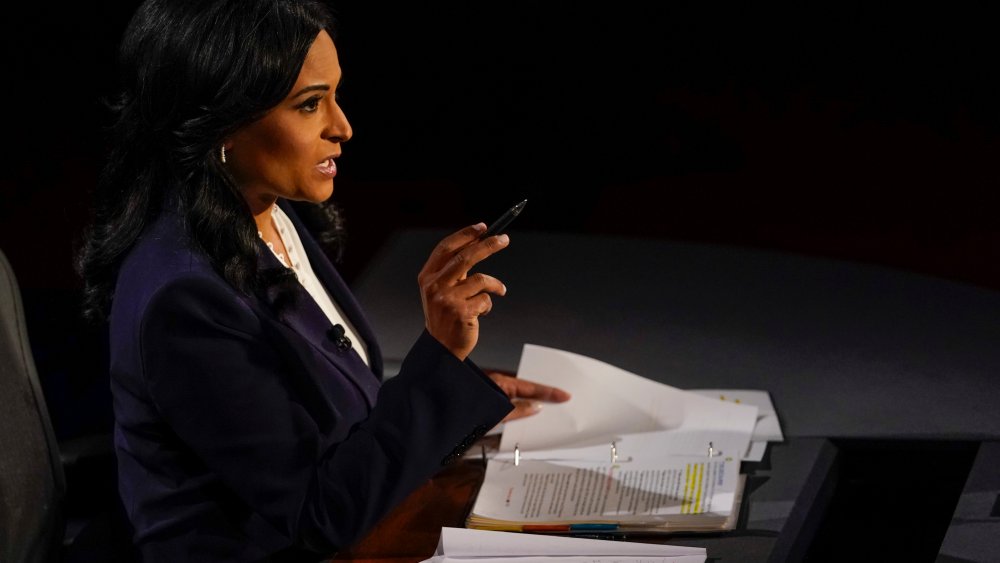 Pool/Getty Images
Yamiche Alcindor, the White House correspondent for PBS' NewsHour and a noted political contributor, tweeted during the debate, "I'm beaming watching Kristen Welker. Such an amazing moment for her and for all who know of her hard work and dedication to journalism. Go girl!" She followed up that initial praise with even more, writing in a second tweet, "Update: Kristen Welker is killing it ya'll."
In her own tweet, writer, activist, and former Human Rights Campaign rapid response press secretary Charlotte Clymer echoed Alcindor's remarks in saying that Welker was "killing it" with her "excellent moderation." 
Culture commentator and #LetsGoThere host Ryan Mitchell regarded Welker as "the blueprint" for all moderators, while NBC News political reporter Allan Smith tweeted that she "crushed tonight."
A common argument from viewers at home was that Welker's performance during the final presidential debate was far and away better than that of Chris Wallace, who moderated the first debate that took place back on Monday, September 29. Wallace had little control over Trump and Biden, and the night overall has since been described by CNN's Jake Tapper as "a hot mess, inside a dumpster fire, inside a train wreck." Where Welker is concerned, many have expressed feelings that she "pretty much owned Chris Wallace tonight," as comic book artist Cully Hamner put it in a tweet.
One Twitter user shared that they felt Welker is "10000x the journalist Chris Wallace pretends to be," and another added, "Kristen Welker did WAAAY better at keeping the debate organized tonight than Christopher Wallace. She asked some very good questions. Good job for her."
Perhaps the most memorable tweet in response to Welker's moderating skills came from former pro wrestler Mick Foley: "Someone needs to give @kwelkernbc the Nobel Peace Prize for maintaining order at tonight's #PresidentialDebate."
Donald Trump was also impressed by Kristen Welker's debate performance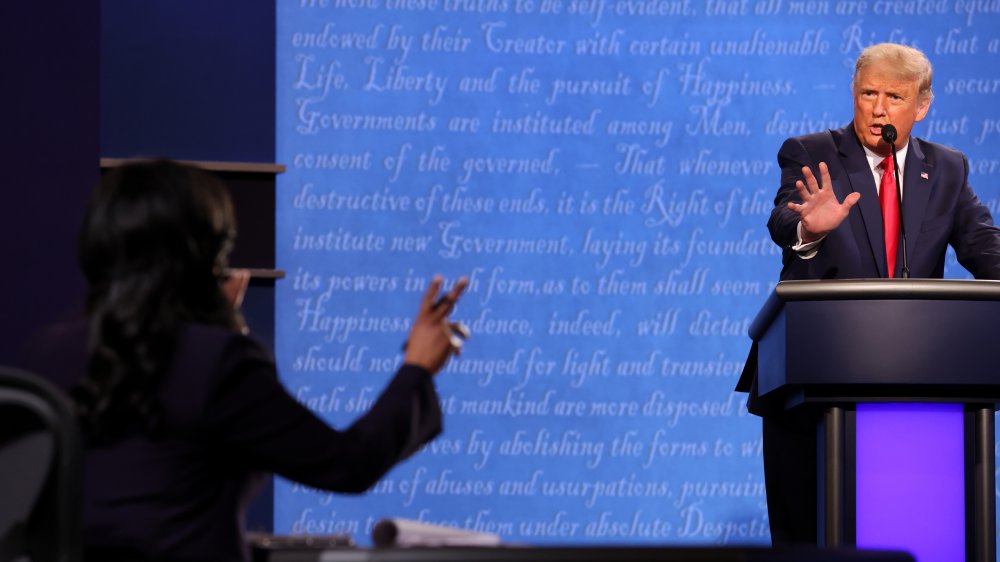 Justin Sullivan/Getty Images
With praise pouring in from all corners of social media for Welker's handling of the night, the moderator also earned high marks from a rather unlikely source: President Trump himself. The Republican incumbent's campaign has seemingly made a point of targeting NBC and Welker for criticism in the debate's lead-up, noting at a previous Wisconsin rally that Welker is "extremely unfair" and even a "radical Democrat" (via The Hill). What's more, Trump has repeatedly accused debate moderators of harboring a bias against him, starting with Chris Wallace in the first face-off between the two candidates. During a back-and-forth with Wallace regarding healthcare, President Trump declared at one point: "I guess I'm debating him, not you" (USA Today). At another point, after Trump accused Biden of interrupting, Wallace replied to the president: "Frankly, you've been doing more interrupting."
So, after having his feathers ruffled by the Fox News host, and warning of Welker's possible political leanings before the second debate, it came as quite a surprise when Trump casually offered Welker a seemingly genuine compliment. After tussling with Biden over his stance on fracking, he turned toward Welker and casually noted: "By the way so far I respect very much the way you're handling this, I have to say" (per The Hill). 
Perhaps it was Welker who was the debate's true winner.