This Is The Perfect Mascara Hack To Pull Off Statement Eyes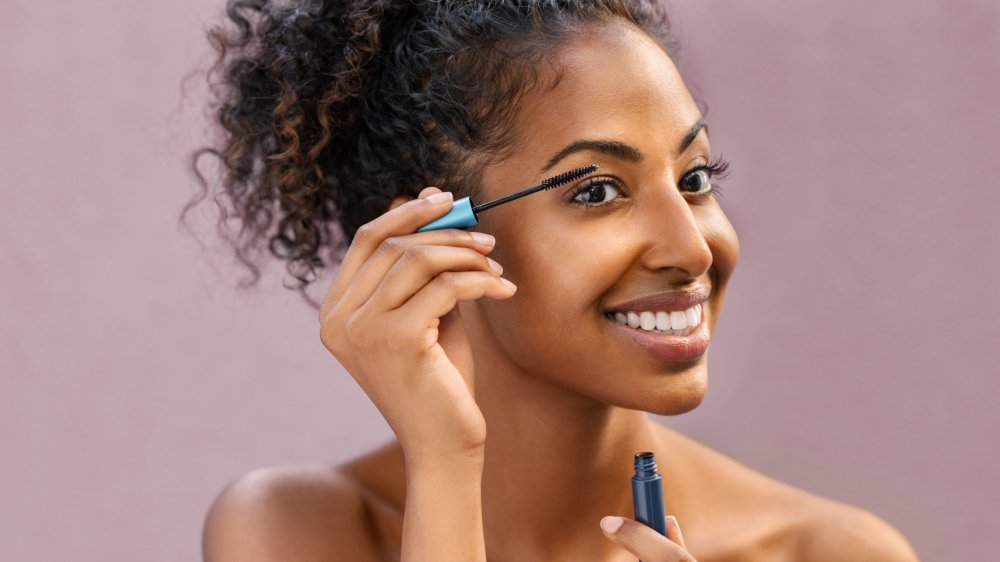 Shutterstock
When it comes to makeup trends, this year is all about statement eyes (via PureWow). Whether you're going for bold evening drama, or just looking for your makeup to pop above your face mask, without long, voluminous lashes even the most beautifully applied shadow and liner falls flat. As Vincent Ford, professional makeup artist for Nars told Net-A-Porter, "When it comes to mascara, most women think that wearing it is just something you do, and they use it in the same way every day. And yet when it comes to eyeliner, lipstick or blush, they think about how they can change it around and create different looks."
It's important to note that better mascara application does not mean you need an expensive product. Having one of the shortest shelf lives of all makeup, spending a lot on mascara is wasted money. Take it from celebrity makeup artist and collaborator with clean skincare company NakedPoppy, Tricia Turner. She revealed to ampgoo that, "Expensive doesn't mean better, especially when it comes to mascara since it has a short shelf-life of 3 months."
Now that you know your tried-and-true drugstore brand gets the thumbs up by the pros, you've got to focus on your application. If there was one mascara hack, that could take your lashes from ho-hum to "hello there," experts would agree you've got to use a lot more product than just a swipe or two (via Allure).
To pull of statement eyes you need 30 coats of mascara on each eye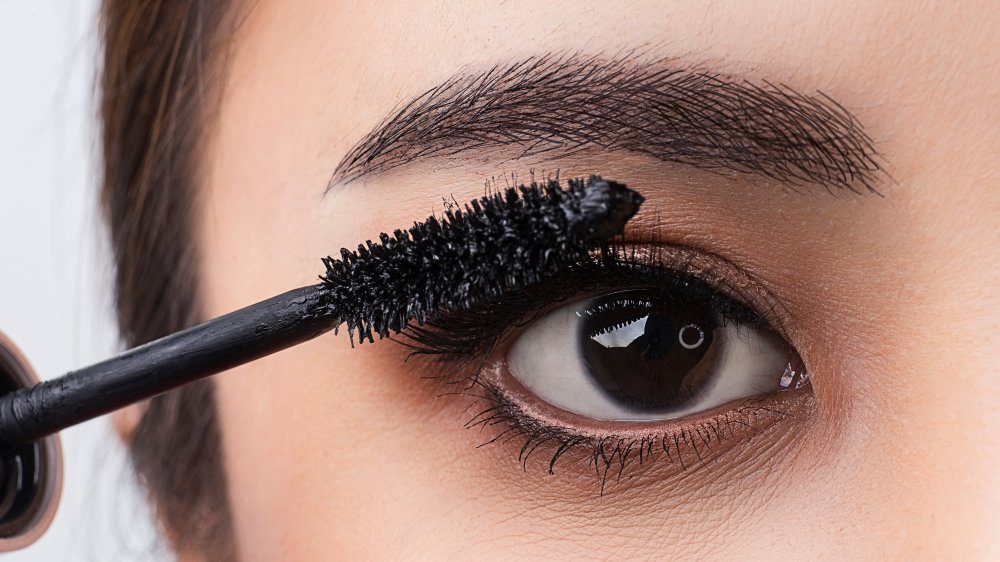 Shutterstock
After all the work of putting on makeup, and making sure your eyeliner matches both eyes, swiping one or two layers of mascara is almost an afterthought before dashing out the door. As long as there are no clumps and you didn't accidentally touch the wand to your skin, you're good to go. But if statement eyes are the look you're going for, a swipe or two isn't going to cut it.
According to makeup artist Amy Nadine of The Beauty Department, it takes a lot more mascara to make your eyes pop. The fact is, simply swiping a little product on your lashes won't allow the product to do what it is intended. A volumizing or lengthening mascara, for example, isn't going to do what it promises unless you slather the stuff on. Nadine explains, "I notice that people are wearing mascara but it's barely there and not doing what it's formulated to do. Why? Because a couple strokes of the wand isn't enough! It's just not."
Believe it or not, Nadine says there is actually a magic number when it comes to swipes per eye, as well. She explained to Allure that precisely 30 strokes per eye is the magic number! Don't worry, though it won't take you all day because as Nadine specifies, they are 30 rapid strokes not long strokes. "I'm not talking about long precise strokes. No one-Mississippi, two-Mississippi...more like one, two, three—quick brisk strokes," advises Nadine.