Lizzo's Dramatic New Look Has Fans Doing A Double Take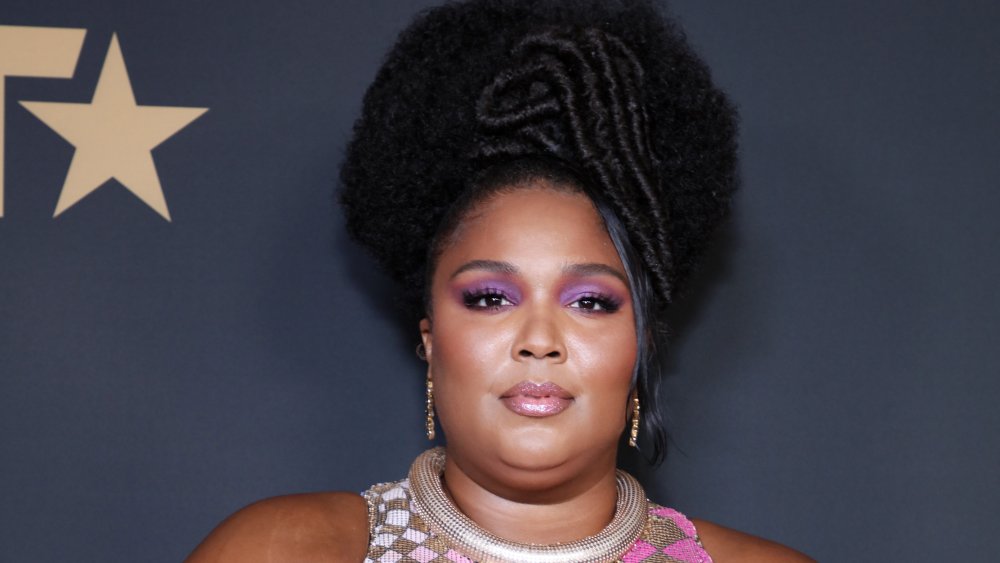 Robin L Marshall/Getty Images
"Good as Hell" singer, Lizzo, turned heads in her latest TikTok with her debut of her brand-new red locks. In the video, which the singer also shared to Instagram, Lizzo dons black underwear and bra with "Savage x Lizzo" on the bands. She captioned her video, "Y'all can't handle red Lizzo – hair by @theshelbyswain."
In the video, Lizzo seductively walks toward the camera, as she shows off her curly red hair and glossed lips. Her song, "Scuse Me" plays in the background. She also shared a behind-the-scenes video in which her stylist dyes a wig bright red, as noted by E! News. In an interview last year, the hairdresser revealed her creative process, explaining, "Lizzo normally tells me an idea and I always run with it. Like, 'Shelby, I wanna wear all wood grain!' So I'm like, 'Well then, let's paint your hair wood grain too!' We like to play."
Her post gained over two million views across the platform with comments of adoration from fans and celebrities alike.
Lizzo makes a statement with her new look
Lizzo's new hairstyle attracted attention from the likes of singer Sam Smith, who commented with a series of positive emojis, including heart eyes and fire (per E! News) Fans flocked to share their thoughts on her fiery red look as well with many asking about Lizzo's line with Rihanna's brand, Savage by Fenty. 
The award-winning singer has spoken out about the role that her look plays in her music and in her mission. In Vogue's 73 Questions video series, she revealed her thoughts, saying, "I think that I was politicized because of the things that I wore. Being a big black woman, wearing what I wore on stage was instantly political and it made a statement and I'm grateful for that."
The 32-year-old makes a statement wherever she goes, whether it's with her hair, her music, or her latest look. "I think it's lazy for me to just say I'm body positive at this point," she told Vogue. "It's easy. I would like to be body-normative. I want to normalize my body. And not just be like, 'Ooh, look at this cool movement. Being fat is body positive.' No, being fat is normal. I think now, I owe it to the people who started this to not just stop here."