The Truth About Gabby Giffords And Mark Kelly's Marriage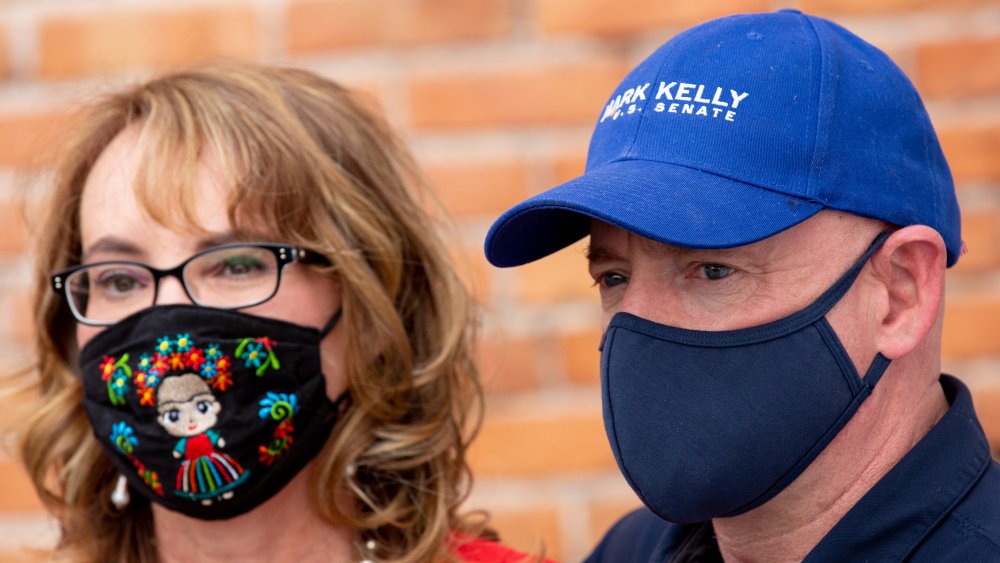 Courtney Pedroza/Getty Images
When former congresswoman Gabrielle Giffords wed astronaut Mark Kelly on November 10, 2007, we're sure they if they imagined their names would become famous, it would be due to her work on behalf of her constituents and his adventurous life as an astronaut. But on January 8, 2011, the couple became famous for an entirely different and wholly tragic reason. That day, at a constituents meeting Giffords was hosting outside a Tucson supermarket, 22-year-old Jared Lee Loughner went on a shooting spree, killing six people and injuring 13, including Gabby Giffordsm who was the intended target of an assassination (via History.com).
While at first it was unclear whether Giffords would survive, she fought not only to live, but to thrive. By May of the same year, she was able to travel from the Huston hospital where she was receiving rehabilitation treatment to the Kennedy Space Center in Florida to watch the launch of the final mission of space shuttle Endeavour, which was being commanded by her husband, Mark Kelly. The two have shown remarkable support for one another at every turn.  
Gabby Giffords and Mark Kelly's love story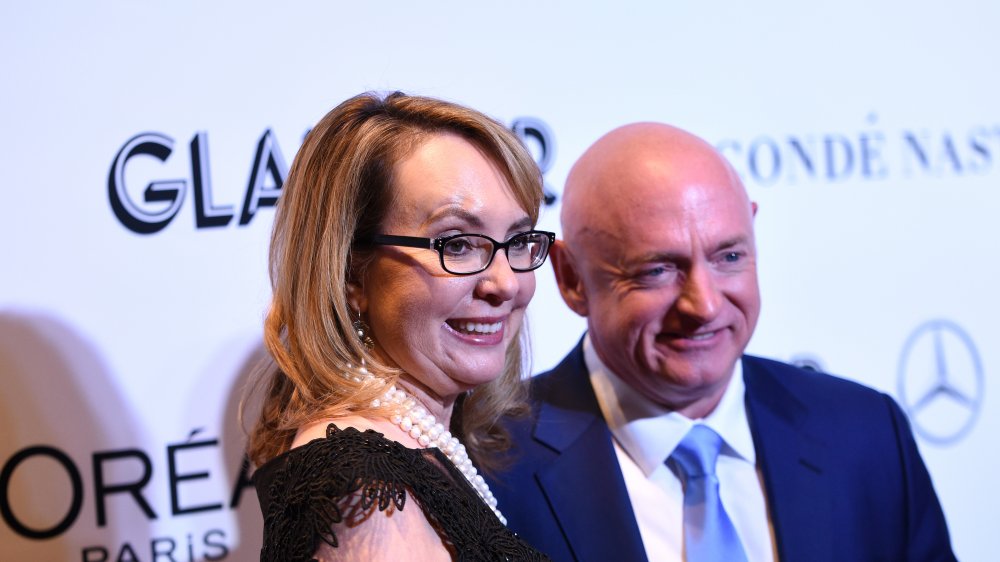 Bryan Bedder/Getty Images
Kelly says that when he first met Giffords in the summer of 2003 at a young leaders' forum for the National Committee on U.S.-China Relations, he "thought she was way out of my league" (via Parade). The two became friends and emailed back and forth, and then eventually went on a date (to see death row at Arizona State Prison). While an unusual date, the purpose behind it is what made Kelly find an even deeper respect for Giffords. He said he noticed that Gabby "took her job very seriously...She had a compelling urge to learn everything she needed to know to represent the people of Arizona. If she was working on legislation that had to do with the death penalty, then she needed to visit death row."
And Gabby was equally impressed with Kelly. She told a friend she had met someone and then giggled. In response, the friend had said, "He must be tall and dark and very handsome," to which Giffords had laughed and said, "He's short and bald, and I love him" (via Parade). "It didn't tale me long to learn Mark was the smart, supportive and sincere man I had been searching for," Gabby says of her husband.
Their 2007 wedding took place on an organic produce farm outside of Tucson, after which, Kelly returned to his job in Houston and Giffords to hers in Arizona and Washington, D.C., as a U.S. representative. They remained long distance until 2011.
Love and increased closeness in the wake of tragedy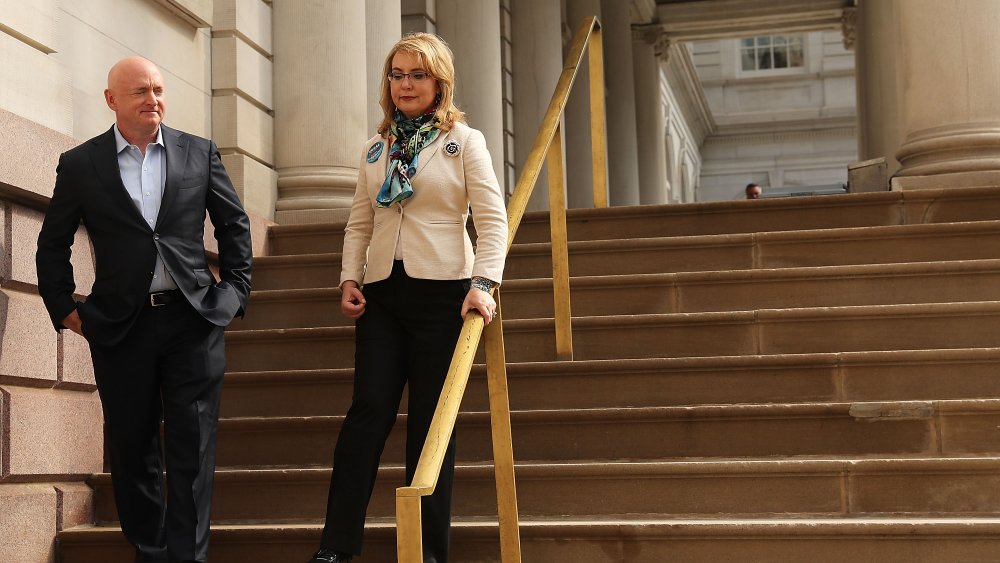 Spencer Platt/Getty Images
When Giffords was able to leave the hospital and continue her recovery at home, the couple moved together into a Southwestern-style house in Tucson, AZ. In an interview in 2017, six years after the shooting, Giffords, who has regained a great deal of her former abilities including riding her bike, doing yoga, and enjoying movies and cooking with her husband, said, "There's no doubt about it: The six years since the shooting have brought us a lot closer together... Now we live in the same place and see each other more than we ever did. It's taught me how important it is for a relationship to have a strong foundation of loyalty and respect" (via Parade).
And that loyalty and respect run deep. Kelly said of Giffords, "The injury Gabby suffered was horrific... It will affect her  the rest of her life. If roles were reversed, I'd be a little bit bitter, but she isn't. She pops up every day looking ahead and trying to figure out how to be a positive force in the world." Together, the couple founded Americans for Responsible Solutions, a nonprofit organization working to reduce gun violence. Giffords serves on the board of the National Institute for Civil Discourse, and Kelly serves on three corporate boards and works with Worldview, an aerospace company he co-founded.
Kelly, inspired by Giffords, is running for Senate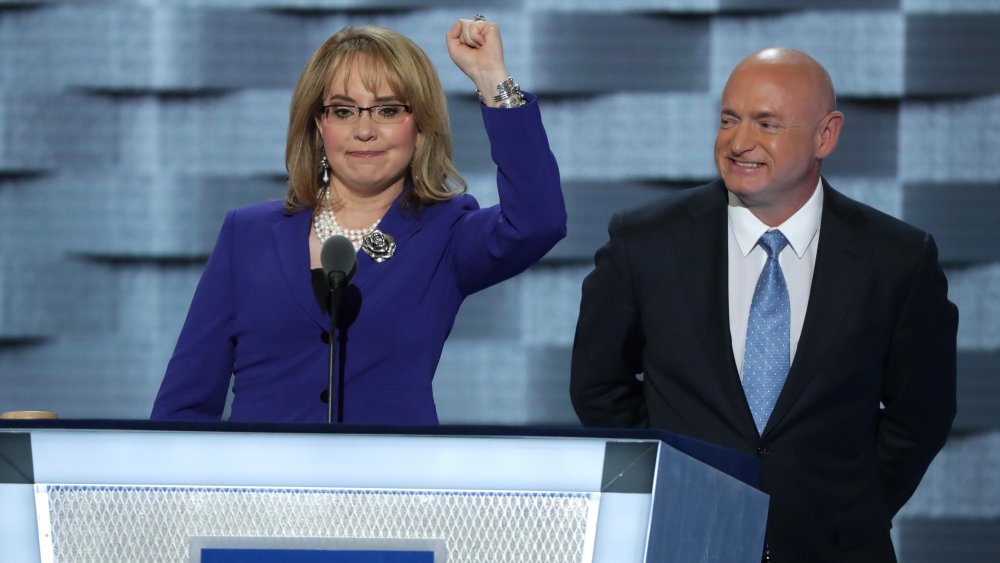 Alex Wong/Getty Images
In a 2018 interview, Kelly said, "I'm very satisfied with where we are...I'm a pretty happy person. I'm always of the attitude that if I don't like my life, I can change it. It's perfectly in my power to make a big change if I wanted." The article suggested that a big change might be coming soon. And the journalist's hunch was correct. In winter of 2019, Kelly announced his intentions to run for Senate in Arizona. Running as a Democrat, Kelly said in his announcement video, in which Gabby is prominently featured: "What I learned from my wife is how you use policy to improve people's lives... Solving some of the hardest problems requires one thing, and that's teamwork." This feels to us like a clear homage to the team Kelly and Giffords form together (via Washington Post).
Kelly's official campaign website says, "I never expected to be here. Gabby was always the member of Congress in  the family, and the person who taught me everything I know about how to  use policy to improve people's lives. I bring a different set of experiences to the table than most in Washington. Seeing the challenges that we face as a state and a country, I know I can put these experiences to use to make a difference in the lives of people here in Arizona."