The Unexpected Items In Marie Kondo's Home She Can't Part With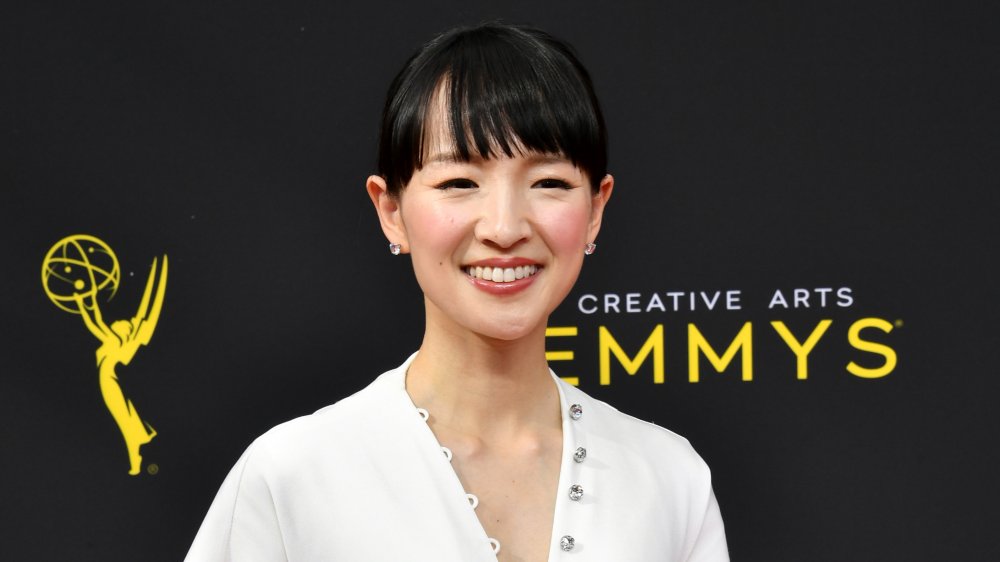 Amy Sussman/Getty Images
When NASA asked Marie Kondo what she'd take with her on a trip to the moon in October 2020, the Queen of Clean replied with three unsurprisingly perfectly-reasoned items via Instagram. She wrote to her millions of followers, "I landed on: 1) A set of boxes to keep my area tidy. 2) A photo album of my family because they spark the most joy. 3) A cozy blanket because I get cold everywhere!" To which NASA responded in the comments, "This sparks (cosmic) joy. Would you like to KonMari our Moon rocks?" All of Instagram sighed, undoubtedly daydreaming about how many home improvement projects Kondo could undertake on lunar soil. 
However, if she were to someday go to the moon, we suspect that even the KonMari founder would pack more than just boxes, a photo album, and a blanket. Kondo asks her clients to ruthlessly rid themselves of unneeded belongings, and cleaning (along with a good cup of green tea) is undoubtedly a form of self-care for the Tidying Up with Marie Kondo star. "There is a saying that 'a messy room equals a messy mind,'" Kondo told The Zoe Report. "... The act of cluttering is really an instinctive reflex that draws our attention away from the heart of an issue."
But as it turns out, Marie Kondo herself has not one, but two guilty pleasures she can't seem to part with at home.
Marie Kondo can't bring herself to throw out these two things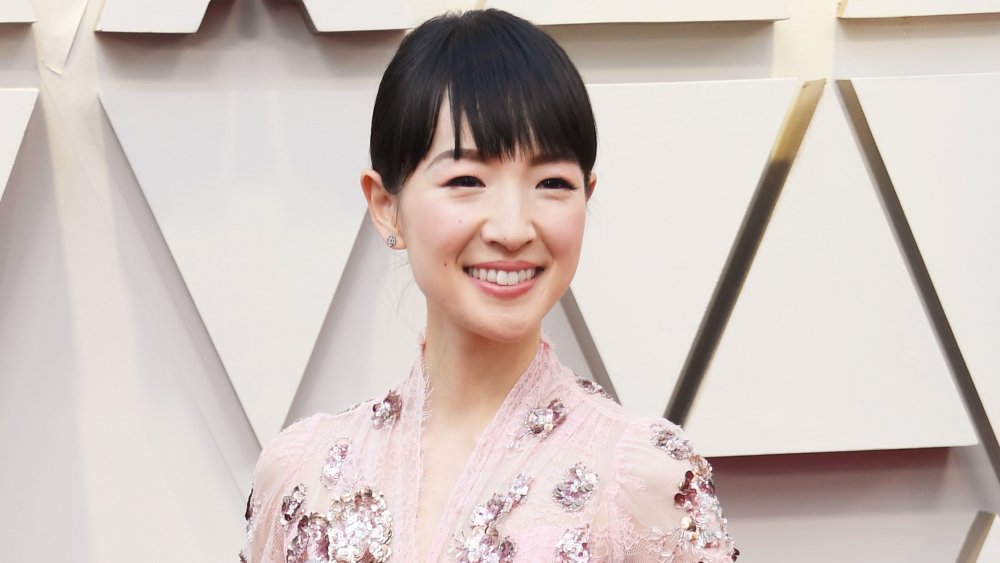 Frazer Harrison/Getty Images
What's the first thing in Marie Kondo's home that she will never throw away? "I have this stuffed seal," she told Good Housekeeping in 2016. "It's very small. It was a gift from my father, and even though I'm an adult, I still keep it on my shelf. It's something I can't part with!" Aww. Of course, the stuffed seal is not particularly shocking, if you think about it. "If an item sparks joy," Kondo told her Instagram followers in August 2020, "display it with pride."
However, it's the second item that Kondo says she can't live without that surprises us. "This T-shirt sticks out like a sore thumb among all my graceful, feminine clothes," she wrote in her book, The Life-Changing Magic of Tidying Up (via Good Housekeeping). In 2019, the cleaning guru finally showed the t-shirt in question to the titular host on The Kelly Clarkson Show. "So there's actually a T-shirt that I purchased in 2005, a long time ago, that I just can't get rid of," Kondo told Kelly Clarkson (via a translator), while holding up a bright, lime green shirt, decorated with a face, mouth open in surprise. 
"Someone owns a tide pin!" Clarkson exclaimed, amazed at the shirt's impeccable condition. In response, Kondo explained, "It's a little embarrassing, and I can't explain why, but it just sparks so much joy inside of me."