Dolly Parton's Most Iconic Movie Scenes
This content was paid for by Netflix and created by The List.
Few entertainers can tug at our heartstrings quite as much as Dolly Parton. The country music legend has been a national treasure ever since she first burst onto the scene with her hit debut album Hello, I'm Dolly. She's been widely celebrated for her songs, business savvy, humanitarian work, and some sublime film roles ever since.
After executive producing and starring in Dolly Parton's Heartstrings, a 2019 Netflix anthology series that breathes new life into her most cherished song titles, Parton will soon have us singing once again — this time, with her new holiday film Dolly Parton's Christmas on the Square. To celebrate her signature cheer a little early, though, we're gifting you with this look back on her most memorable movie moments so far.
9 to 5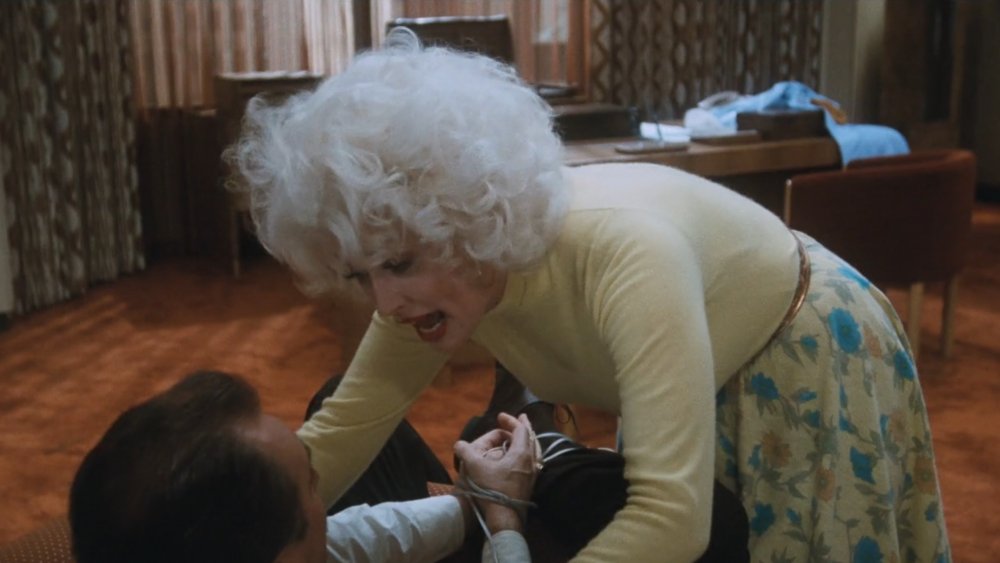 Just as her first record still shows us why Dolly Parton has had such a long and illustrious career, so does her very first movie role. Parton is one of the three lead actors in the classic 1980 workplace dramedy 9 to 5, alongside Jane Fonda and Lily Tomlin. Parton stars as Doralee Rhodes, a secretary who is constantly harassed by her boss Franklin Hart, Jr., portrayed by Dabney Coleman. Her co-workers in the film, Fonda and Tomlin, soon form a bond after each being mistreated by their boss, but not before Doralee seizes on her chance to confront him directly for his offenses to her.
In his office, Doralee takes Hart to task for encouraging others in the company to think they have a secret romantic relationship. She memorably threatens to take action if he doesn't discontinue the innuendo and rumors. "I've been forgiving and forgetting because of the way I was brought up," she says. "But I'll tell you one thing: if you ever say another word about me or make another indecent proposal, I'm going to get that gun of mine and I'm going to change you from a rooster to a hen with one shot." The story only gets wilder from there, but Doralee's scathing statement shows just how much she means business.
The Best Little Whorehouse in Texas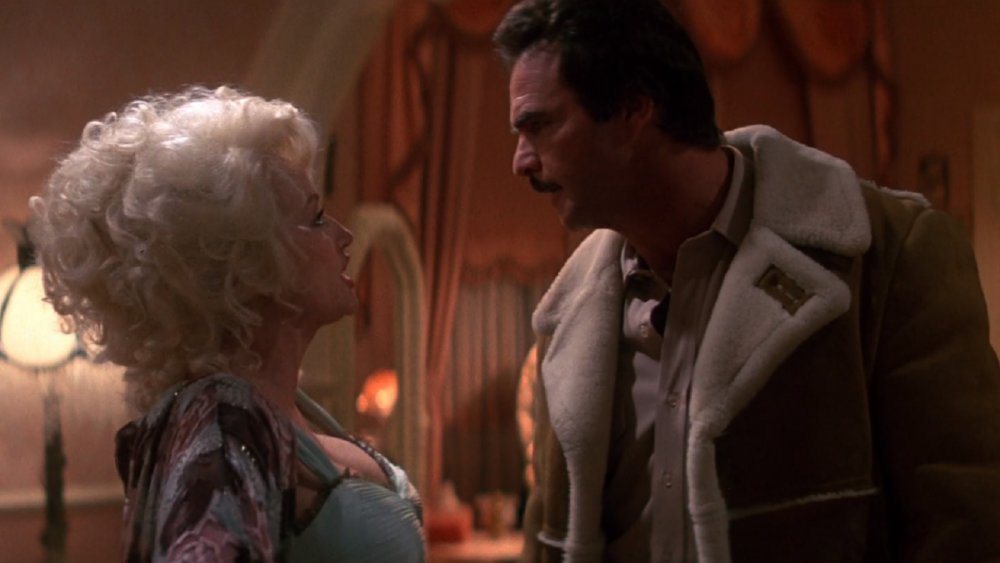 Dolly Parton's second silver screen appearance remains just as iconic as her first. In the 1982 musical comedy film The Best Little Whorehouse in Texas, Parton headlines the pic as Miss Mona Stangley, a brothel owner whose establishment is protected by the local sheriff, portrayed by Burt Reynolds, because she has a longstanding romantic connection to him. Things begin to fall apart between them, though, when Mona's Chicken Ranch is exposed by Dom DeLuise's Melvin Thorpe, an intrepid television reporter who goes to great lengths to capture footage of some of the action as college football players celebrate their win with her employees.
The sheriff has political ambitions and becomes irate when he learns that she kept the place open, despite promising him she'd close until the media attention dissipates. The two engage in a particularly nasty back and forth, during which she criticizes him for keeping such a personal arrangement with her while pursuing political ambitions, even insisting that he'll never be anything more than a "chickensh** sheriff in a chickensh** town." He responds to that insult with an even more upsetting choice of words, and Parton's face in the scene is unforgettable and authentic as she becomes his crestfallen former lover.
Rhinestone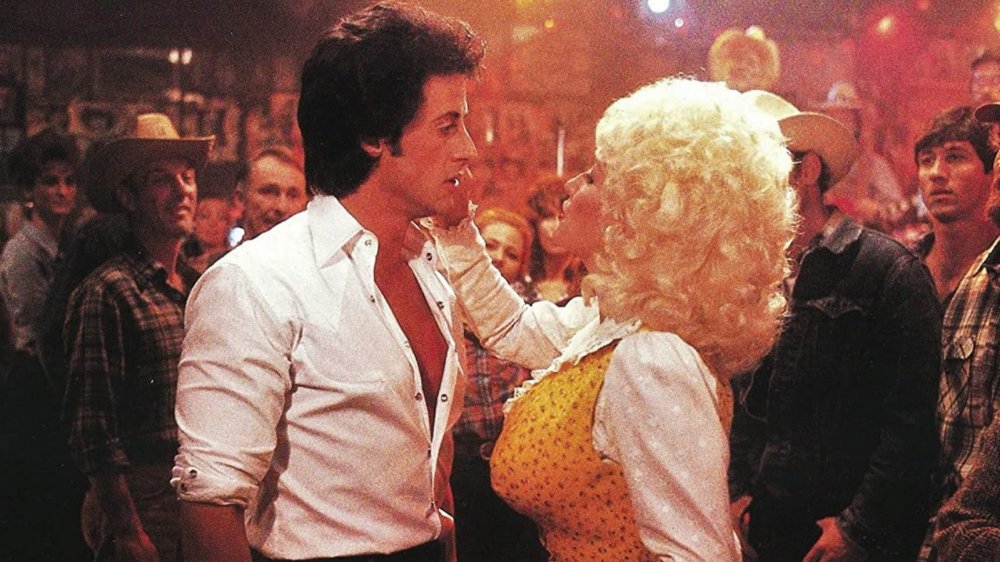 Many of Dolly Parton's most memorable movie roles revolve around her status as a musical superstar. That's definitely the case in 1984's Rhinestone, which features her as a successful country singer named Jake Farris. In order to get herself out of an unfavorable club contract, she's challenged by the owner Freddie, played by the late great Ron Leibman, to transform a random stranger into a superstar. Freddie chooses Sylvester Stallone's New York cab driver Nick Martinelli, and upon meeting him, it's clear that Jake has her work cut out for her.
After showing him how to fit into the honky tonk scene with his style and demeanor, Jake finally encourages Nick to take a chance at the microphone. To get him on stage, though, she has to offer up some serious self-deprecation. "The first time I was ever on-stage, I thought I was gonna die," she admits to him. When Nick then asks how she conquered her initial stagefright, she concedes, "I threw up." Eventually, they join forces for their first duet of the original song, "Woke Up in Love," and thanks to a few key tempo changes, they manage to get the crowd boot-scootin' and set out to make even more beautiful music together from there.
Steel Magnolias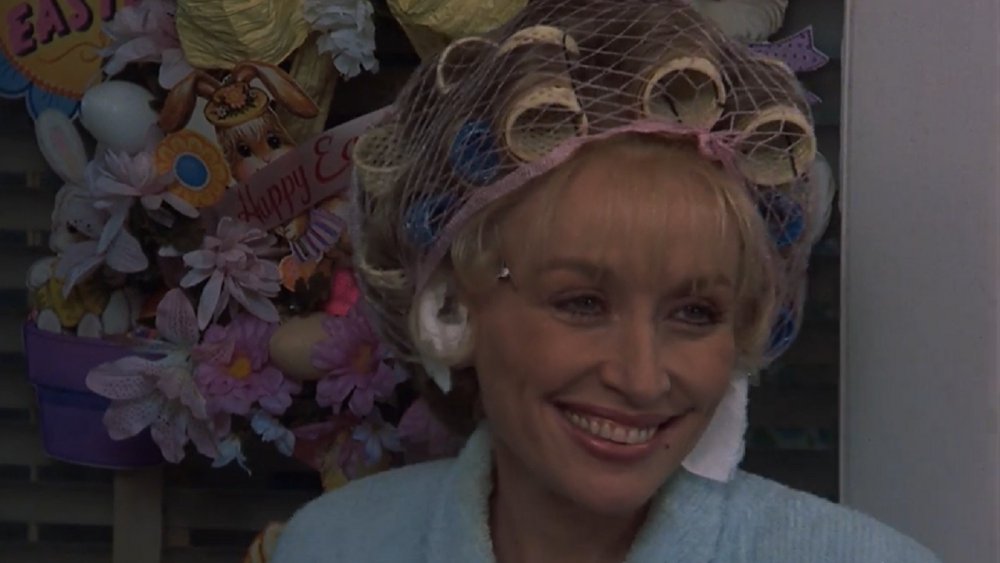 Steel Magnolias will probably always find its way into prestige acting highlights reels, because the 1989 drama is full of memorable monologues and blistering one-liners that have stood the test of time. In particular, Dolly Parton's character Truvy Jones has some very quotable asides, starting with her very first appearance in the film.
Truvy is a southern salon owner whose shop is the centerpiece for much of the film's action. The events of the story begin with her giving a job to Daryl Hannah's awkward town newcomer character Annelle. Annelle enjoys quite an unusual introduction to Truvy when she arrives to discover her in a robe and curlers, engaging in a full-on shouting match with her husband Spud, portrayed by Sam Shepard, who has neglected to finish prepping their Easter eggs for the church's hunt. Even with her new assistant at the door, Truvy shouts at Spud repeatedly until he takes off in his truck to buy more dye. When Annelle asks if she's interrupting something important, Truvy replies with a winning grin and warmly says, "No, I'm just screaming at my husband. I can do that any time." The moment sets the stage for the quirky social dynamic of the townspeople and reminds us that Parton serves up her very best sass with a smile.
Wild Texas Wind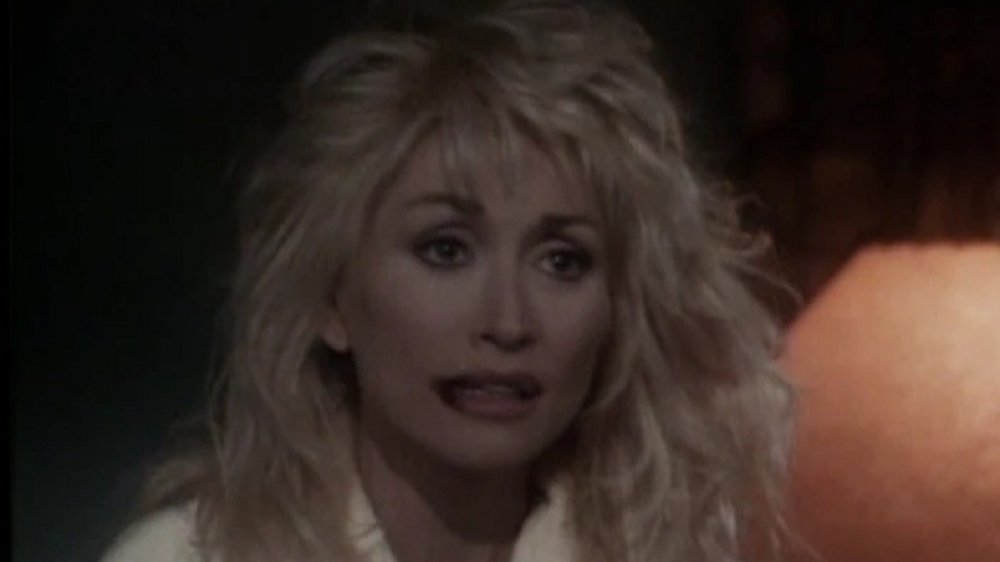 In the 1991 TV movie Wild Texas Wind, Parton once again plays a talented country singer on the rise. Her character Thiola Rayfield leads a band called Big T and the Texas Wheel, and while on the road, she catches the attention of Gary Busey's character Justice Parker. Justice admires her talent and offers to become her manager — only Justice has a dark personal history and resorts to violence against Thiola when he's angry.
In one of the most gut-wrenching scenes of the movie, Thiola confronts Justice about the fact that he lost control of himself and struck her. After pointing out how visibly angry he is, Justice claims that he's only upset with himself. However, Thiola knows that's not true and delivers the heartbreaking line, "Am I supposed to just not hurt? I watched my mama go through this, and I swore this would never happen to me." When Justice replies that "everybody fights," Thiola responds simply, "Everybody don't hit." Parton may usually be an uplifting screen presence, but as this scene proves, she's got dramatic chops, too.
Straight Talk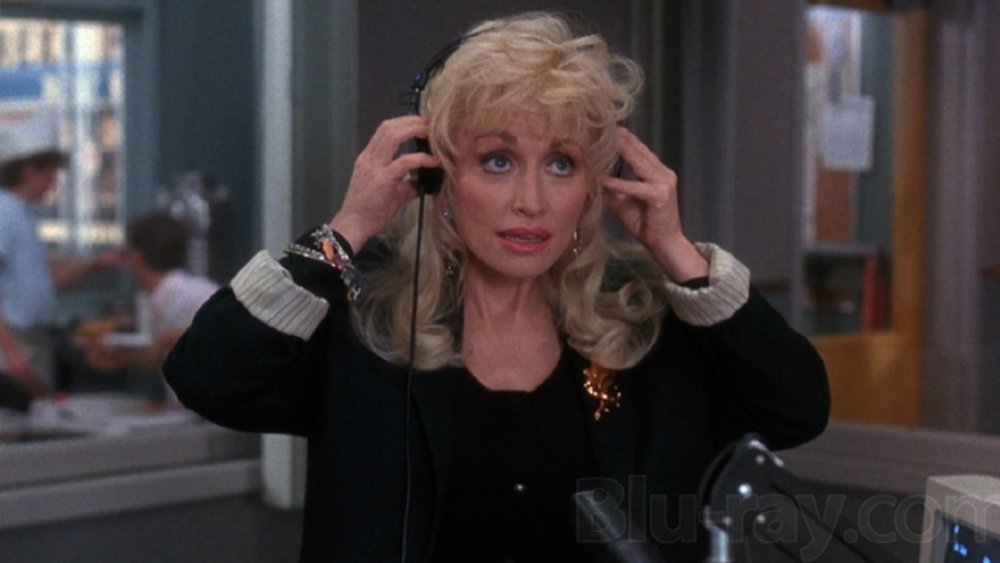 Another classic Dolly Parton performance can be found in the 1992 rom-com Straight Talk. The film features Parton as down-on-her-luck dance teacher Shirlee Kenyon. Shirlee moves to Chicago in hopes of starting a new life after being fired for being too chatty with her clients. She lands a new gig behind-the-scenes at a radio station, but on her very first day, she's mistaken for the new call-in therapist, who's running late due to car traffic. Suddenly, Shirlee finds herself live on-air, answering calls from people in need of advice.
After just a few technical hiccups, Shirlee quickly acclimates to the job. She brings some southern wit with catchphrases like, "it's amazing to me how one momma can take care of 10 kids, but 10 kids can't take care of one momma" and "having an affair is like shooting pool on two tables: you may have your balls, bud, but you're going to wear out your stick." Perhaps the best piece of her impromptu wisdom comes when she talks to a woman whose husband calls her a "loser" after she's let go from her job and instructs her to "grab [her] bowling bag" and leave him. She adds, "honey, you gotta honk your own horn, because if you don't, nobody's gonna know you're coming." With Parton's sugary warm voice behind them, every line she says in the scene is perfectly imperfect.
Unlikely Angel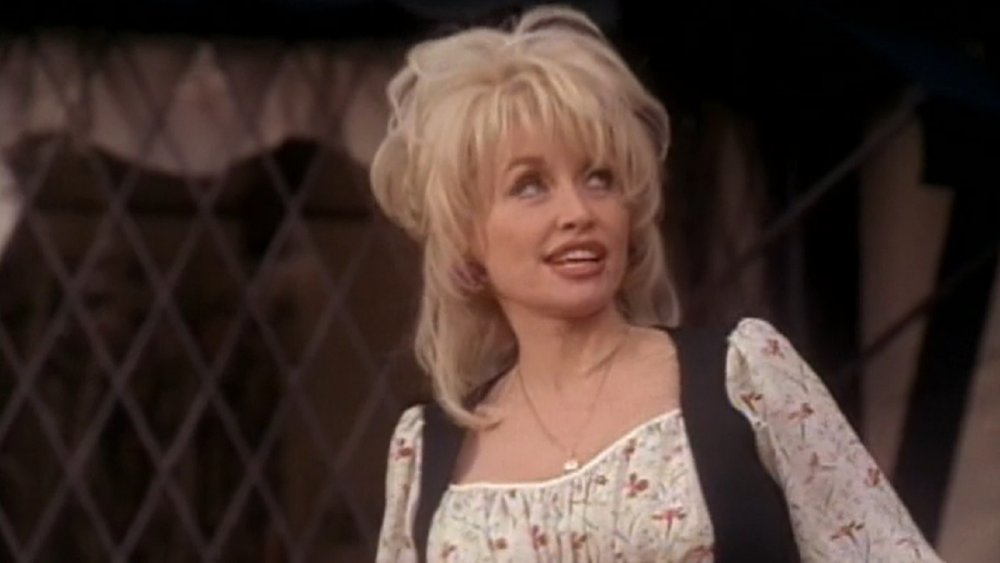 The old expression might tell us that every time a bell rings, an angel gets their wings. But in the 1996 made-for-television movie Unlikely Angel, it takes a lot more than that for Parton's character Ruby Diamond to earn such a heavenly blessing. Ruby, who is (believe it or not) a country singer, suddenly finds herself face to face with Roddy McDowell's St. Peter after an unfortunate car accident ends her life. In order to earn her place as an angel, she's challenged to help bring a father and his two children back together, following the loss of their mother.
There are several memorable moments in the film, including a point when Ruby is willing to sacrifice her own happily ever after to save the family. But it's her initial return to Earth that's truly unforgettable. Ruby is suddenly dropped from the sky in a milk maid-esque ensemble and gripes, "All I need's a guitar, and I'll be ready for The Sound of Music." Since St. Peter has told her he'll be listening out for any requests for help, the request is then immediately fulfilled, and an instrument case lands just beside her. "Very funny," she chuckles.
Blue Valley Songbird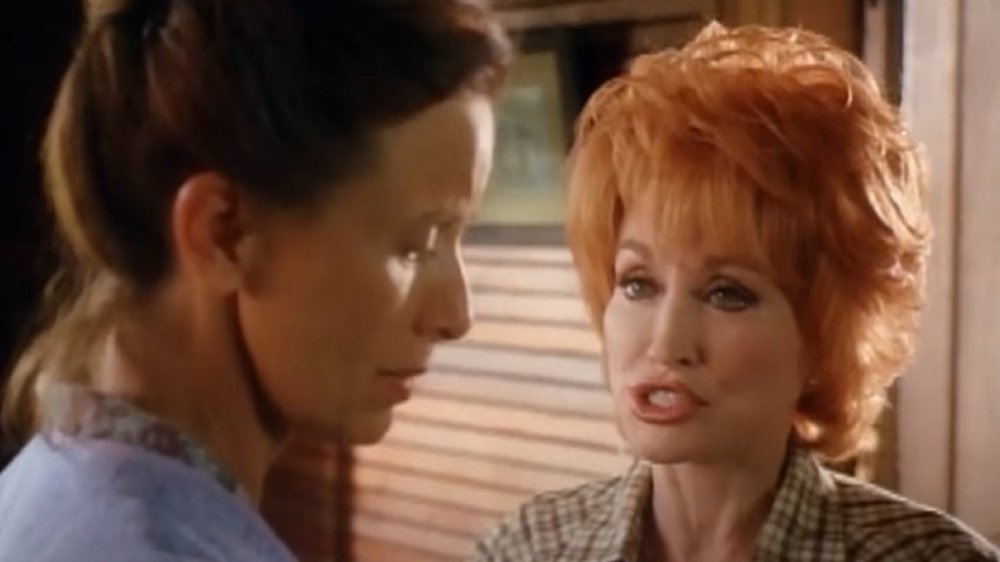 Another made-for-television movie that shows off how emotionally resonant Dolly Parton's acting can be is the 1999 film Blue Valley Songbird. In it, Parton stars as Leana Taylor, a country singer who's constantly reminded of her tragic upbringing thanks to her controlling, abusive manager boyfriend Hank, played by John Terry. Multiple flashback scenes sprinkled throughout the film show us exactly how Leana's father mistreated her and her mother. In the present day, she must make the decision to escape Hank before it's too late.
The entire movie is sprinkled with heartbreaking moments, but the one that really hits home is when she's finally reunited with her mother and asks her about why she allowed her father to be so controlling to her as a child. 
"You saw how he acted. How could you pretend it was just nothing?" she pleads. When her mother claims that her father didn't physically abuse her, Leana points out that he regularly locked her away in a room and forced her to play music only for him. "How could you just sit and do nothing about it?" she asks. Like much of the movie, the scene is full of raw emotion, and Parton shines as a woman who's finally getting to ask the questions that have haunted her throughout her adult life, however unanswerable they may be.
Miss Congeniality 2: Armed and Fabulous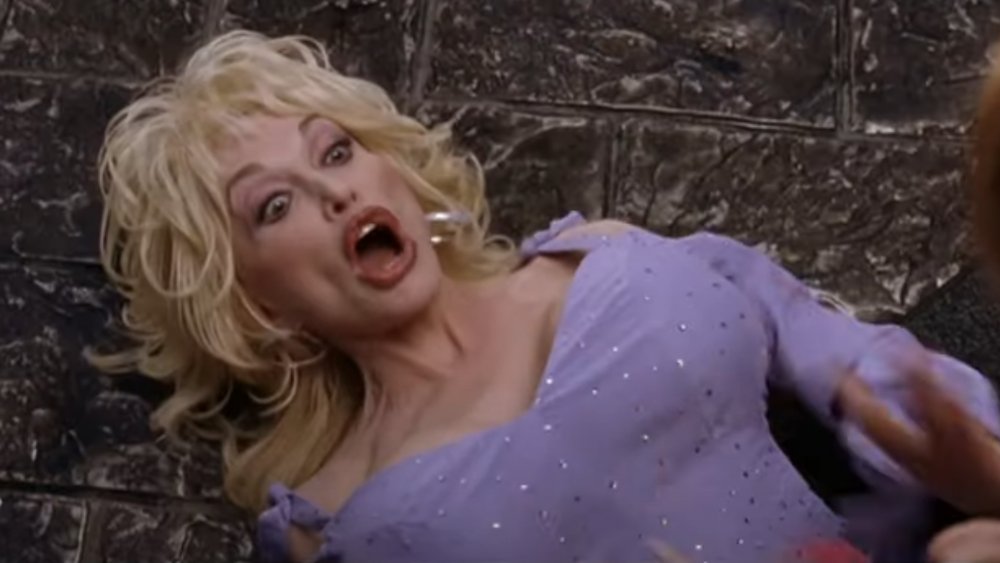 One of Parton's most hilarious movie appearances is her cameo for the 2005 comedy Miss Congeniality 2: Armed and Fabulous. In the film, Sandra Bullock's FBI agent Gracie Hart is in Las Vegas investigating the kidnapping of Miss United States, and she spots Dolly Parton in the halls of a casino. She becomes convinced this Parton is an imposter who must be questioned. Hart confronts "Fake Dolly," and Parton makes a break for it after her assistant accuses Hart of being a stalker. After a chase, Hart physically leaps to tackle Parton in the busy shopping hub of the Venetian Resort.
After Hart has Parton pinned to the ground, she attempts to begin her questioning. But Parton has something to say first: "What is the matter with you?" she asks. Despite others stepping in to explain that she is indeed the real Parton, and that she's in town for a press tour, Hart remains unconvinced and attempts to prove this is a "Fake Dolly" by poking Parton's chest. It's then that she finally realizes her mistake and asks Parton why she ran away. 
At that point, Parton states the obvious: "Because some crazy woman was chasing me!" 
The real kicker comes when Hart tries to share her adulation for Parton's music, while Parton wonders why the agent is still sitting on top of her.
Joyful Noise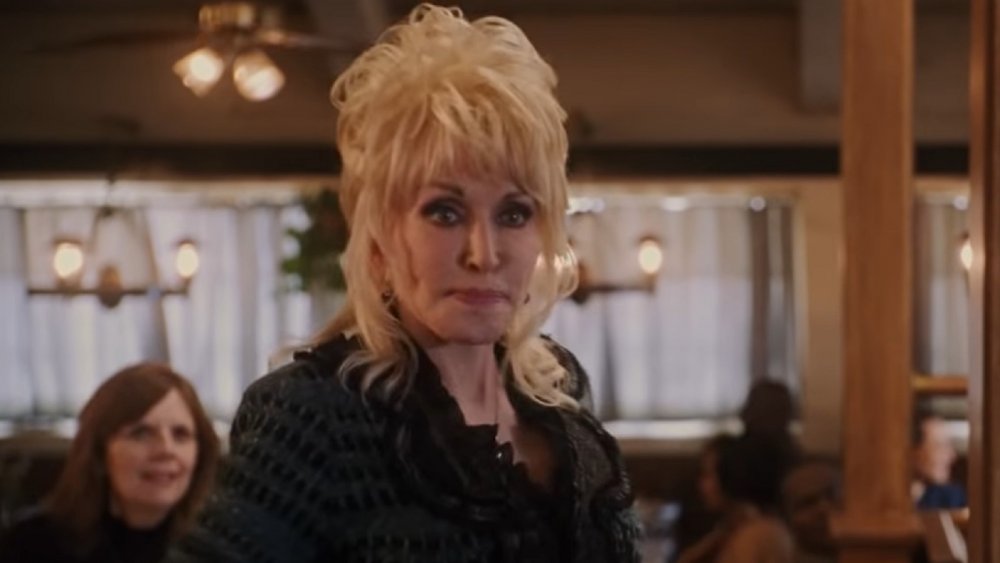 Dolly Parton's physical comedy prowess is on full display in the 2012 musical dramedy Joyful Noise, which features her as G.G. Sparrow. Sparrow is the widow of a late choir director who feuds with Queen Latifah's Vi Rose Hill over who should get to direct the choir after his passing. The competition between the two women intensifies, and G.G. eventually confronts Vi during her restaurant shift, with some truly rambunctious results.
After Vi implies that G.G. is phony inside and out and is only angry that she can't charm Vi into submission, G.G. goes on the offensive to stage a good old-fashioned food fight. First, she treats Vi to a glass of water in the face, and then she picks up a basket of bread rolls and throws them at her while explaining exactly what it is that "pisses" her off about Vi. "It is your holier-than-thou, pious, rigid self-righteousness," she says between bread tosses. "Who gives a rat's a** if I've got a few nips and tucks? God didn't make plastic surgeons so they could starve." 
If that all isn't deliciously messy enough, once G.G. runs out of food to throw at Vi, she starts using her nails to scratch at her while continuing to berate her rival, earning her the amazing new nickname "Edward Scissorhands."