Sneaky Tricks To Get Perfect Matte Nails At Home
Shutterstock
If you're looking for a new nail trend to try, look no further than matte nails. As nail artist Holly Falcone told The Cut, "A matte top coat makes everything really pop because it really saturates the color." She continued, "Texture is really big right now and a matte finish creates a cool one, especially when layered over silvers and metallic."
One of the quickest ways to get matte nails is to simply use a nail file. "If your nail polish is completely cured (a few hours after painting) or you are wearing gel, a super quick hack is to just lightly buffer the surface of the nail until the entire area is matte," Cassandra Banel, a Seattle-based nail artist and beauty photographer, suggested to Byrdie. "Just be sure not to buff too much and remove all of your topcoat," she warned. You shouldn't need to buff more than a few swipes (or you'll ruin your freshly painted nails altogether).
Mixing small amounts of powder into your nail polish will help make it dry matte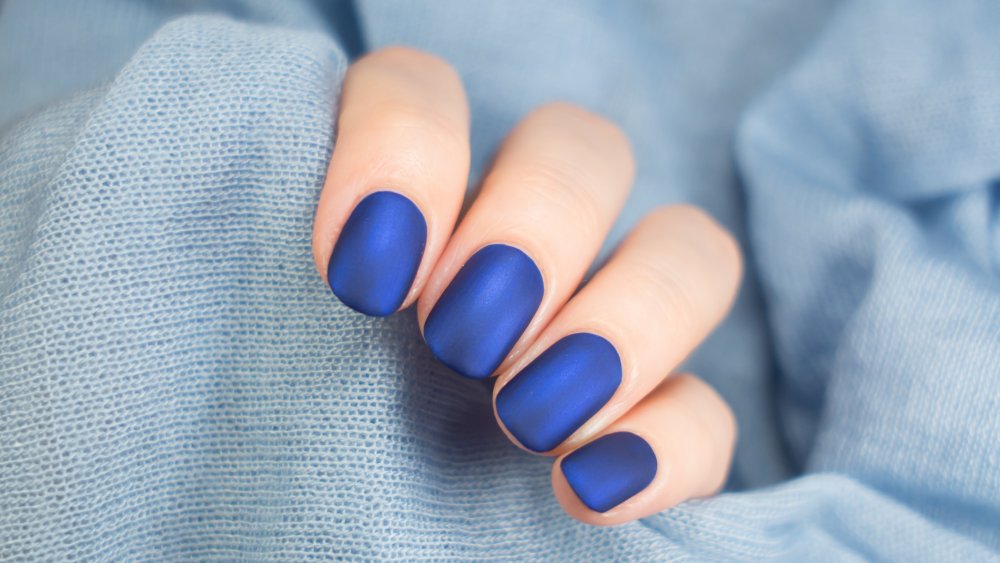 Shutterstock
You can also use powder from the back of your kitchen cupboard. "Cornstarch is best but you can also use baby powder, fine flour, or baking powder," Sarah Bland, a celebrity manicurist and brand ambassador for Smith & Cult, told Byrdie. "I suggest mixing it in small amounts in a separate container instead of mixing it in your full bottle of polish." Sounds easy enough!
The last resort? Investing in some matte nail polish, of course. According to celebrity nail artist Simcha Whitehill, also known as Miss Pop, "the best way to apply matte top coat is actually over regular top coat so your won't get an uneven, sheer, or brush-stroke-y looking application." Speaking to Instyle, she added, "Let the regular top coat level and smooth out your color layers. Wait a few minutes for it to dry, then add a layer of matte top coat."