The Truth About Jimmy Fallon And Justin Timberlake's Relationship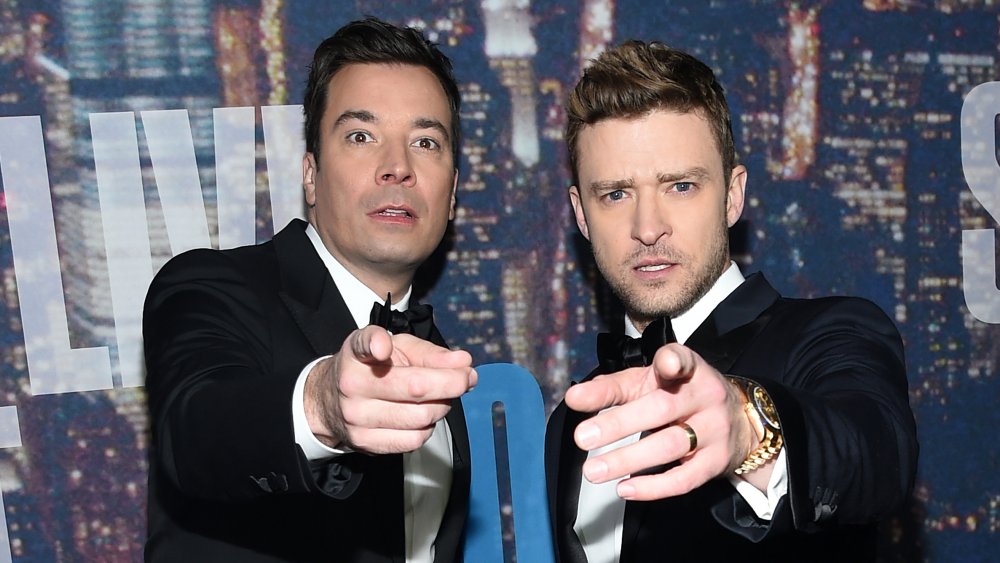 Larry Busacca/Getty Images
By now, Jimmy Fallon and Justin Timberlake's enduring bromance is the stuff of legend. Timberlake's frequent appearances on Saturday Night Live allowed ample opportunity for the two to bond and to provide us all with some notorious characters, like the Barry Gibb Talk Show brothers and of course, the ambassadors to "Wrappinville." In fact, in March 2013, Timberlake joined the likes of Candice Bergen, Drew Barrymore, Ben Affleck, and Paul Simon (via The Hollywood Reporter) as a member of the revered SNL Five-Timers Club (via HuffPost).
Once Fallon left SNL to steer his own ship (i.e., host Late Night with Jimmy Fallon), Timberlake was no stranger to Fallon's desk, providing more opportunities for the two to create new entries into The History of Rap, visit Camp Winnipesaukee, and just generally catch up like old pals (via Billboard).
In case you still had any doubt that Jimmy Fallon and Justin Timberlake were members of a long-time Mutual Admiration Society, know that in 2013 when Fallon was named one of Time Magazine's 100 Most Influential People, Timberlake penned a tribute explaining just why Fallon is so ... influential (via Time).
When Jimmy Fallon met Justin Timberlake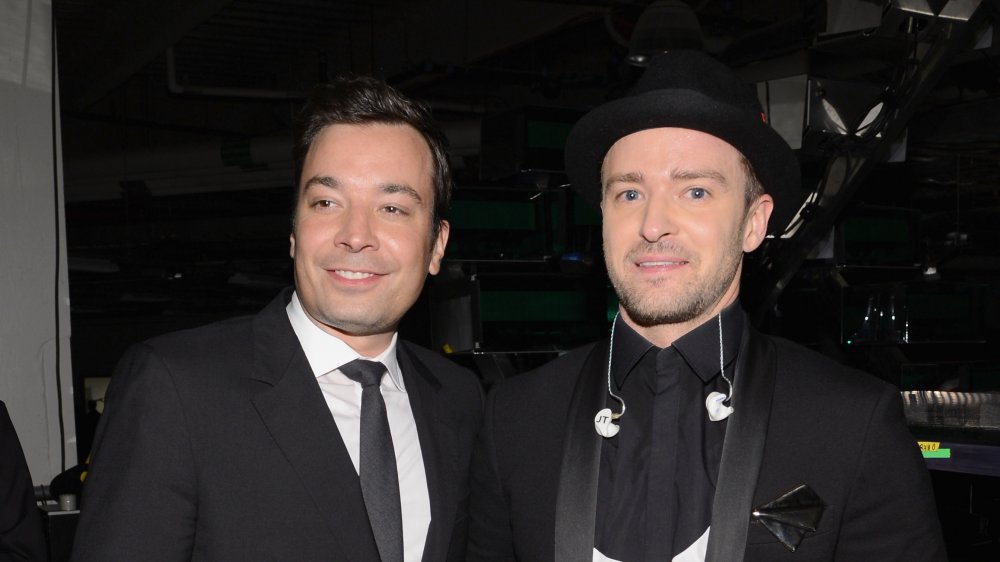 Larry Busacca/Getty Images
Although Jimmy Fallon and Justin Timberlake's relationship really blossomed during Fallon's SNL years, the pair's first meeting pre-dates even Timberlake's first appearance hosting on the show (via GQ).
It was the 2002 MTV Video Music Awards and it was a big night for them both: It marked Fallon's first time hosting the show, and Timberlake's first time performing solo, following his departure from NSYNC (via The List).
"I remember talking backstage during those VMAs. I was totally nervous and you were totally nervous, and we both ended up having a good night," Fallon said to Timberlake in a joint interview with GQ. "We're good luck to each other — like each other's rabbit foots," Fallon continued.
And the good luck would continue over the years, as both Fallon and Timberlake's profiles rose, together and separately. Their friendship came full circle in 2013, when Fallon had the honor of presenting Timberlake with the Michael Jackson Vanguard Award at the very place where they met: The MTV Video Music Awards (via GQ).
An in sync friendship between Fallon and Timberlake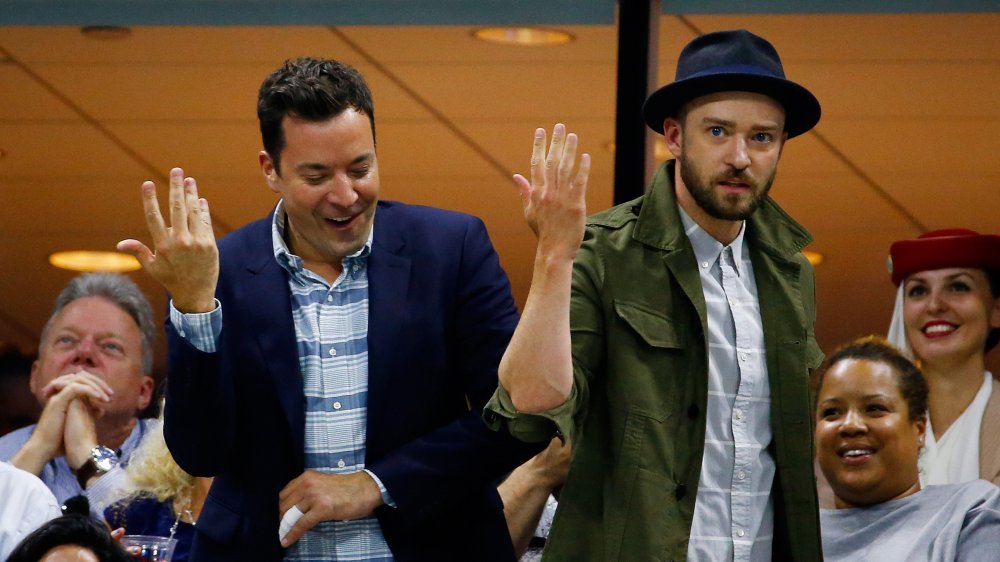 Al Bello/Getty Images
When the pair aren't singing and dancing on our TV screens, they're living up to their bromance reputation offscreen. In 2015, Timberlake and Fallon made headlines for doing the "Single Ladies" dance during the U.S. Open. Once the two noticed the cameras pointed their way, they clearly had no choice but to dance (via Today). Roger Federer was facing off against Richard Gasquet, but Fallon and Timberlake stole the show, at least for a spell.
More proof of how in sync (please forgive the pun) these two are? Take Timberlake's wedding, for example. As Timberlake recalls it, during his speech to his now-wife Jessica Biel, he took a brief pause between thoughts.
"You could hear a pin drop ... And then there was Jimmy, shouting a joke from his seat, sparking an improv between the two of us that went on for a good five or 10 minutes and had all our guests roaring with laughter," Timberlake wrote for Time.
As to who knows Timberlake better, his wife or best bro Fallon, well, you can watch the three compete in a Newlyweds-style game on Late Night and decide for yourself (via Entertainment Weekly).