What Purple Pumpkins Really Mean This Halloween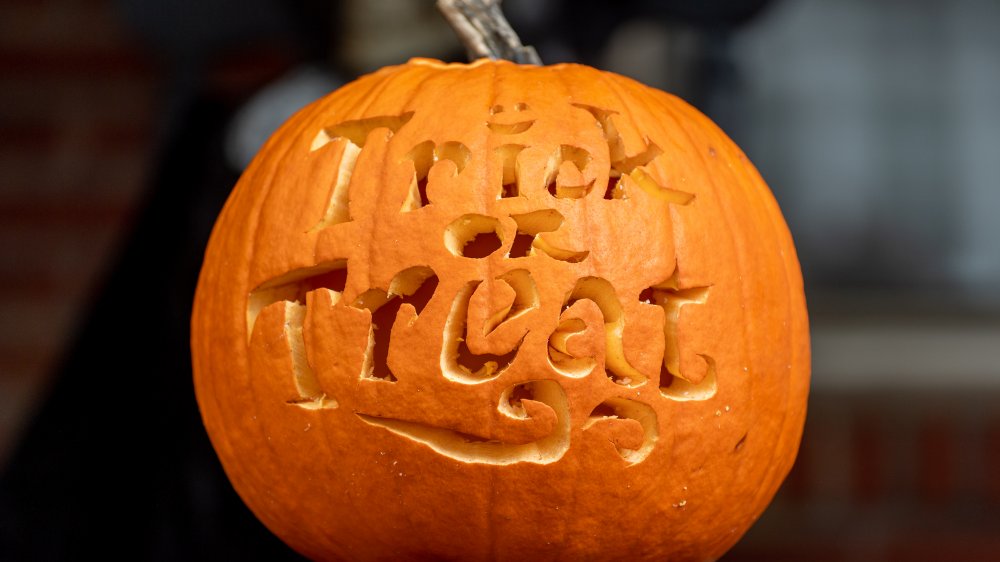 Roy Rochlin/Getty Images
If you're out with your kids this weekend or have noticed a new shade of pumpkin as of late, the trend actually means something quite moving. In 2012, the Epilepsy Foundation created an initiative called the Purple Pumpkin Project "after one parent wanted to raise awareness about his son's condition," as noted by Good Housekeeping. These pumpkins aimed to create a conversation among neighborhood families, particularly during treat-or-treating, and soon after, every state had neighborhoods participating in the project.
According to the Epilepsy Foundation, more than 3.4 million people in the United States have epilepsy, and this classic Halloween decoration is a simple way to get the word out about this condition. These purple pumpkins also serve as fundraising tools for the foundation's research. According to Good Housekeeping, families who get involved can share their stories on the fundraising page, which helps more people learn about epilepsy. This year, in order to meet the foundation's fundraising goal, purple pumpkin families are urged to keep their colorful gourds out through the end of November.
So, if you notice this unique decoration in your neighborhood this Halloween, consider donating or connecting with the family to see how you can show your support.
This Halloween, the purple pumpkins have an additional meaning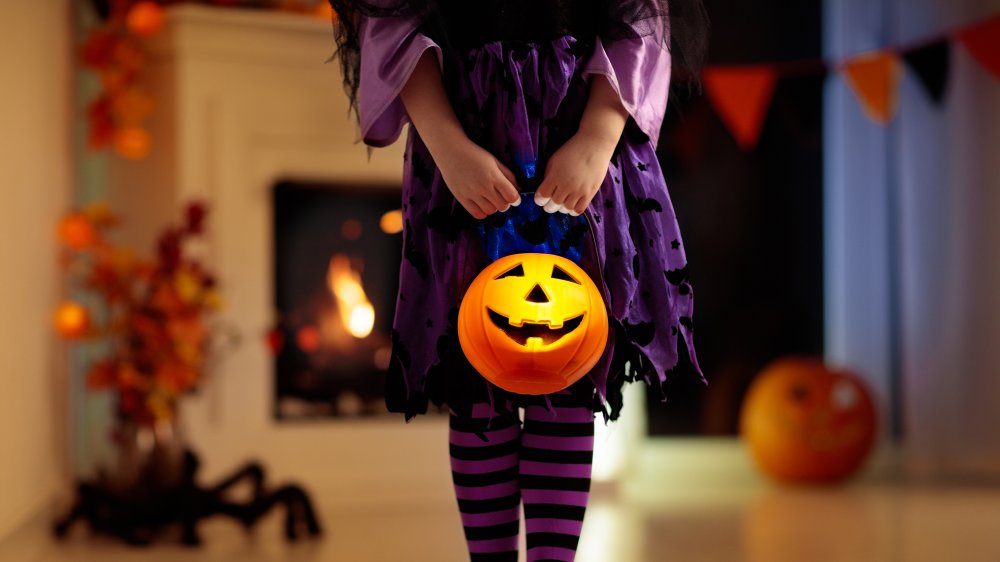 Shutterstock
While the purple pumpkins still help raise awareness for epilepsy, they have a dual purpose during this year's trick-or-treating festivities in response to the COVID-19 pandemic. In the fall of 2020, having a purple pumpkin on your doorstep also serves as a signal that you've taken the necessary precautions in an effort to lower the risks for everyone involved, as explained by Good Housekeeping.
By displaying a purple pumpkin, households make it clear that they've followed recommended safety guidelines to keep trick-or-treaters safe. According to Boston 25 News, this means that people in the home will wear masks while they give out Halloween candy, and that the costumed children will receive their treats wrapped in individual baggies. Communities across the country have rallied around the purple pumpkin trend to keep people safe and simultaneously promote epilepsy research. 
A spokesperson for the foundation shared their enthusiasm for the growth of the trend with Good Housekeeping, saying, "We see this as an opportunity to expand our message beyond our epilepsy community, educate and engage with those who previously had no knowledge about epilepsy."