Kim Kardashian Reveals Why She Made Paris Hilton Carry An Empty Bag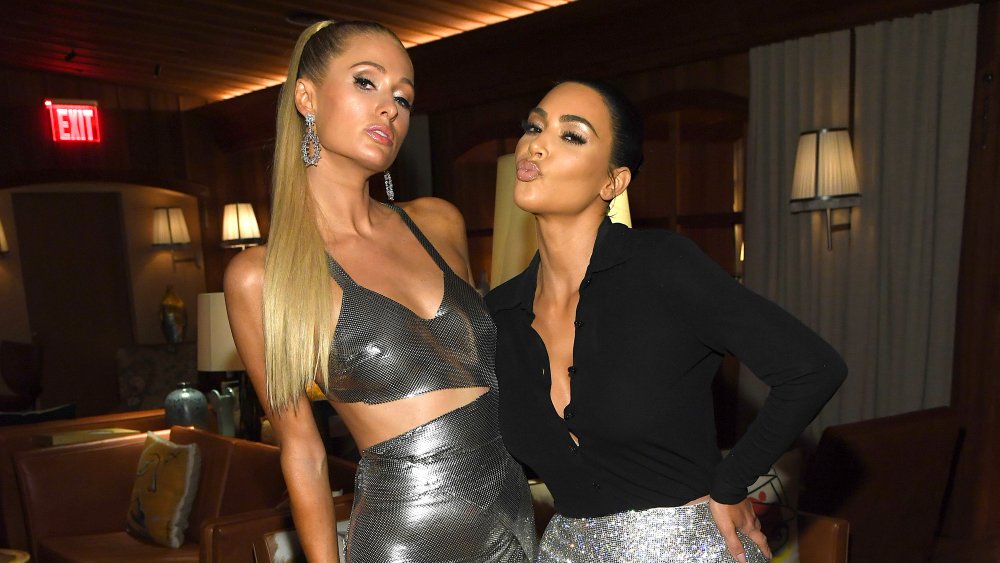 Kevin Mazur/Getty Images
Before the world had Keeping Up With the Kardashians, we had the antics of hotel heiress Paris Hilton. Star of The Simple Life back in the 2000s, she even trademarked her catchphrase "That's hot" (via CNN), and Kim Kardashian West was her personal stylist. The two were often pictured together out on the town, and one of the go-to accessories they carried were Louis Vuitton bags. Kardashian got two of the designer bags as Christmas gifts and she passed along a gold one to Hilton, but according to a video she posted on Hilton's Instagram, "I would not let her put one thing in it. I made her carry an empty bag all around town because she would have destroyed the bag. So, because of my quick thinking, they still exist and are in perfect condition because I was so afraid of what Paris would do to my bags."
Where did this fear come from? Kardashian also spelled out just why she didn't trust Hilton in the video. Apparently, Hilton didn't keep everything well organized, and in her purse were "hundreds of crumpled up dollar bills," sticker books, pieces of paper and pens, chapstick, "every kind of beauty product you could imagine," and "anything you can think of, like candy, the wrappers, like you've never seen anything like this."
Hilton sees herself as Mary Poppins
Apparently, Hilton likes to be prepared. Kardashian recalled, "One time we were in Ibiza, we had our bag. And [Paris] just pulls out literally sunglasses, a bikini, a towel. We were at a foam party she was like 'I'm all ready. Let's go straight from the foam party, it's 7am when the club was done, to the beach."
"I am Mary Poppins," admitted Hilton. But it's a habit she's broken. "I've taught her to not do this," explained Kardashian.
The two were close friends back in the early 2000s, but according to Blast, back in 2008, Hilton lashed out against Kardashian "by saying her backside looked like 'cottage cheese stuffed in a trash bag.'" And in 2011, Kardashian told Harper's Bazaar the two didn't really talk anymore. "As I always say, everyone comes into your life for a reason, a season, or a lifetime."
But it looks like they're back to being besties again. Kardashian posted on Instagram a picture of the two wearing the new line of velour tracksuits for Kardashian's clothing line Skims with the caption "Besties for life!!! Me and @parishilton in our skims velour. U guys have no idea how tracksuits were our uniform and so happy to make a skims version."