Harrison Ford Finally Breaks His Silence On Sean Connery's Death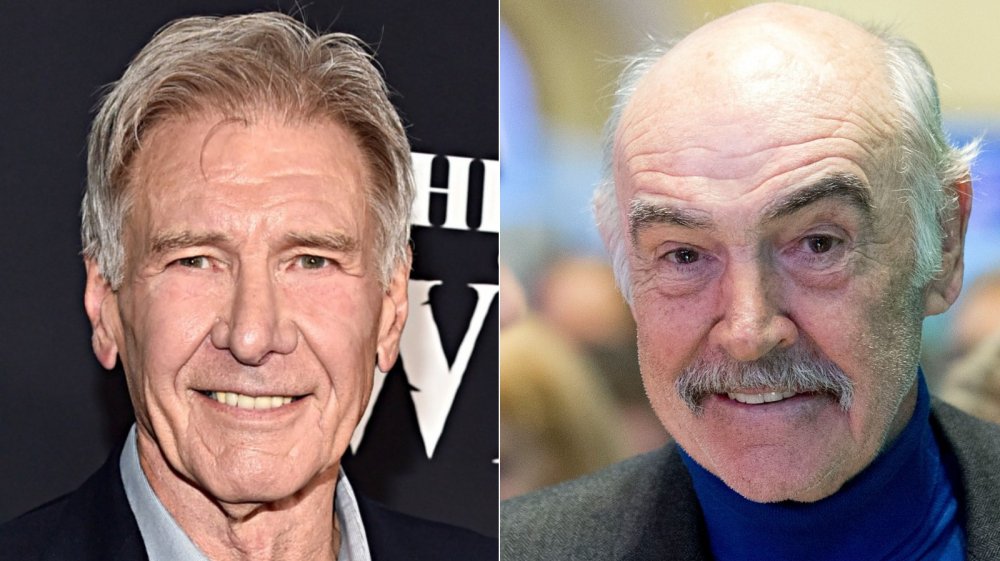 Alberto E. Rodriguez, Ben Hider/Getty Images
Screen legend Harrison Ford has finally paid tribute to fellow Hollywood icon Sean Connery following his heartbreaking death on October 31. Connery memorably played Henry Jones Sr. in the Indiana Jones film series, which starred Ford. Connery appeared in 1989's Indiana Jones and the Last Crusade (via IMDb).
"He was my father... not in life... but in 'Indy 3,'" Ford told Variety. "You don't know pleasure until someone pays you to take Sean Connery for a ride in the side car of a Russian motorcycle bouncing along a bumpy, twisty mountain trail and getting to watch him squirm. God, we had fun — if he's in heaven, I hope they have golf courses. Rest in peace, dear friend."
Ford and Connery enjoyed a close friendship over the years, although Ford wasn't initially sure that Connery was the best person to play Indiana Jones' father as the two actors were only 12 years apart in age. "Then again, I am so much younger-looking than I really am, and he's so much older-looking than he is," Ford told Variety in 1997. "But if you ask him, he'll say he acted it."
Harrison Ford and Sean Connery had a special bond
Connery not only ended up being right for the role but he also helped make the film better. "It was amazing for me in how far he got into the script and went after exploiting opportunities for character," Ford said. "His suggestions to George [Lucas] at the writing stage really gave the character and the picture a lot more complexity and value than it had in the original screenplay.
Ford praised his co-star and on-screen dad, calling Connery "remarkable and unique."
The two also spent time together off-set. Ford recalled a memorable game of tennis he played with Connery. "It was a doubles match, and he and I played together," he said. "But if you ask him, he'll say I played against him. I hit him in the back with two serves, something that he's never been able to let me forget."