Joe Biden Makes Heart-Wrenching Visit On Election Day Morning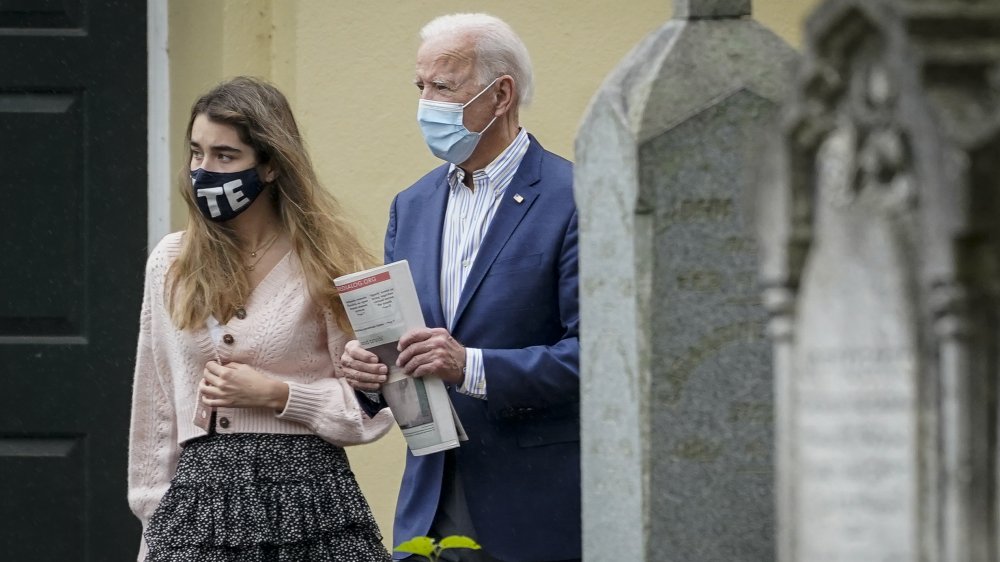 Drew Angerer/Getty Images
Tuesday, November 3, might be the most important day so far in Joe Biden's long political career. He decided to spend the first hours of Election Day grounding himself by attending mass at his family's church, then visiting the grave of his son Beau.
Biden, his wife Jill, and two granddaughters entered St. Joseph on the Brandywine Catholic Church outside Wilmington, Delaware shortly after 7 a.m., the New York Post reported.
After mass, Joe Biden and Beau's daughter, Natalie, walked to the church's cemetery to visit Beau's grave, according to Today. Beau Biden, who was actually named after his father as Joseph Robinette Biden III, died of brain cancer in 2015. Beau Biden earned a Bronze Star with the Delaware National Guard, and he was deployed to Iraq in the middle of his term as Delaware's attorney general. Beau also had higher political aspirations of his own. He had planned to run for governor of Delaware in 2016, but this was not to be (via Politico).
In January of this year, on MSNBC, Beau Biden was still very much on the mind of presidential candidate Joe Biden. "Beau should be the one running for president, not me," Joe said.
Tragedy marks Joe Biden's long political career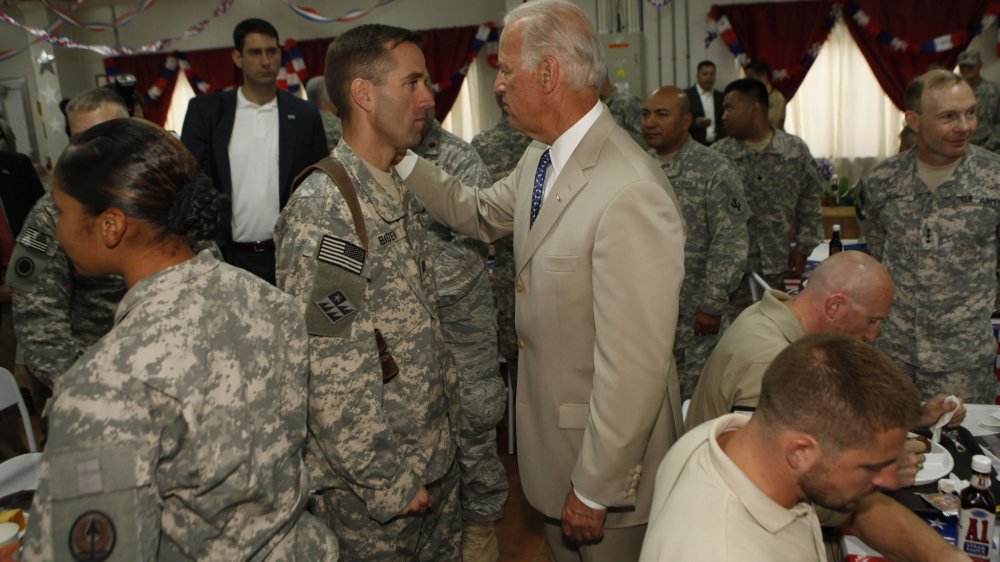 Pool/Getty Images
Joe Biden's political career has been bookended by tragedy, as described in a Politico article published at the beginning of the presidential race. In December 1972, after Biden had won his first election for U.S. senator but before he had taken office, his first wife Neilia and infant daughter Amy were killed in a car crash on the way home from picking up a Christmas tree. Sons Beau and Hunter, who were toddlers, were severely injured but recovered fully.
Biden would write about his grief after losing his wife and daughter. "The first few days, I felt trapped in a constant twilight of vertigo, like in the dream where you're suddenly falling ... only I was constantly falling." He even wrote that suffering such a heavy loss made suicide actually seem like a rational option — except he knew he had to be there for Hunter and Beau. Neilia and Amy are buried at the same church cemetery as Beau.
In the end, according to Beau Biden's obituary in Politico, Joe Biden said the same thing about his son Beau as Joe's father had said about him. "I was a hell of a success," Joe Biden, who was vice president at the time, told Stephen Colbert a few months after Beau's funeral. "My son was better than me."