Did Ivanka Crop Tiffany Out Of Her Campaign Rally Instagram Post?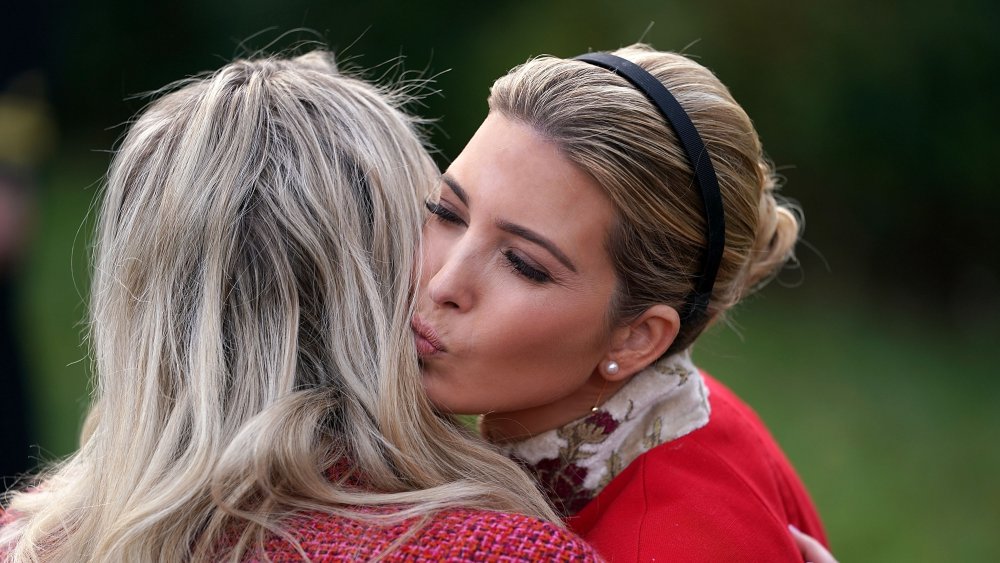 Chip Somodevilla/Getty Images
It's no secret that Tiffany Trump's relationship with her sister, Ivanka Trump, hasn't always been smooth sailing. Most recently, Ivanka wished Tiffany happy birthday on Twitter... then tagged the wrong account (via NY Daily News). But there might have been another, more recent social media slight on Ivanka's side.
Both Trump daughters posted Instagram photos from the President's November 2 rally in Michigan. Tiffany's post included a candid shot of her next to her siblings, where she stood directly next to her brother Eric. Ivanka's Instagram post included a similar photo — however, Eric Trump was on the far left of the spot. Tiffany was nowhere in sight.
So did Ivanka Trump deliberately crop her sister out of the photo? There's no way to tell. It's possible that the photo was taken while Tiffany had moved elsewhere. It's also possible that Ivanka simply couldn't fit everyone, and the decision wasn't personal. After all, Tiffany made an appearance in a larger group shot at the end of Ivanka's slideshow.
Tiffany Trump has often seemed outside Donald Trump's inner circle
Compared to Ivanka, Eric, and Donald Trump Jr., Tiffany has often seemed to not quite penetrate the tight-knit circle of her older siblings. In fact, in 2017, previously unreleased tapes from an interview between Howard Stern and President Trump revealed that Don Jr. and Ivanka had tried to "bump" Tiffany out of her inheritance (via Newsweek).
While Tiffany's relationship with her father might not seem as close as her older sister's, biographer Gwenda Blair told Business Insider that it wasn't personal. "I don't think she's part of the brand," Blair said. "And for Donald Trump, the brand Trump is everything."
Despite the sometimes strained familial relations, in public, Tiffany has always stood behind her father, and during this year's campaign, she made speeches on his behalf at the Republican National Convention and a "Trump Pride" event. She even used one of the President's favorite phrases: "fake news" (via Huffpost).