Amanda Knox's Election Joke Has People Seeing Red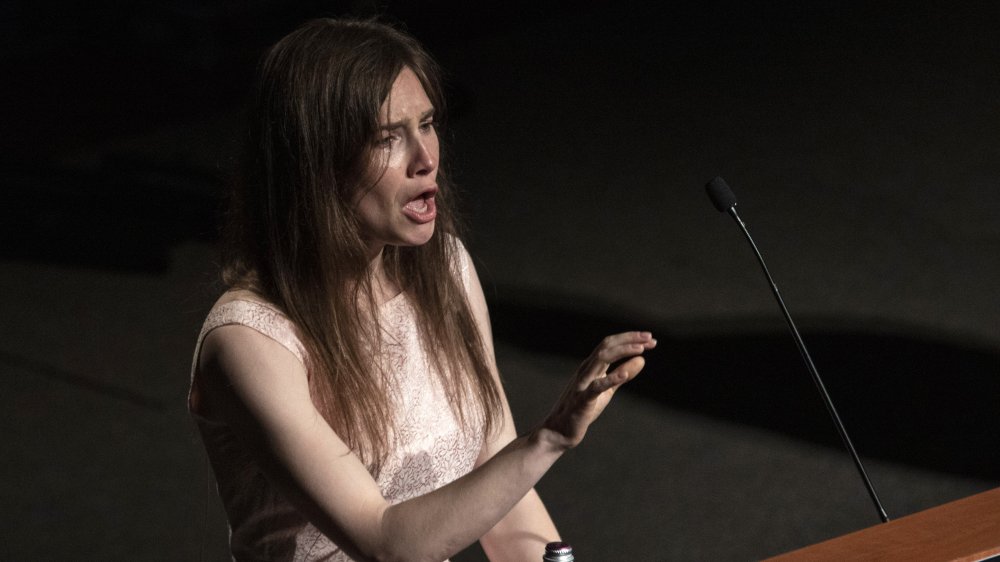 Emanuele Cremaschi/Getty Images
Biography recently published a detailed timeline of the Amanda Knox Italian murder trial. Between 2007 and 2015, Knox was convicted twice for the brutal murder of her former British roommate, Meredith Kercher, before the court overturned their original rulings. Knox ended up serving four years of her original 26-year sentence in jail, says Bustle. You might remember the saga after binge-watching her documentary on Netflix. Maybe her story sounds familiar to you because, in early 2019, she made headlines, once again, after the European Court of Human Rights ordered Italy to pay over $20,000 dollars in damages and legal fees to Knox (via ABC News).
Or maybe you've recently revisited her case on Biography, as we did after Knox tweeted about what happened to her in Italy on election night 2020. "Whatever happens, the next four years can't be as bad as that four-year study abroad I did in Italy, right?" Knox tweeted.
How the internet is biting back against Amanda Knox's election day tweet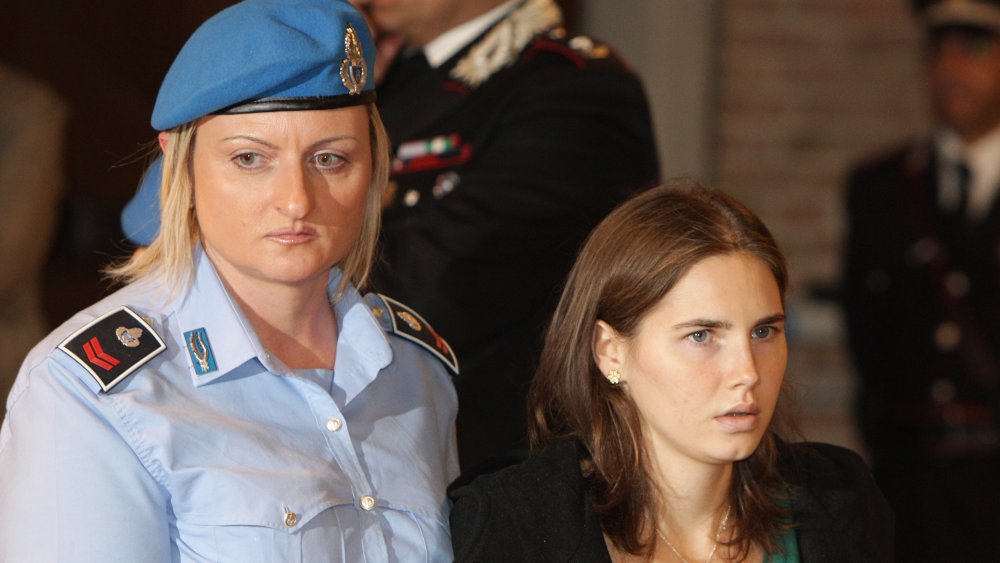 Oli Scarff/Getty Images
British broadcaster Piers Morgan's response seemed to speak for most of the U.K. when he posted: "I can think of a 21-year-old British girl named Meredith Kercher who had a far worse time than you in Italy. Remember her? How dare you make a joke of it ... " Morgan's sentiments were seconded by British radio presenter Clara Amfo. She quickly ordered Knox to "Delete this" (via Twitter).
Suffice to say that Knox's joke didn't sit well with many American voters either. "Girl I don't think you murdered your roommate, but a tweet like this makes me understand why people thought you did," one US-based replied on Twitter. "Agreed," another the Biden-Trump election watcher wrote, oozing sarcasm. "The mass persecution of blacks, Muslims, Latinx, & LGBTQ pales in comparison to the tribulations of a single white woman."
Amanda Knox has not yet responded to all the criticism surrounding her controversial tweet, nor has she deleted it as many have requested. Knox did, however, fire back at Piers Morgan. "Occasionally I joke about my wrongful conviction & imprisonment in Italy," she posted. "I'm allowed to joke about my own trauma. I didn't joke about the Kercher's. I didn't kill Meredith. Rudy Guede did, & you know it. Stop exploiting Meredith's name to victim blame me. You're pathetic."