Hollywood Reacts To Joe Biden's Presidential Victory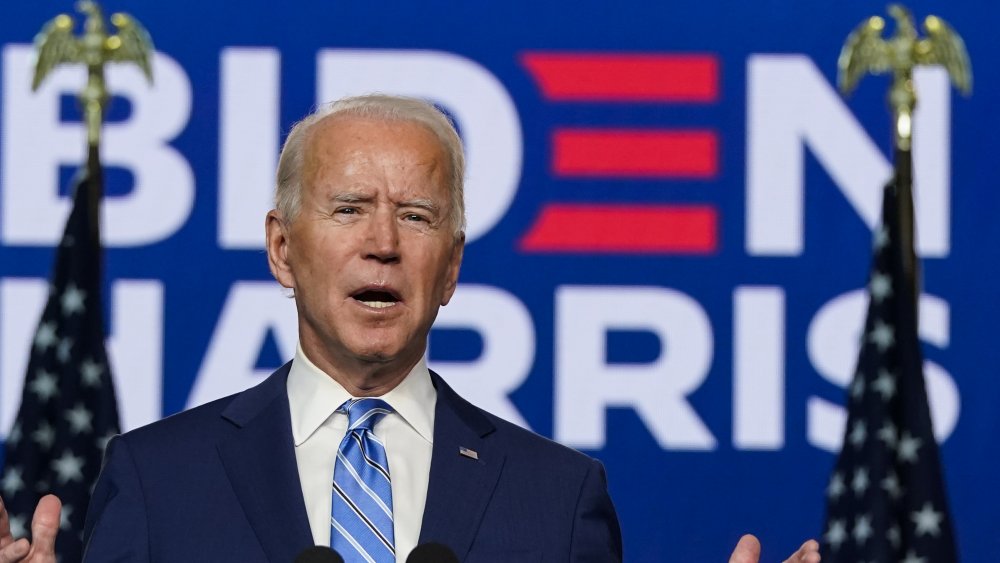 Drew Angerer/Getty Images
Shortly before noon EST on November 7, history was made as Joe Biden was officially named the winner of the 2020 presidential election. It was a long and nail-biting process, with key states such as Pennsylvania and Nevada reporting their results at the eleventh hour, but in the end, Biden handily won the Electoral College vote. Even conservative outlets such as Fox News finally conceded that President Trump would not be serving a second term. 
The election also means that the U.S. will have its first woman vice-president — not to mention its first vice-president of color — with the entry of Biden's running mate, Kamala Harris, who is Black and South Asian (per CNN). 
Among the millions reacting to this milestone decision were notable names from Hollywood, who sent Twitter and Instagram into a frenzy of cheers. Cher was among the first to share her feelings on Twitter, saying, "BETWEEN JUMPING ON MY BED & CRYING I COULDN'T TWT/I HAVE WANTED HIM TO BE PRESIDENT SINCE 2006/MY DREAM HAS COME TRUE." 
Chris Evans — Captain America himself — replied to Trump's tweet "I WON THIS ELECTION, BY A LOT!" by simply saying, "No, you didn't. You lost." Tyra Banks was equally short and sweet, tweeting: "No matter your party, let's party together."
Jason Momoa posted a screenshot on Instagram of CNN calling the victory, saying passionately, "PRESIDENT BIDEN [with various heart and hand emojis] and now WE HAVE A BLACK INDIAN FEMALE VICE PRESIDENT SUCK IT TRUMP. F*** you a** hat."
Celebs took to Twitter to offer congratulations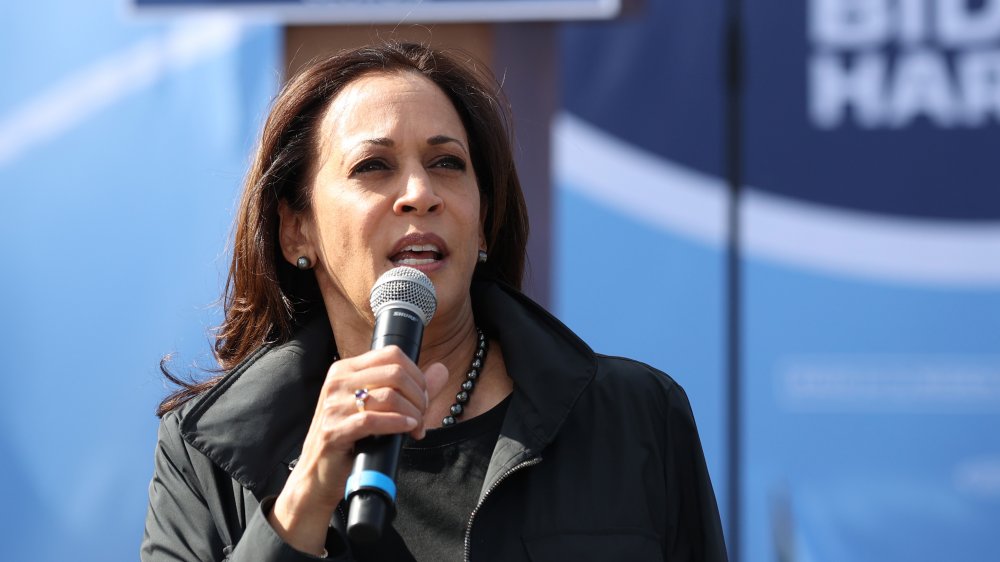 Justin Sullivan/Getty Images
Other celebs who chimed in included Veep's Julia Louis-Dreyfus, who said, "'Madam Vice President' is no longer a fictional character," along with her former Seinfeld costar Jason Alexander, who wrote, "Congratulations President Elect @JoeBiden and VP elect @KamalaHarris. I've never been happier to write a sentence in my life. God bless and protect you and our country."
Reese Witherspoon wrote, "What a tremendous moment in our nation's history! Congrats to our new President @JoeBiden and the first Female Vice President in our history @KamalaHarris." Viola Davis was equally triumphant as she called out Pennsylvania's part in the election: "Woooooohooooo!!!!!! PHILLY!!!!! AMERICA!!!!!! BLACK FOLK!!!! BLACK PEOPLE!!!!!!!! GOD BLESS YOU!!!!!!! Now...let's fight for that Senate!"
Avengers star Paul Bettany posted on Instagram: "Fellow Democrats, can we keep the gloating to a minimum? Remember how painful it was when WE lost in 2016? Let's be bigger than that! And my advice to Republicans is to do what we did and take solace in having won the popular vote... oh wait... You didn't... ooooops."
Biden himself quickly changed his Twitter bio to read "President-Elect," and tweeted, "America, I'm honored that you have chosen me to lead our great country. The work ahead of us will be hard, but I promise you this: I will be a President for all Americans — whether you voted for me or not. I will keep the faith that you have placed in me."