Here's Every Song They Played During Biden And Harris' Victory Speeches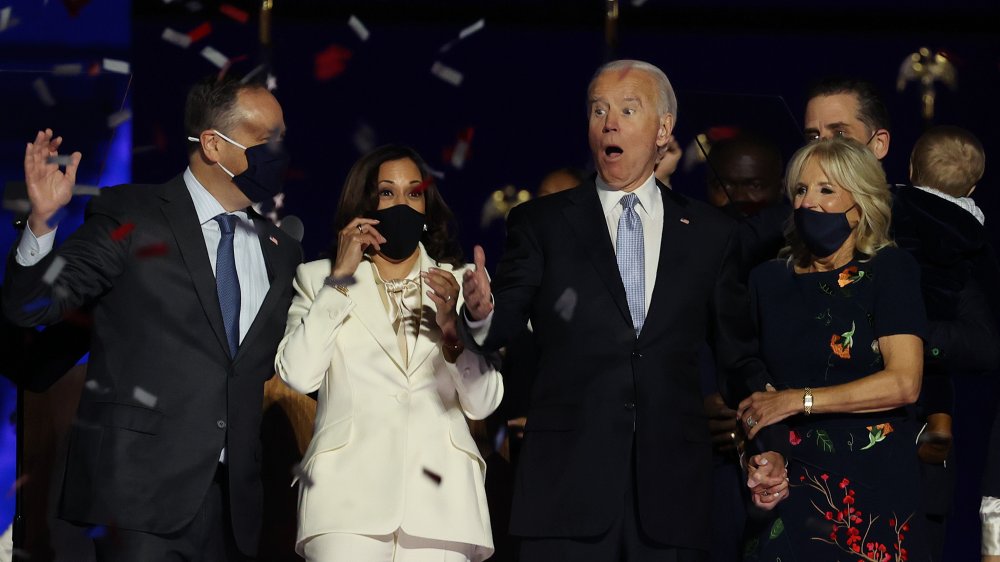 Tasos Katopodis/Getty Images
Music can truly set the atmosphere of an event, even in the case of presidential acceptance speeches. While the words are the main attraction, music selection is everything and serves as quite the symbol depending on the song. This evening, new president-elect Joseph R. Biden and Kamala Harris vice president-elect gave their victory speeches with a great playlist to boot.
For starters, every celebration needs a perfect warmup song, and for Biden and Harris, "Lets Go Crazy" by Prince is the perfect pump up tune to prep for any big announcement (via Youtube). When it came to Harris' walkout music, she decided on "Work That" by Mary J. Blige. This was the same song she relied on for walking off the stage at the Democratic National Convention, when she was nominated as the first woman of color for major political party. According to Pandora's musicologist Nolan Gasser, who spoke with Business Insider, the song says about Harris that "I'm hip, vibrant, confident, resilient, optimistic, and a bit old school."
Biden's walk out music and other song choices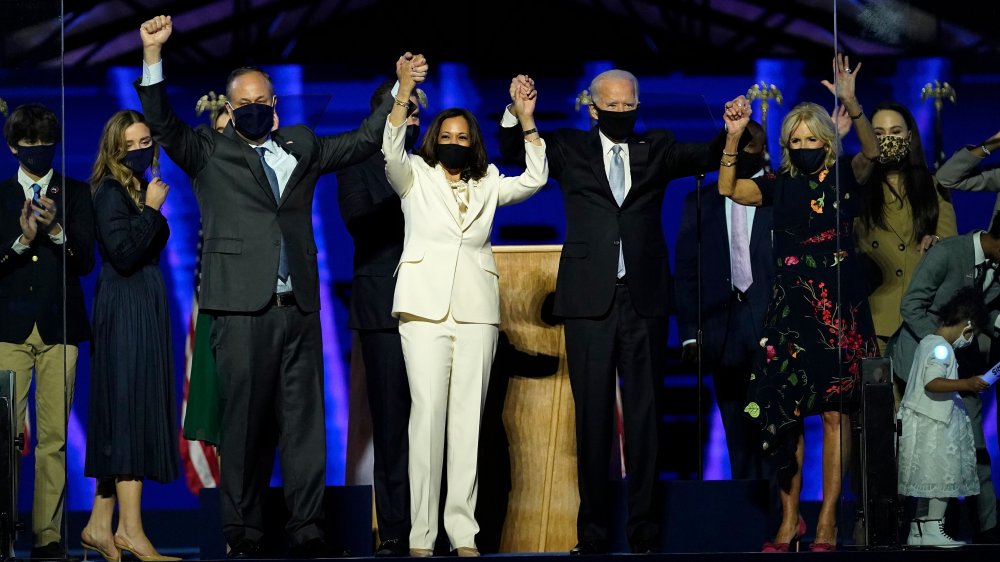 Pool/Getty Images
When it comes to Biden's choice of ditty? He's all about classic all-American rock and roll. For his acceptance speech, the new president-elect walked out to Bruce Springsteen's "We Take Care Of Our Own," which makes sense since Springsteen even helped out with one of Biden's campaign videos. Gasser mentioned that Biden's song translates to, "I'm tough, determined, bold, patriotic — an average Joe who'll never abandon his compatriots," (via Business Insider).
But these weren't the only two songs played during the Nov. 7 celebration, though. At the end, the campaign team played "A Sky Full of Stars," during the firework show, which was a subtle tribute to Biden's late son Beau, who loved the band Coldplay. So while the speeches of both Harris and Biden were powerful in themselves, there was plenty of meaning to be picked up from the songs alone, too.