Kate McKinnon's Rudy Giuliani Impression Has SNL Fans Cracking Up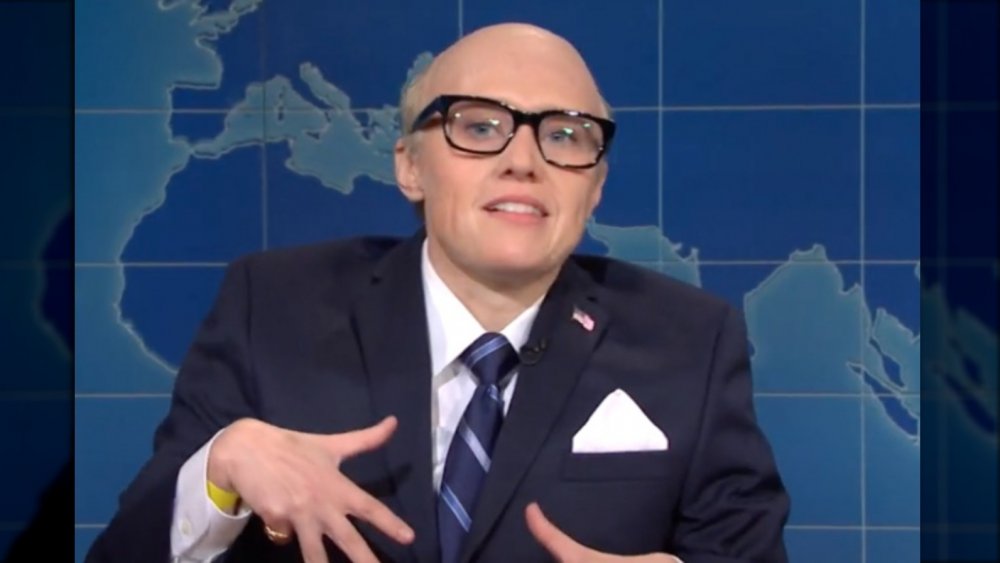 NBC
For those tuning into Saturday Night Live just hours after Joe Biden and Kamala Harris delivered their victory speeches, there was something not just humorous, but therapeutic about watching the parodied political characters of the 2020 election — from Alec Baldwin as a poutier-than-usual Donald Trump, to a swaggering Jim Carrey, as our new president-elect — after months of anxious anticipation about the race's outcome. Except for when Kate McKinnon appeared on "Weekend Update" as Rudy Giuliani (via NBC). That's when the therapeutic part ended... and sheer, side-splitting, tear-inducing laughter took over.
A bespectacled McKinnon, wearing an overstuffed business suit to give her petite frame Giuliani's pot-bellied torso, and a bald mask over her blonde hair, was portraying the outgoing president's personal attorney, who had just delivered a press conference about his plans to sue various states where the Republican had lost, demanding to inspect all of the ballots. "Listen to me, I got tons of strategies. First, we're going to throw out bogus mail-in ballots... these ballots, they could be coming from Mars!" declared McKinnon as the former New York City mayor. "If the name is Meep Thorp Xandar and the address is Mars, we're going to get those ballots thrown out."
Twitter goes wild for McKinnon's SNL performance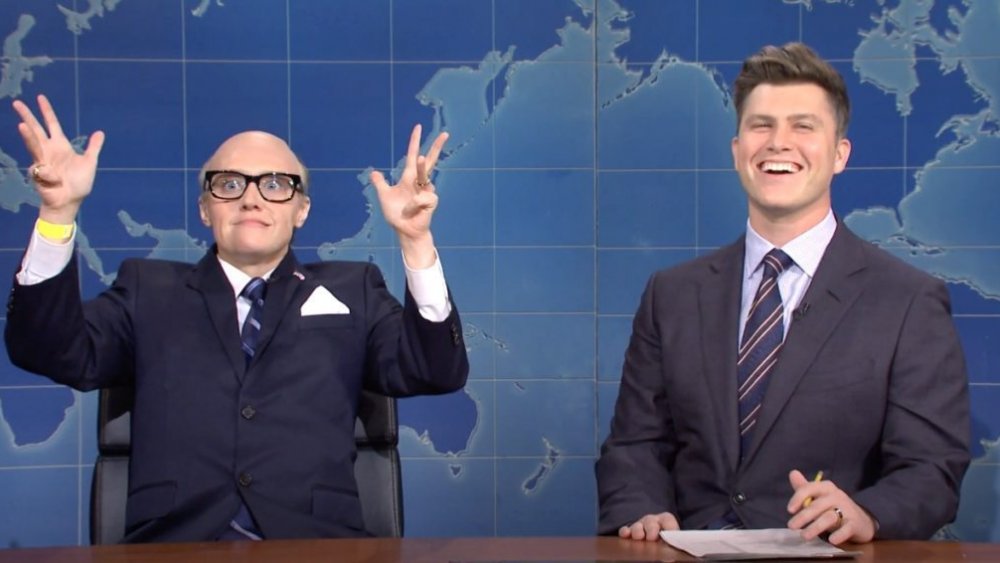 NBC
Another highlight of the skit was when "Weekend Update" co-anchor Colin Jost asked the New Yorker about pollsters — all liars, McKinnon's Giuliani declared. "They're always saying, like, 'Hey baby, I'm Cinnamon. My real name is Brittany. Shh... don't tell them I told you,'" her character said. "And then you find out her name ain't Brittany!" With a look of confusion, Jost asked McKinnon whether they were both talking about the same kind of "pollsters," to which she answered, "Yeah, strippers, pollsters."
"I laughed so hard thought I may go into early labor. The line about stripper pollsters sent me," one pregnant Twitter user posted. And another fan of the performance quipped, "Kate has better legal arguments at least" than the actual attorney to the outgoing president. "#WeekendUpdate had me laughing so hard I couldn't breathe and had tears!! Thank you @ColinJost #MichealChe #KareMcKinnon @nbcsnl," tweeted another fan. And Twitter user whose handle is "Sad Girl" might have summed up the feeling of most SNL viewers last night, when she posted, "It's good to laugh, after a week of stress."