Alex Trebek And His Daughter Shared A Special Hobby Together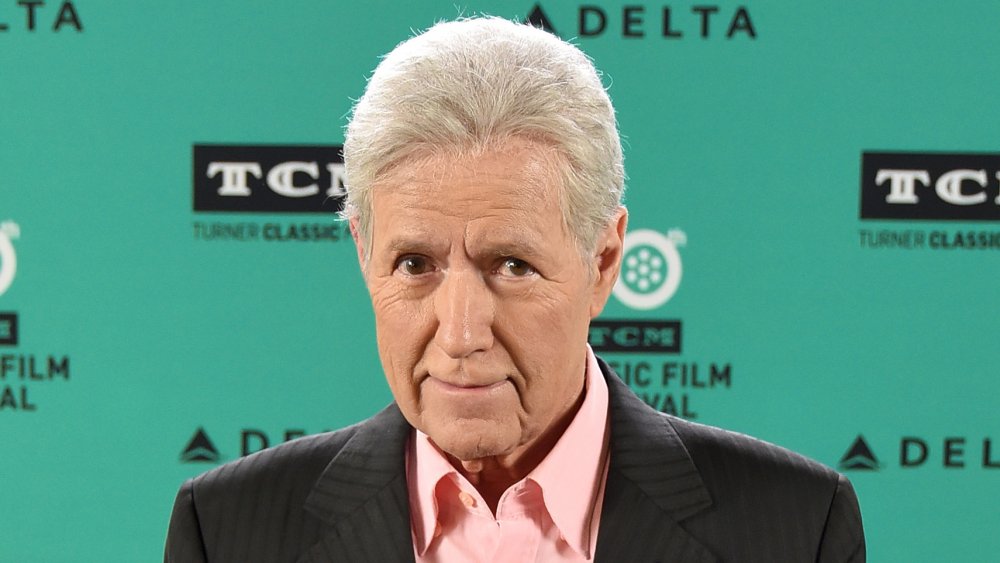 Presley Ann/Getty Images
We all know the legendary Alex Trebek as the face of Jeopardy!, but the longtime host, who has died of pancreatic cancer, was also a husband and father. 
The tragic news of his death came from the Jeopardy! Twitter account on Sunday, Nov. 8: "Jeopardy! is saddened to share that Alex Trebek passed away peacefully at home early this morning, surrounded by family and friends. Thank you, Alex." No doubt his family is heartbroken, but as we look at Trebek's relationship with his daughter, it's clear the two shared a special bond. 
In June 2016, Trebek's daughter Emily shared a sweet story on Instagram about her dad on Father's Day, saying, "When I was little, going to work with my dad was one of my favorite things to do. In our downtime on set, I loved to color and would often draw him several pictures and hang them all over his office as decoration. One morning, I drew him this 'World's Greatest Dad' sign. He's kept it on the front of his office door ever since, even 18 years later. I'm so proud to be his daughter. He is the most caring and supportive father and truly is the World's Greatest Dad."
Alex Trebek and his daughter loved home renovation
A year later, for Father's Day 2017, Emily shared another more insight into her relationship with her dad, and the hobby they share. On the Jeopardy! blog, Emily explained that she became interested in flipping houses after college, and in her father found a willing partner. "I have always been interested in homes. When I was little, I wanted to be an architect. After graduating, I decided to get into real estate. As I was getting ready to flip my first house, I told my dad that I wanted to do it with him..." she said."During open houses, dad came to every serious showing. He would look in crawl spaces, in electricity panels, at water heaters. He was looking in all those places where a lot of hidden costs could be. So it was helpful for him to be there at every house."
Trebek turned out to be an incredible adviser for Emily as they toured houses and decided which projects to take on. He got his hands dirty and fixed anything he could on his own. His daughter explained that she learned so much just from watching him work.
Emily ended her story, making it clear how much her dad's involvement meant to her. "I don't have words to express how much it means to me that he helped. Just telling him how much I appreciate it and how much I thank him for guiding me through this and helping me sounds so insignificant. I don't have the words to make it sound as significant as I feel," she said.