The Truth About Alex Trebek And Lucille Ball's Relationship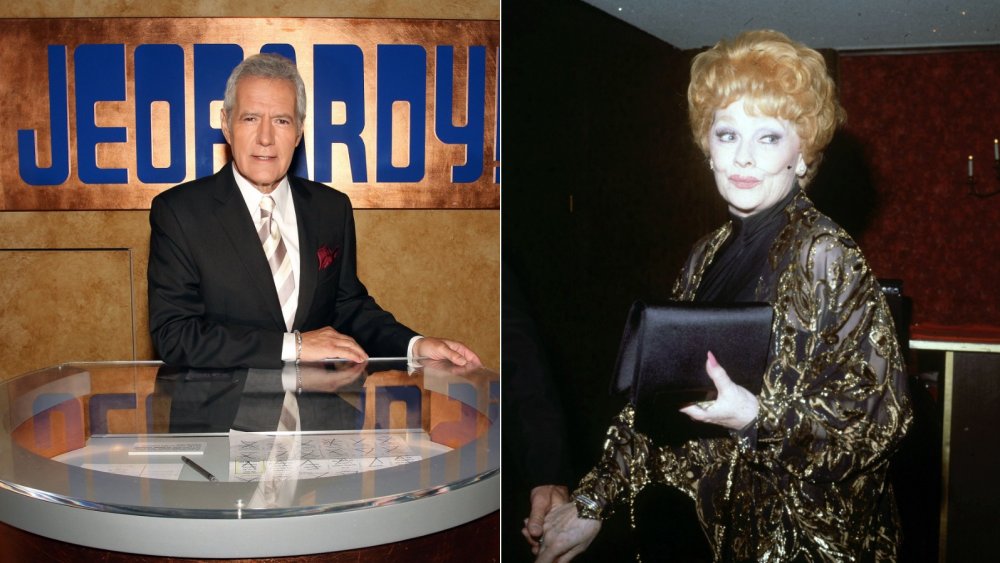 Frederick M. Brown, Michael Ochs Archives
Jeopardy! fans everywhere have suffered a major loss with the passing of game show host Alex Trebek. Trebek was a legend in his own right. Since 1984, many generations of fans grew up watching his charisma and charm on their screens (via Decider). Trebek was a positive light on set, and made Jeopardy! feel like more than just a game show. In March 2019, Trebek revealed on YouTube that he was battling stage 4 pancreatic cancer. As proof of just how beloved he was, in a November 2019 episode, during final Jeopardy, contestant Dhruv Gaur used up $1,995 out of his $2,000 bank to send Trebek a heartfelt message that simply stated, "We love you, Alex!" No explanation was needed. Trebek was visibly impacted by this sweet gesture, and thanked Gaur while reminding him that he had used up his earnings for the move (via EW). 
That tearjerking moment is just one in a million that shows Trebek has unknowingly touched the lives of fans all over. But what fans may not know is that Trebek's run on Jeopardy! may have never happened without a push from another beloved TV legend.
America's sweetheart and TV legend Lucille Ball helped secure Trebek's role on Jeopardy!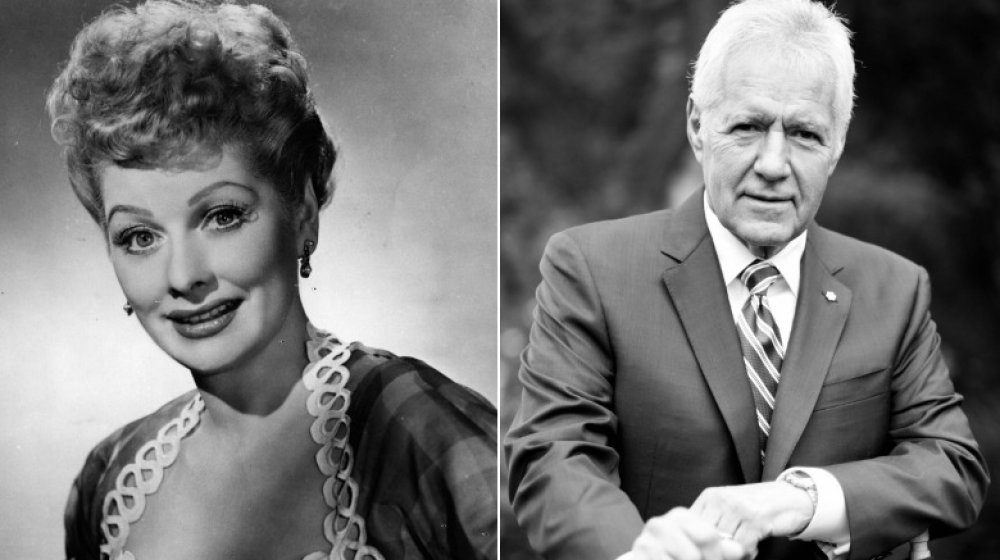 Evening Standard, Emma Mcintyre/Getty Images
We can't imagine Jeopardy! without Trebek's infamous funny quips and matter-of-fact personality. But the late actress Lucille Ball played a major hand in making Trebek a household name. The I Love Lucy star actually set the "ball" in motion for Trebek to become the host of Jeopardy! She told Jeopardy! executive producer and creator Merv Griffin to hire Trebek. Prior to this gig, Trebek hosted multiple game shows such as High Rollers, Battlestars, The $128,000 Question, and more. Griffin got on board with Ball's suggestion, and the rest is history (via CheatSheet).
As a huge fan of High Rollers, Ball was drawn to Trebek's hosting capabilities and knew that he would be the perfect fit for the job. Ball is even rumored to have appeared on High Rollers in 1977, although most footage from the show has been lost (via CBS News). The fact that Trebek had that much of an impact on her showed the sheer magnitude of his talent and drive.
Even though Jeopardy! will never be the same without Trebek, we will honor his legacy and revisit our favorite TV moments forever.