John Oliver Has Choice Words About Trump's Loss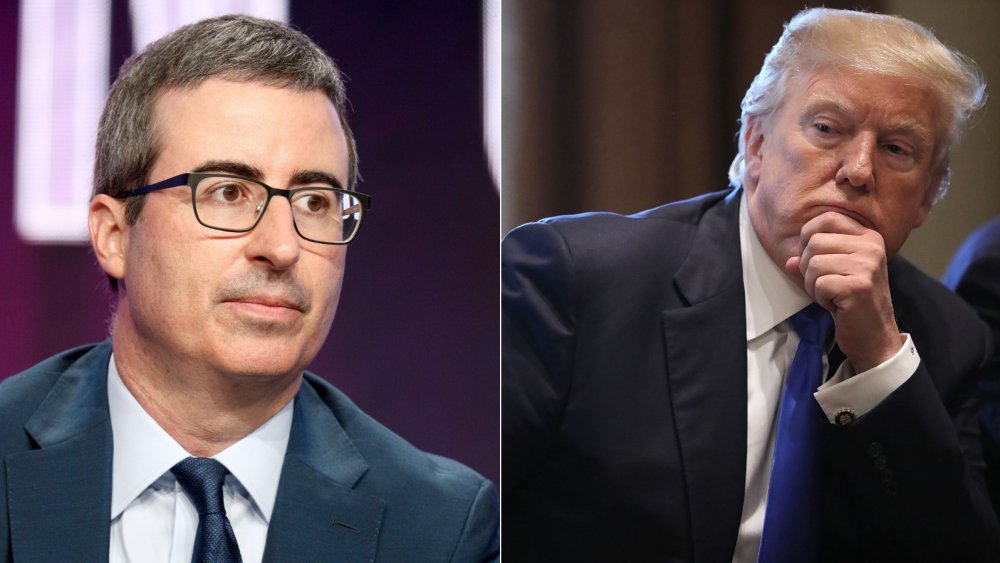 Frederick M. Brown, Chip Somodevilla/Getty Images
Old news alert: Joe Biden won the 2020 presidential election on Saturday, November 7, 2020. We had to wait one, entire day until five-time Emmy Award-winning John Oliver reacted to the win (via Youtube). It was well worth it. The talk show host has made the news almost every single week during election season for his criticisms of the Trump administration, no holds barred. When Trump made moves to withdraw from the WHO in the middle of a global pandemic, Oliver called it " one of the most ill-advised, dumbest things we can possibly do" (via Deadline). Oliver has also gone viral for calling Donald Trump's son-in-law, Jared Kushner, "Harvard's shiniest mistake" (via The Independent). And remember that time that he made The Guardian for calling Trump's COVID-19 leadership "borderline sociopathic?"
It's not that we had any agonizing doubts about how Oliver would feel about Trump's loss. It's that his commentaries are so sensationalist that you almost need to take them in, cinema-style, with a bag of buttered popcorn and some snow-drops. And, considering Biden's win, John Oliver's November 9th show may well have been one of his last chances to rage against the sitting president.
John Oliver's comments about Trump's go international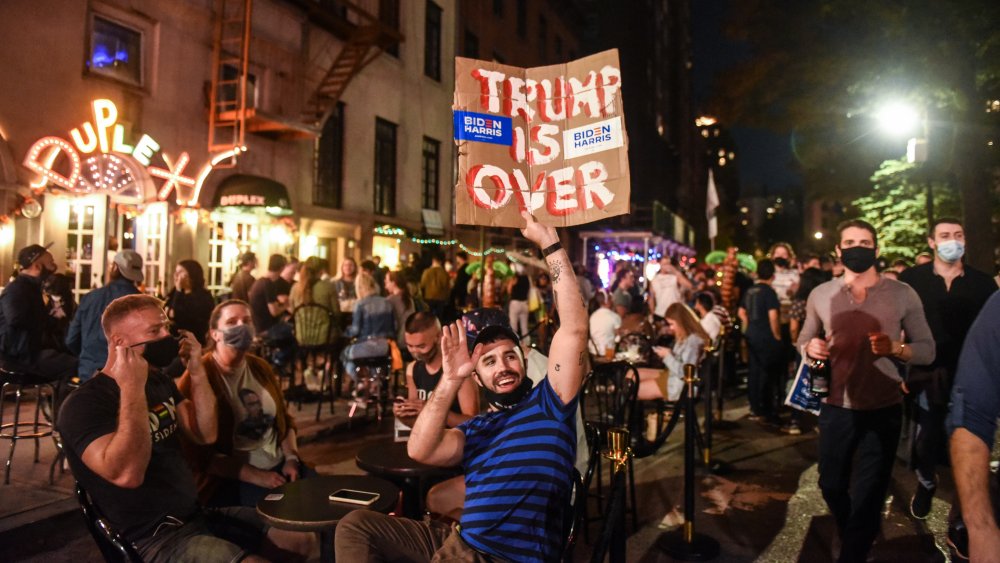 Stephanie Keith/Getty Images
This time, Oliver's anti-Trump commentary made international news, popping up in French, German, and Danish media outlets. "Trump isn't going to be president anymore, something I, personally, learned from no less than 20 text messages from my friends and family, all saying 'It's Over,'" Oliver started his commentary. Then he shifted to footage of anti-Trump and pro-Biden protesters celebrating in the streets.
"There was a mood [in New York] that can only be described as a reverse 9/11," he observed. "Why? Because it combines complete euphoria and an abiding disgust for Rudy Giuliani," the talk show host continued. He wasn't done yet. "And this time people were actually dancing on the rooftops in New Jersey," he finished. Dancing on rooftops in New Jersey? you ask. That was Oliver alluding to one of Trump's first outright lies. You probably don't remember. But, back in 2015, an incredulous George Stephanopoulos fact-checked Trump for one of the first times.
"I watched when the World Trade Center came tumbling down. And I watched in Jersey City, New Jersey, where thousands and thousands of people were cheering as that building was coming down. Thousands of people were cheering," Trump had insisted.
"You know, the police say that didn't happen and all those rumors have been on the Internet for some time. So did you misspeak yesterday?" Stephanopoulos asked the then-presidential candidate (via The Washington Post). Trump wouldn't back down. "It was on television. I saw it," he said.