Jenna Bush Hager Shares Sweet Throwback Pics With The Obama Sisters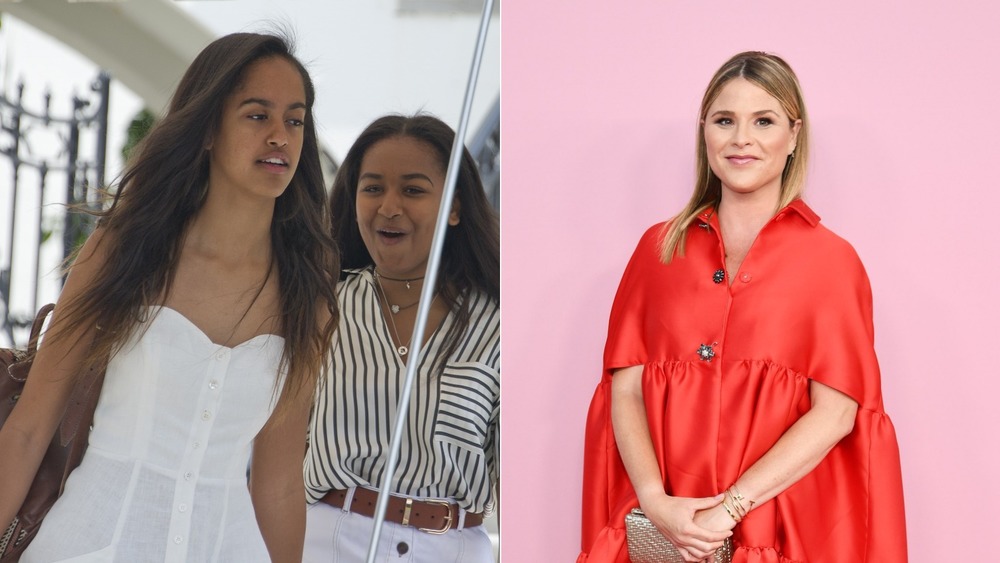 Pool, Dimitrios Kambouris/Getty Images
When Bill Clinton entered the Oval Office after his inauguration, he found a hand-written letter from former president, George H.W. Bush. Hillary Clinton recently posted it to Instagram. "Don't let the critics discourage you or push you off course," it said, "Your success now is our country's success. I am rooting hard for you." Amid speculations that President Trump's White House exit might be more complicated, Clinton posted the letter as an example of a "peaceful transfer of power."
Jenna Bush Hager is following suit. When President Obama was elected, and even before his inauguration, Jenna, her sister Barbara, and her mother, Laura gave Malia and Sasha Obama a tour of their new home. Bush recently posted a picture of the tour on her Instagram page. "Twelve years ago (!!!) today—I drove from my job teaching in Baltimore to meet my mom and sister in DC to show the next residents of this house their new home," she wrote, "Barbara and I taught the girls how to slide down the banister and all the secrets of the White House we loved as little girls—the best hiding spots, the movie theatre, and bowling alley. We showed them our rooms that would soon be theirs."
The letter that Jenna and Barbara Bush wrote to Malia and Sasha Obama
"We saw ourselves in those precious little girls, because when our grandfather become president, we were their age," Jenna Bush Hager once told the audience on Dr. Oz. "We just had such a beautiful day because, really, we have so much more in common than what divides us—especially the kids" (via The Oprah Magazine). Like her grandfather George H.W. Bush did for Bill Clinton, Jenna Bush and her sister Barbara wrote Malia and Sasha Obama a letter.
"Slide down the banister of the solarium, go to T-ball games, have swimming parties, and play Sardines on the White House lawn," they advised the Obamas, "Have fun and enjoy your childhood in such a magical place to live and play" (via CNN). Jenna and Barbara also warned Malia and Sasha that things wouldn't always be easy. "Although it's an honor and full of so many extraordinary opportunities, it isn't always easy being a member of the club you are about to join," they wrote, "Our dad, like yours, is a man of great integrity and love; a man who always put us first."
President-elect Joe Biden has seven grandchildren who may well visit him in the White House (via Town and Country). Barron and Melania Trump may well have plans to give them a tour of their future quarters.