Why A Comment On Tiffany Trump's Latest Post Has People Seeing Red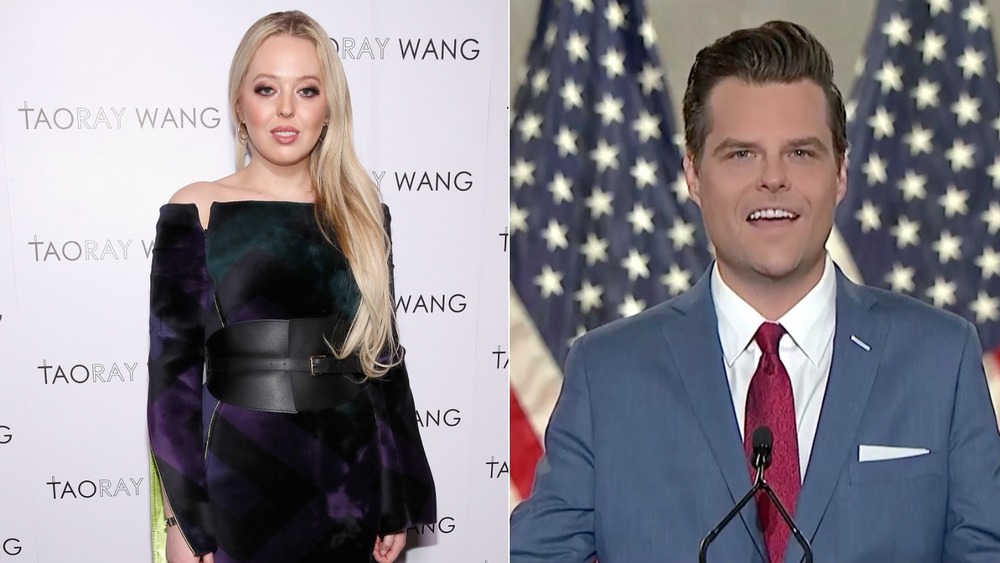 Astrid Stawiarz, Handout/Getty Images
The name Trump is trending on Twitter again, but this time it's not the President causing a stir on the social media platform, but rather his youngest daughter Tiffany Trump. The first daughter posted a selfie to Twitter on Wednesday evening posed in a bright red pantsuit at an election night event at the White House from the week prior. While the photo itself isn't controversial, a comment by Florida congressman Matt Gaetz is causing quite a stir (via HuffPost).
Just 45 minutes after the photo went live, Gaetz, a Republican and staunch Trump devotee, commented in a seemingly flirty fashion with four emojis — fire, heart, heart eyes and thumbs up. The 27-year-old Trump went on to like the comment from the 38-year-old elected official in an exchange that has been repeatedly described by Twitter users as "creepy."
What's more, this isn't the first time Representative Gaetz has excitedly singled out Tiffany Trump on social media. The New York Post reported that in May, the congressman retweeted a post from President Trump congratulating his youngest daughter on her graduation from Georgetown Law School stating, "Tiffany is a beautiful person inside and out! It's so great to see her success. Big things coming."
Twitter is aghast over Matt Gaetz's comment
As an elected official and over 11 years her senior, Matt Gaetz's decision to Twitter flirt with Tiffany Trump is undeniably unusual, and Twitter users have not been shy about calling him out on his behavior. Liberal activist Natalie Montelong, summarized what Twitter users are feeling, retweeting Gaetz's post and stating, "Below is a tweet from a sitting member of Congress. And here is a message for women everywhere: you are better than this man, and you should run for Congress."
And it's clearly not a partisan issue. Former Republican and former Trump supporter David Weissman, responded, "Anyone else sickened by this?" While CNN correspondent and former FBI agent, Asha Rangappa, used it as a teachable moment, commenting, "Matt this is inappropriate and creepy."
As the New York Post points out, there is no evidence of a budding romance between Tiffany Trump, who is believed to be in a relationship with Michael Boulos, and Matt Gaetz, whose relationship status is unknown, but if Twitter has anything to say about it, Gaetz should take his seemingly amorous intentions offline.