Dustin Johnson And Paulina Gretzky's Stunning Net Worth Revealed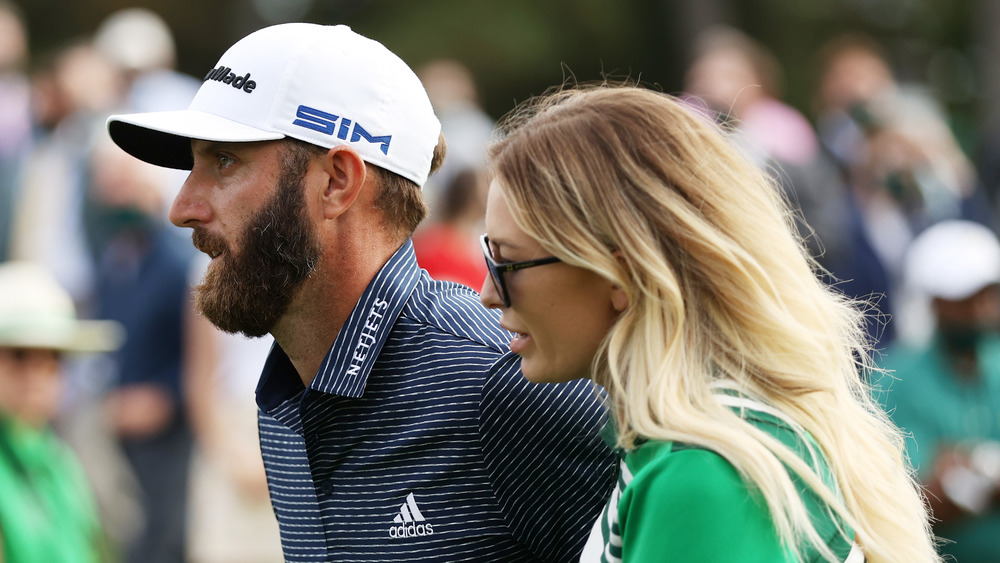 Patrick Smith/Getty Images
Dustin Johnson, pro golfer and fiancé of Paulina Gretzky, just added another hefty chunk of change to his bank account his with record-breaking Masters 2020 win. The newly minted green jacket owner finished his last round Sunday at 20 under par, according to The New York Times, besting previous record holders Tiger Woods and Jordan Spieth by two strokes. But record-breaking or not, a win in Augusta is worth a few bucks: $2.07 million, to be exact (via Sporting News). For his performance at last year's Masters where he tied for second, Johnson pocketed a comparatively paltry $858,667. Still, not bad for a few days work. 
Recent wins aside, this power couple has a stunning net worth. Gretzky, daughter of hockey legend Wayne Gretzky, has made her own money over the years as a model, actress, singer, and social media influencer. Combined, Johnson and Gretzky can provide for their family of four just fine.
Dustin Johnson has earned almost $70 million golfing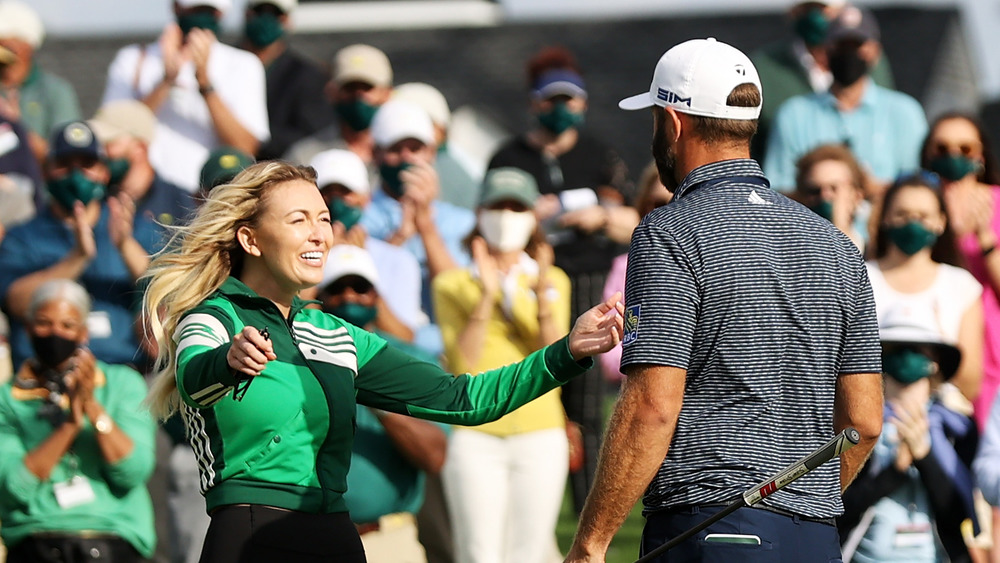 Rob Carr/Getty Images
Prior to his Masters win, Dustin Johnson was ranked number 11 on ESPN's 2021 PGA Money List, at $1,047,040. Mind you, that's for two events. All told, Johnson is said to be worth an astounding $50 million, according to Celebrity Net Worth, who report that he has held the title of number one golfer in the world for 64 weeks since 2017. Sportscasting reports that over the course of his career, Johnson has raked in $69 million in collective earnings from 21 PGA tour event wins. 
Paulina Gretzky's net worth might sound small compared to her partner's, but in the real world the mom of two's bank account would be a dream come true. Celebrity Net Worth says she's managed to amass about $5 million to her name. Now, when you put Johnson and Gretzky's combined worth at $55 million and compare it to dear old Dad's, it's chump change. At $250 million (via Celebrity Net Worth), Wayne could buy and sell his daughter and future son-in-law several times over. But Johnson seems to be in his prime, and his Masters win will not be the last of his golf earnings.