Demi Lovato's Red Carpet Look Stuns Fans At The People's Choice Awards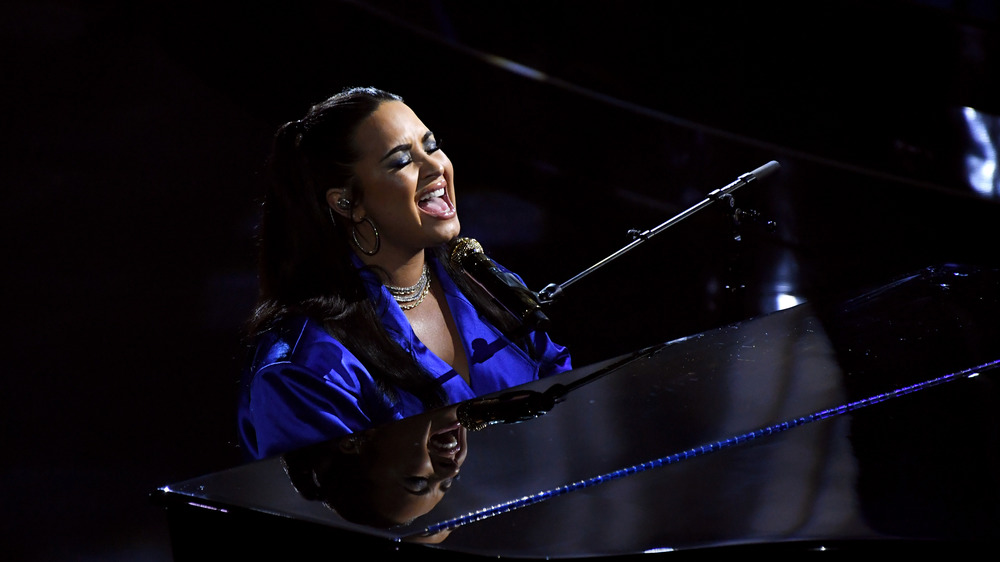 Kevin Mazur/bbma2020/Getty Images
Demi Lovato brought the red to the red carpet for the 2020 People's Choice Awards in a stunning sparkly red jumpsuit. The outfit from the pre-fall collection of Naeem Khan is probably the first of many for the host (via E!). Lovato is hosting the awards show from the Barker Hangar in Santa Monica, California.
The singer posted a video of her final touch ups on Twitter, and her fans are fawning over her look. "aha ur the sexiest disco ball" tweeted one user. Another posted "Yes ma'am!!! You better werk!!! My eyes have been blessed", and another shouted it from the rooftops, if all caps on Twitter is the 2020 version of shouting from the rooftops, "I LOVE YOU SO MUCH YOU BEAUTIFUL BEAUTIFUL BEAUTIFUL HUMAN IM SO PROUD OF YOU".
It's a far cry from what she has called her worst red carpet look back in 2008, in Orlando at the Disney Channel Games, where she wore a bowtie, shorts, vest, and a sort of crown / tiara hybrid. She described the look to Allure, saying, "Oh my God, my worst red-carpet moment of my life. I had my very first stylist. Whenever she started working with an artist, she would put them in bow ties. And I was just going with it because I'd never had a stylist before."
It's the first time Lovato has hosted an awards show
Hosting the People's Choice Awards is a big night for Demi Lovato, and she's a little bit keyed up about it. In an interview with Seth Myers, she said "I am still nervous, like don't get me wrong. Hosting is not my first language so to speak. Singing is" (via E!). Wearing a sparkly power color outfit probably goes a long way to dispel extra nerves.
The singer and actor is an awards show host newbie, though she's certainly performed and received awards at many an awards show, most recently singing "Commander in Chief" at the Billboard Music Awards.
Overall, she's excited about the democracy of the People's Choice Awards and sees that as particularly special. She told Myers, "This is up to the people, and in fact, this has actually been the award show that has always meant the most to me because they are the ones who get to vote. They are the ones casting the decisions, and it's not up to some academy that, you know, that is political or whatever. This is up to the people, and that's what this year has been about listening to the people. Finally we're doing it again, but it's going to be less pressure and more fun."