Why Demi Lovato's Billboards Performance Left Fans Furious At NBC
Demi Lovato sang her new song "Commander in Chief" for the first time live at the 2020 Billboard Music Awards, and it is without question a politically motivated, anti-Trump song with lyrics like, "Commander in Chief, honestly / If I did the things you do / I couldn't sleep, seriously." However, what seems to have caused the most controversy wasn't the lyrics themselves. Instead it seems that the word "VOTE" was prominently displayed in the background during part of the performance when it was pre-recorded, but the message was nowhere to be seen when the performance aired for the public (via NPR).
A picture from her performance was posted on the NBC Entertainment Twitter account with the caption, "@ddlovato always delivers. #BBMAs," and you can clearly see the large "VOTE" message on the screen behind her. Lovato herself retweeted the image, and the comments on the post are flooded with questions as to why the audience didn't get to see the "VOTE" version of the song.
Was Demi Lovato's performance subjected to censorship?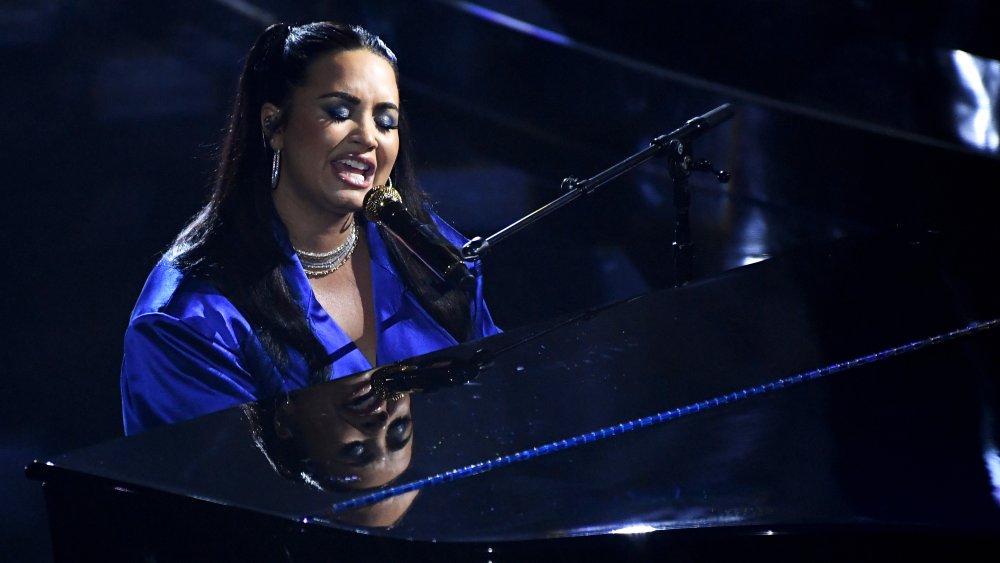 Kevin Mazur/bbma2020/Getty Images
Indeed, when viewers tuned in that shot wasn't visible. TMZ got a hold of what they say is her original performance vs the broadcast performance. The shot in question came towards the end of the emotional production. In one version, it ends with a wide shot and the word "VOTE" as the focus. But in the broadcast version on NBC, the song ends with a close up of Lovato at the piano, a move could be seen as a type of censorship.
TMZ reported, "Sources say the network pulled the plug on the 'VOTE' message because the song itself was a slam on Trump and the 'VOTE' message was a call to vote against him."
Lovato wasn't the only artist who encouraged people to vote. Lizzo wore a Christian Siriano dress emblazoned with the word vote (via Vogue), and the mask-wearing Billie Eilish asked for people to vote in her acceptance speech for Top Female Artist (via NME).