Why Tyler Perry's People's Choice Awards Speech Had Us All In Tears
Albert L. Ortega/Getty Images
Normally, Tyler Perry is dedicated to tickling the public's funny bone through his comedy act and through such movies as his popular Madea series. But at the 2020 People's Choice Awards, Perry was honored for something more than his comic chops. He was this year's recipient of the People's Champion of 2020 Award (per Deadline). He earned the honor for his tireless work bringing both performers and studio technicians of color to the forefront and donating generously to civil rights causes (per E!). He also opened his own studio in Atlanta — the largest privately-owned studio in America — just over a year ago, giving even more opportunities to members of the industry who might otherwise have been overlooked. To ensure that his staff could earn a living during the pandemic, he put strict protocols in place that allowed his studio to run safely.
So when he accepted his well-deserved award on Sunday night, Perry already had the studio and home audience rooting for him. But the speech he gave only served to cement his place in everyone's hearts (and emptied more than a few tissue boxes).
Perry first thanked his staff in his acceptance: "When I think about all these people ... they always inspire me. So when this pandemic hit, I know I had to do all I could do to make sure they could continue in this great place they're headed towards in their lives" (via E!).
Tyler Perry's "well" story drew praise at the People's Choice Awards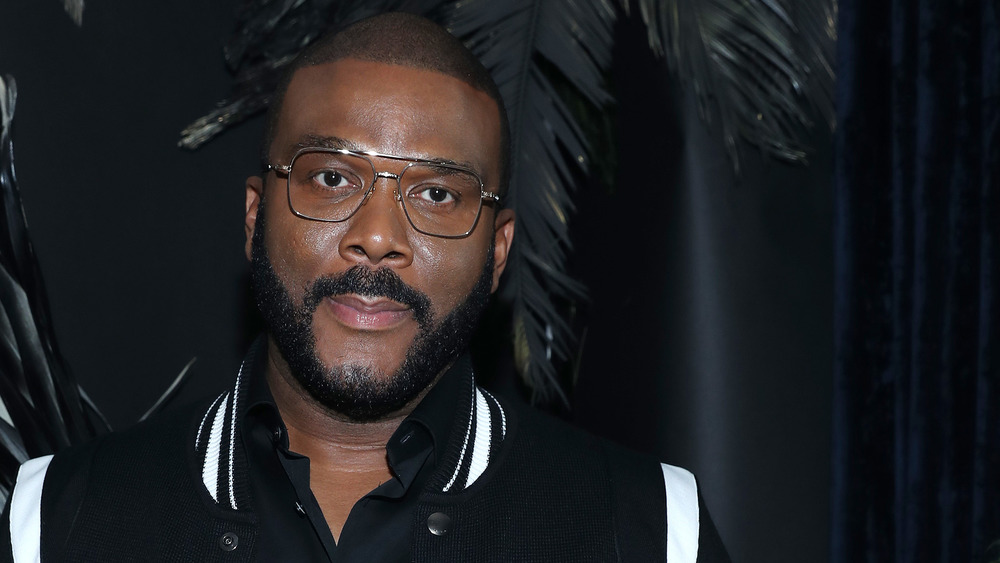 Bennett Raglin/Getty Images
The multitalented star then went on to share an inspirational personal story (via E!). He recalled the time when he bought his first house, which needed a well dug for its water supply. After the worker he hired seemed to be getting nowhere digging deep enough to find water, Perry was ready to give up. But the worker was persistent, and shortly afterward, he hit an abundant spring of water.
"In this world, we're all digging wells. In our lives, we're digging wells," Perry explained, citing the challenges we all face in business, relationships, and personal dreams. He compared these common struggles to well-digging, encouraging viewers not to give up hope. "But if you just keep digging — my God, if you could just hear me now — keep digging. You may be four inches away from every gift and blessing you ever wanted in your life ... Make sure people meet you at your worth." 
In a year filled with sorrow and countless setbacks, Perry's message was a welcome encouragement to us all to persevere in spite of all odds. Let's continue digging, keeping the faith, and looking forward to brighter days in the near future.