Fans Think They've Figured Out A Hidden Meaning In Billie Eilish's New Music Video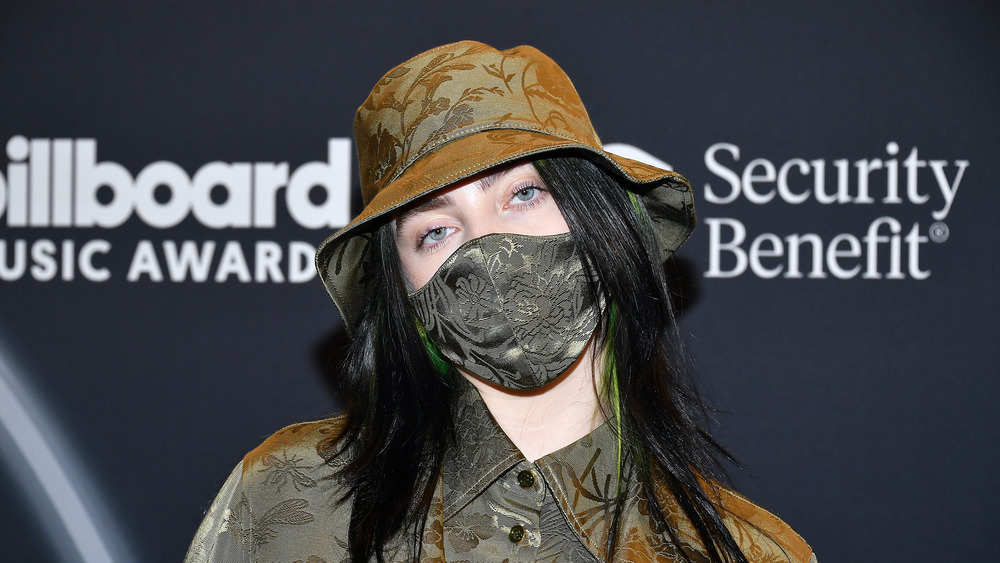 Amy Sussman/bbma2020/Getty Images
Billie Eilish's latest single, "Therefore I Am," dropped on November 12th, entering iTunes charts at number two and rising to number one within 24 hours (via iTunes Charts). In that time, the song's video has racked up nearly 30 million views on YouTube (at the time of this writing) and shows no signs of slowing down. Yes, the song is a banger, but fans are no doubt watching and rewatching the video in an attempt to build on their theories of its hidden meaning.
The "Therefore I Am" video depicts a carefree, self-possessed Billie Eilish romping around a deserted Glendale Galleria shopping mall, helping herself to food from Wetzel's Pretzels, Chipotle, Hot Dog on a Stick, Donuts & Coffee, and more (per E Online). As Eilish flaunts her confidence and indulges in an impromptu snack sesh, fans are seeing the 18-year-old songstress as a beacon of body-positivity and the video as a major burn directed at haters and trolls.
Fans think Billie Eilish's new video is shutting down the body-shamers
In October, a photo of Billie Eilish was at the center of online controversy after Twitter user @GamesNosh reposted the pic and thoughtlessly captioned it, "in 10 months Billie Eilish has developed a mid-30's wine mom body." The backlash was fast and fierce with users posting comments like, "Really out here announcing you don't know what the average woman's body looks like, huh." Eilish herself responded by posting a TikTok video of influencer Chizi Duru reminding everyone that normal bodies are exactly that — normal. Eilish also referenced her "Not My Responsibility" YouTube film addressing body-shaming trolls, in a follow-up Instagram post. Now, in the "Therefore I Am" video, Eilish is officially getting the last laugh, according to fans.
One follower tweeted, "'Therefore I Am' by Billie Eilish putting the haters in their place! I LOVED IT," and another offered, "Loving @billieeilish 's new track 'Therefore I Am.' The video is brilliant – throwing it back at the critics and the body shamers, loving who you are and rocking it out! You inspire me and millions more just by being yourself. Thank you!" A third enthusiastic follower gushed, "it's the way mama said F*** THE MEDIA. i can eat whatever the f*** i want and how ever much i want. BODY POSITIVITY THIS IS MY WOMAN." Eilish told Alternative Press "Therefore I Am" is "very, very up to interpretation," but the video definitely has fans feeling a certain kind of way and loving it.