Candace Owens' Harsh Words For Harry Styles Have People Seeing Red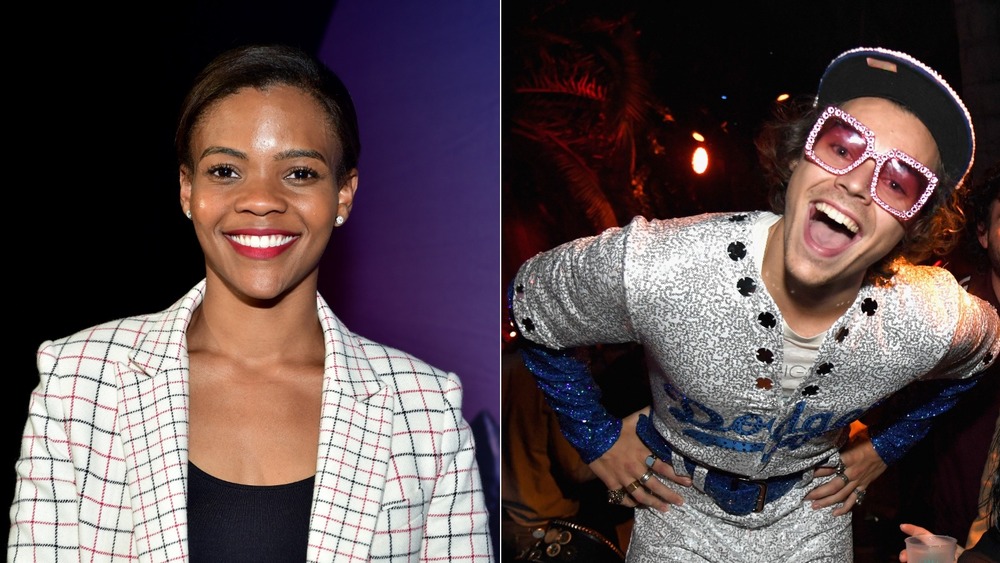 Moses Robinson, Kevin Mazur/Getty Images
Honestly, any excuse we can get to talk about Harry Styles' Vogue photoshoot, we'll take. Because, have you seen the photos? Conservative author Candace Owens certainly has, and her controversial opinions already have made New York Post headlines. Like most binge-worthy controversies these days, this one started over Twitter. A day after the "Watermelon Sugar" singer made history by becoming the first male to fly solo on a Vogue cover in its 128-year history (in a Gucci dress, no less, and gushing about how he likes "playing dress-up in general") Owens attacked.
"There is no society that can survive without strong men. The East knows this. In the west, the steady feminization of our men at the same time that Marxism is being taught to our children is not a coincidence. It is an outright attack," Owens fumed, "Bring back manly men." To which, most of Twitter said (allow us to paraphrase), "Oh, hell no."
The internet has come to Harry Styles' defense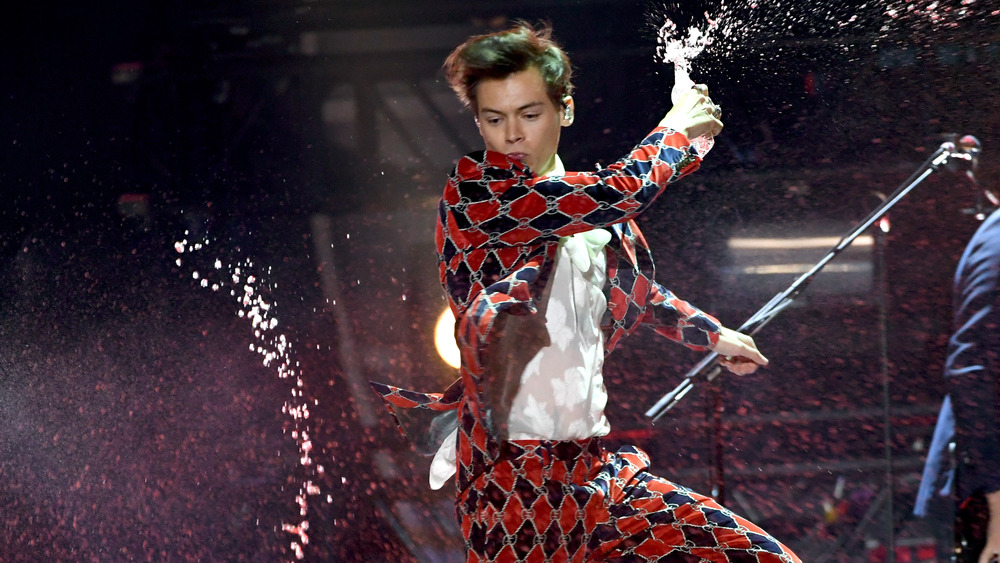 Kevin Winter/Getty Images
Harry Styles hasn't commented on Candace Owens' opinions (yet). Everybody else who uses Twitter has. We'll pass the mic to The Good Place actress Jameela Jamil, who wrote, "Harry Styles is plenty manly, because manly is whatever you want it to be, not what some insecure, toxic, woman-hating, homophobic d***heads decided it was hundreds of years ago. He's 104% perfect." Said Esquire's Dave Holmes, "Hi, it's November of 2020 and western civilization is doomed because Harry Styles' legs are not in their own separate fabric tubes." Model Melanie Iglesias also came after Owens. "The implication that people can't be strong in dresses is such a self-own. You... wear... dresses," she fumed, "also, men in dresses didn't start in the west. There were men in dresses all throughout ancient history." Actress and director Olivia Wilde (who happens to be Italian royalty),was somewhat terser. "You're pathetic," she tweeted (via Unilad).
Olivia Wilde knows Harry Styles personally. Styles play Jack in Wilde's upcoming second movie, Don't Worry Darling (via IMDB). Wilde told Vogue that she and her costume director, Arianne Phillipes, "did a little victory dance when we heard that we officially had Harry in the film... because we knew that he has a real appreciation for fashion and style. And this movie is incredibly stylistic. It's very heightened and opulent, and I'm really grateful that he is so enthusiastic about that element of the process."  Styles in more breathtaking clothes? See you at the box office.